Q. What makes these cupcakes the ultimate St. Patrick's Day cupcakes?
A. Lots of green and lots of booze!
They are green velvet cupcakes with Irish whiskey cream cheese frosting and a built-in chocolate cup filled with green beer.

Believe or not, prior to making these cupcakes, I had never made velvet cupcakes (red or otherwise). I don't get the appeal – especially given that most of the time the color comes from gobs of food coloring (with the rare exception of people who use beets for the red color). However, since Bride and Groom 3.0 requested red velvet as a possible wedding flavor, I decided to break down and try the elusive velvet cupcake (but, I had to be different and go for green).
How to Make the Ultimate St. Patrick's Day Cupcakes
1. Make the Green Velvet Cupcakes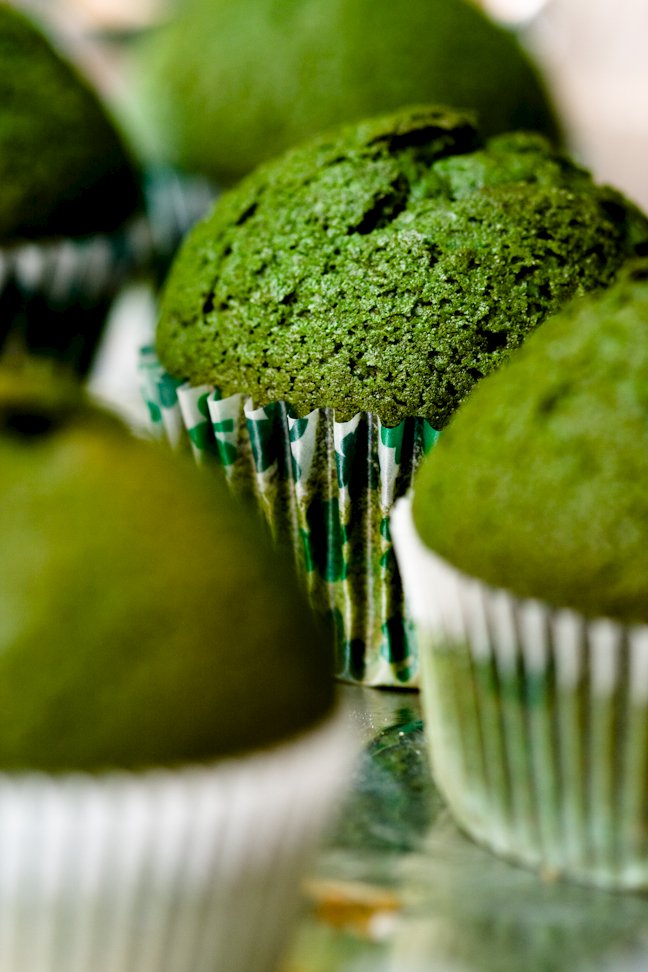 Because of my distaste for food coloring, I first tried to make my green velvet cupcakes with all-natural food colors. Sadly, after using two whole packages of all-natural yellow and blue coloring, the cupcakes still looked brown. The only way to make the cupcakes bright green was to break down and use Fakey McFake colors (at least St. Patrick's Day is only once a year).
Credits:
I got the recipe from Sarah of Daily Nibbles. Sarah tried three different red velvet recipes and decided that this one was the best.
Sarah got the recipe from The Way The Cookie Crumbles,
Who got it from Apple A Day,
Who adapted from Saveur,
Who got it from Cake Man Raven.
Yield: About 15 cupcakes
2 1/2 C cake flour
1 1/2 C sugar
1 t baking soda
1 T cocoa powder
1 t salt
2 eggs
1 1/2 C vegetable oil
1 C buttermilk
2 T (1 oz.) green food coloring
1 t vanilla extract
1 t white distilled vinegar
Sift together flour, sugar, baking soda, cocoa, and salt into a medium bowl.
Beat eggs, oil, buttermilk, food coloring, vanilla, and vinegar in a large bowl with an electric mixer until well combined.
Add dry ingredients and beat until smooth, about 2 minutes.
Fill cupcake liners 3/4 full with cupcake batter.
Bake at 350 F for 20 minutes or until cupcake bounces back when touched.
2. Fill the Cupcakes with the Chocolate Liqueur Cups
Wait for the cupcakes to cool completely (you don't want to melt the chocolate). Then, using a small paring knife, cut a chunk out of the top of the cupcake and slide the chocolate liqueur cup in.
These chocolate liqueur cups were compliments of Astor Chocolate. Check back soon for a chance to win some!
3. Frost With Irish Whiskey Cream Cheese Frosting
8 oz cream cheese, room temperature
1/4 C unsalted butter, room temperature
3 C powdered sugar, sifted
2 T Irish whiskey
Mix cream cheese and butter until light and fluffy.
Mix in powdered sugar one cup at a time.
Mix in whiskey.
4. Fill the Liqueur Cups With Green Beer
I recommend that you fill the liqueur cups with beer tableside. The easiest way to do this is to use a funnel or a turkey baster. Be careful not to overflow the beer onto the cupcake (although, if you do, your St. Patty's day revelers are not likely to notice or care).