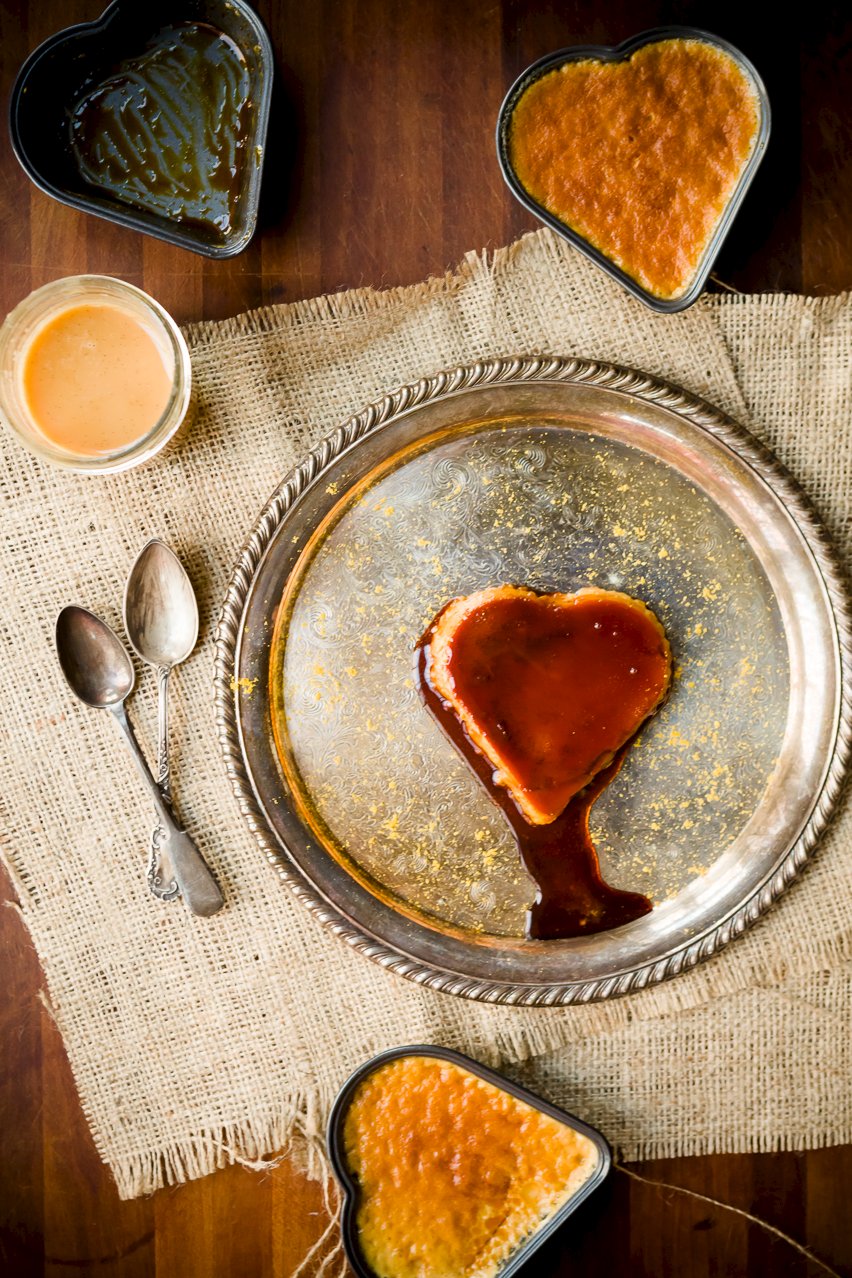 For me, love has always been like flan. I'm a believer in love at first sight, but in practice love has always come slowly and smoothly – friendship transitioning to butterflies and then to that first kiss. To appreciate flan, you need to take the time to melt it a little, get it out of its shell, and lastly to turn its world upside-down. Only then will you be treated to its true beauty: a hidden caramel layer that now shines front and center, stealing your heart.
If you've taken the long road to love, share your story in the comments. It would be fun for us all to read some heartwarming tales. And, consider preparing this dulce de leche flan for your significant other (it's not as tough as you might think – I walk you through it all below). By switching the sugar in the custard to dulce de leche, adding a touch of orange zest, and using goat's milk instead of cow's milk (technically cajeta), the dulce de leche flan ends up being more decadent than a traditional flan, and it has a tang that nicely complements the sweetness.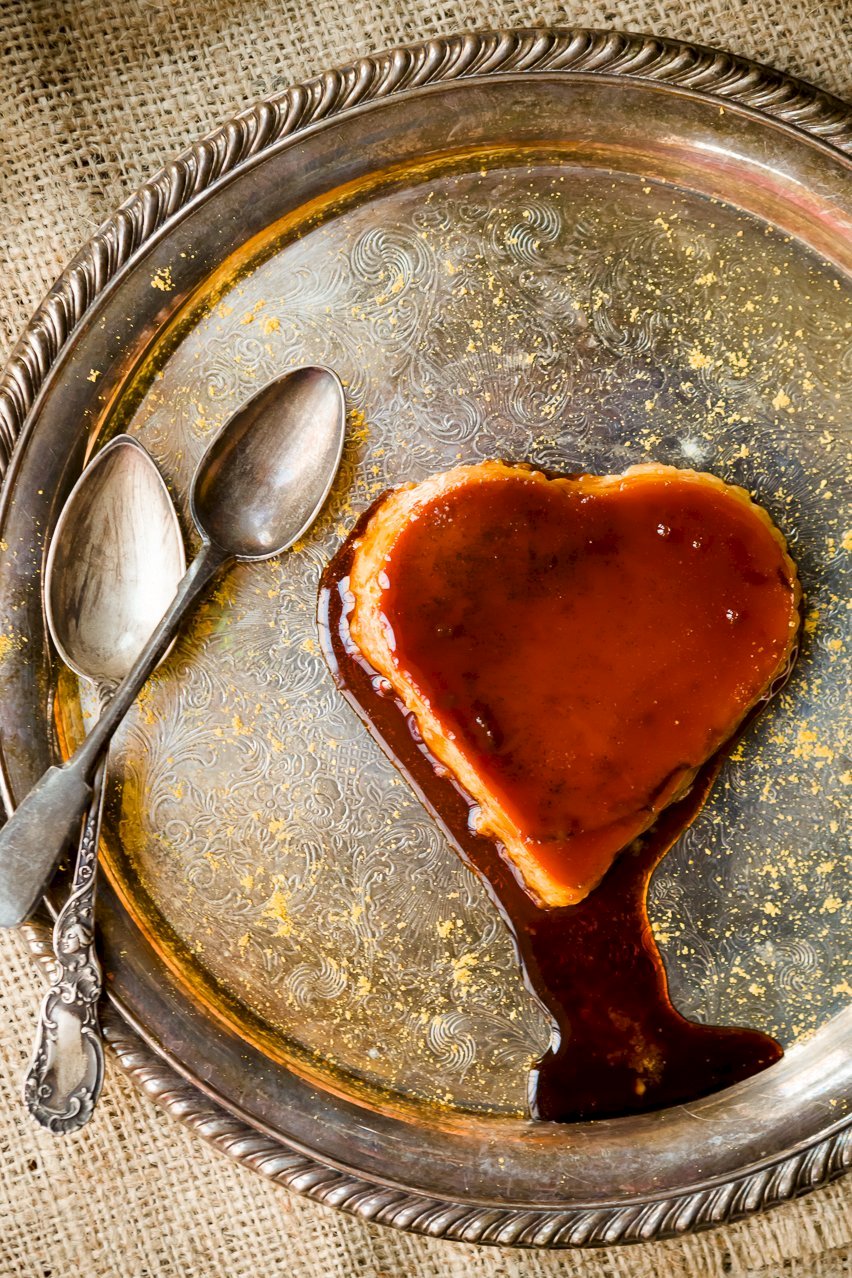 My dulce de leche flan recipe is an ever-so-slight adaptation of a dulce de leche flan recipe from The Cookie Shop. (I used heart shaped mini metal baking molds from World Market.)
Dulce De Leche Flan
To appreciate flan, you need to take the time to melt it a little, get it out of its shell, and lastly to turn its world upside-down.
Servings
8
small baking molds or ramekins of dulce de leche flan
Ingredients
2/3

cup

sugar

this is just for the caramel part, the custard only uses dulce de leche

2 1/2

cups

dulce de leche

choose from stove top cow's milk dulce de leche, cheater crock pot dulce de leche, or cajeta, Mexican goat's milk dulce de leche

1

cup

goat's milk or cow's milk

6

large egg yolks

1 1/2

teaspoons

cornstarch

1

teaspoon

orange zest
Instructions
Preheat the oven to 350 F.

The baking molds or ramekins will need to bake in a water bath. Find a baking dish or two able to hold all of your molds. Fill the baking dish(es) with an inch or so of water and put them in the oven to let the water heat up.

The bottoms of the flan molds need to be lined with caramel in its simplest form, melted sugar. When you flip the flans out of the molds, the caramel will drizzle down the sides and onto the plate, as shown above. To make the caramel, put the sugar in a heavy-bottomed saucepan on medium heat and stir until it's all melted and light amber in color.

This step requires you to move quickly. The goal is to coat the bottom of each mold with caramel. The challenge is that as soon as the caramel hits the molds, it hardens. So, you'll need to pour enough caramel to coat the bottom of a mold and then swirl the caramel around the mold almost in the same motion. The original recipe only called for 1/3 cup of sugar, but my recipe calls for double that. If you aren't able to swirl fast enough to coat the the whole bottom, you've got enough extra caramel to do a second spoonful. This whole thing doesn't have to be perfect, just get most of the bottom of each mold covered.

Now comes the easy part. Mix all of the remaining ingredients in a blender until well combined.

Divide the mixture between the caramel-lined molds.

Carefully place the molds into the preheated water-filled baking pans.

Bake for forty minutes or until a toothpick inserted into one comes out clean. Tip: If your oven doesn't heat evenly, be sure to carefully rotate the pans midway through baking.

Remove from oven and bring to room temperature.

Remove molds from water bath, dry off the bottoms, and refrigerate at least six hours or overnight.

When ready to serve, you'll need to unmold the flan. Set the molds in a pan filled with hot water such that the hot water just touches the bottom of the molds and doesn't run up the sides. The goal here is to melt the caramel just enough to easily remove the flans. Let the molds sit for about three minutes.

Carefully flip each flan over onto a plate. If a flan doesn't come out (very likely), carefully cut around the edge of the flan and try again.

Enjoy!
Nutrition
Nutrition Facts
Dulce De Leche Flan
Amount Per Serving
Calories 128
Calories from Fat 36
% Daily Value*
Fat 4g6%
Cholesterol 149mg50%
Sodium 19mg1%
Potassium 54mg2%
Carbohydrates 19g6%
Protein 3g6%
Vitamin A 245IU5%
Vitamin C 0.3mg0%
Calcium 52mg5%
Iron 0.4mg2%
* Percent Daily Values are based on a 2000 calorie diet.