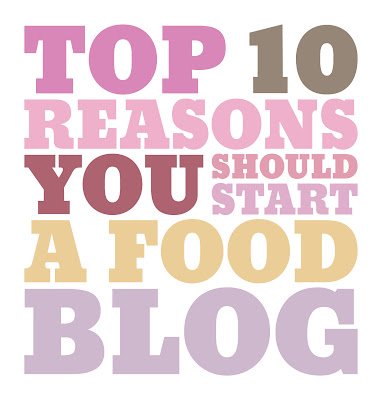 This weekend at Food Media Forum, several people posed the question, "Why start a food blog?"  They wanted to know what the point was.  Who would care what they had to say?  What could they bring to the table that hadn't already been done?  These same folks wanted to know everything they could about food blogging before they were ready to start a food blog.
I wanted to give them a hug (I think I did in several cases) and tell them to just start.  So, here it goes:
Top 10 Reasons You Should Start a Food Blog

10.  You will experiment more in the kitchen.  Having a food blog and committing to posting at least twice a week will force you into your kitchen to try new things.  You can't write about that same brownie recipe every week – even if they are your absolute favorite brownies.
9.  Someone you don't know will leave a comment on your blog and tell you that they a) love your writing, b) love your photo, or c) love your recipe.  Do you enjoy it when you get "Likes" on Facebook?  Getting praise from strangers is even more exciting.
8.  You are the boss!  This one is huge.  Your blog may be the one place in your life where you get to call ALL of the shots.  Sure, common wisdom says that you shouldn't post a pumpkin recipe in July, but if that's what you want to do, YOU CAN!
7.  A company may offer you something for free.  When that happens, you will feel like you've won the lottery.  We all like free stuff.  Food bloggers have access to lots of it.  As you get further into food blogging, you'll step back and take a long, hard look at the ethics of giveaways and product placement.  But, when you get that first offer for something free, it's OK to do a happy dance.
6.  Another blogger will write about your recipe.  You will be completely flattered – and you should be.  It's a huge source of pride to create a dish in your kitchen that someone else thinks is newsworthy.
5.  You will never again say, "I'm bored."  A food blog is the ultimate hobby.  You can put as much or as little time as you want into it.  There is always something you could be doing to improve your blog.  And, and some point, all of that effort might pay off in dollars.
4.  You will make online friends.  At first glance, you might think being a blogger is a lonely activity.  But, you will soon get to know others with similarly-themed blogs and you will learn and grow together.
3.  You will make offline friends.  Most cities have food blogger groups that do fun things like cook and eat!  These people may end up being your new BFFs.
2.  You can use your blog as a platform to talk about things important to you.  If you are passionate about a charity, you now have readers who may be able to help.  You could give your son a free sidebar ad to promote his new business.  Maybe you think broccoli is a deity; it's your blog and you can preach.
1.  You can use your blog as a springboard.  Some food bloggers receive cookbook deals, others have an opportunity to write for local newspapers and magazines, some get online freelance writing work, and still others are offered jobs teaching cooking classes.
You'll notice that nowhere in the list above did I say that your food blog would become your job.  While Cupcake Project is my job, if I had started the blog with that as my goal, I would have been sorely disappointed and living on the streets.  It took four years of blogging before I made an income that I could live on.
As anyone who has read my About page knows, I started a food blog because I wanted a home for all of the cupcake recipes I was testing for my friends' wedding.  I wanted the couple to be able to select their three favorite cupcake recipes off of the blog at the end of the year.  I didn't know anything about food blogging, I didn't have an SEO plan (translation: a strategy for being ranked highly in Google searches), I knew nothing about marketing a food blog, and I certainly hadn't given a single thought to branding.  If I had worried about all of the little details I now think about, I never would have typed a single word.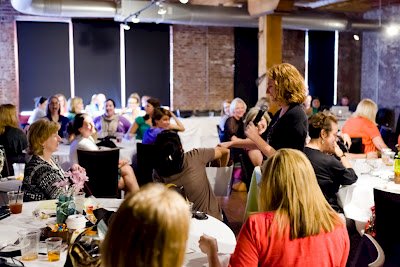 That #1 reason for starting a food blog – the springboard – is at the top of my mind today.  This weekend, I along with Kimberly Henricks-Friedhoff of Rhubarb and Honey, Stacy Anderson of Every Little Thing, Laura Beaver of Food Snob STL, Stephanie Tolle of Iron Stef, and FEAST Magazine hosted the Food Media Forum – a two day food media conference in St. Louis.  I never imagined that food blogging would lead to organizing a 75 person conference with attendees from around the country.
I call this blog "An Experimental Cupcake Recipe Blog".  You may have thought that the word "experimental" referred only to the crazy recipes that I make. It also refers to my daily experiments in making the blog itself a better place.  I still don't know where food blogging is going to take me, but I'm so glad that I started.
What would you add to my list?