I've strayed from the project.
1. I've used nuts.
2. The bride hates tomatoes. She put them on her evil foods list.
3. Tomato cupcakes at a wedding? I don't think so.
I couldn't help myself though. My favorite restaurant,
Iron Barley
, hosted their annual Tomato Fest this weekend. Tomato Fest is simply a celebration of all things tomato. As part of Tomato Fest they host a tomato cooking contest. I HAD to enter a cupcake. Before you give me an F in the cupcake project consider the following: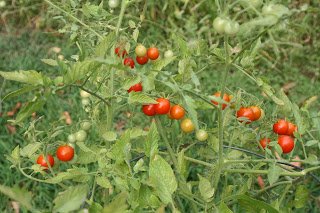 1. Perhaps I have a special bond with red tomatoes because I'm a redhead. (Why do they call redheads carrot tops instead of tomato tops?)
2. Our tomato plant has been very kind to us this year. See the picture. I figure I should give back to tomatoes by supporting them as well.
Where to begin with a tomato cupcake? Luckily, Garrett of Vanilla Garlic had paved the road by creating a tomato soup cupcake recipe back in October of '06. In his post about the cupcakes, he points out that they took 5 minutes to make. While that has great appeal, I thought I would have to make them slightly more snazzy to win a contest.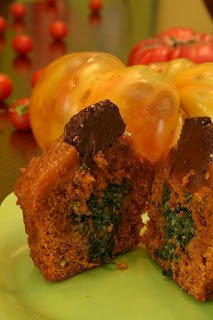 Again my favorite cupcake blogs did not let me down. Chockylit of Cupcake Bakeshop had a recipe for a basil cream filling. I thought giving the cupcake a filling would sweeten up what had the potential to be a more muffiny cupcake.
I spent some time thinking about the topping. I debated for a while using a cream cheese frosting as Garrett had done. At first, I couldn't picture cream cheese with tomato. Then it hit me… "Hello, what kind of Jew are you? Bagels, cream cheese, tomatoes, and lox." Wow, I must be out of NY too long. Despite the realization about the joy of cream cheese and tomatoes, I opted against the cream cheese in favor of a tomato honey glaze. I really wanted to take the tomato flavor home.
For the final and perhaps most important component, I found a recipe for pesto truffles on The Dough Ball.
I essentially turned a 5 minute cupcake into an all-day baking adventure.
The Results
This cupcake was a meal in itself. A unique, delicious, and filling meal. The only thing I would change is to put more filling into each cupcake. I really enjoyed the bites where I had both filling and cake. I might also try it with some actual frosting. I loved the glaze, but I'm not sure how much it added to the whole thing. It was great when I first made it. It tasted like a tomato version of applesauce. (I might even make it again for that very purpose. Maybe to serve with a potato pancake, for example.) However, by the next day it had absorbed a bit too much into the cupcake.
The Results that Counted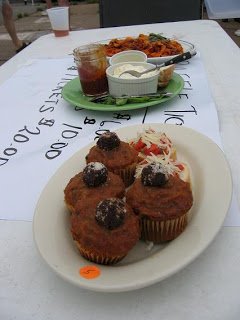 I have never entered a food competition of any sort. I was pretty excited about my entry, but skeptical about its potential to win. My husband and I waited in the 90 degree heat for three hours for the contest results. The heat was made more bearable by some great bands and lots of available liquid.
Finally, announcement time came. First place went to…. Tomato Beer. Come on, it's 90 degrees out and people are at a drinking event. That's a shoo-in winner. Congrats to Mr. Tomato Beer if you ever happen to come across my blog. Second place went to someone else and third place went to someone else. Guess I wasted my time. But no, turns out they created a special prize just for my tomato cupcakes! The judges gave me runner up because they LOVED them but they didn't think they were quite tomato flavored enough to give them the big prize. Hey, I'll take it. The prize was a free dinner for two at Iron Barley. Woohoo!
In case anyone doubts my prize winning, (I have no idea why you would), here is some video evidence.
This next video is of my acceptance speech. I have thus far avoided even putting a picture of me on this blog. However, I just love listening to the oohs and ahhs on this video so I had to share. There goes my anonymity. Feel free to ignore me (unless you are a member of my immediate family, in which case I expect high props) and focus on the oohs and ahhs. It's fun, at least for me. Note that when I brought the leftover pesto truffles into work, I got "ugh – no thanks". Different strokes for different folks.
Detailed Baking Notes
This next part is the detailed baking notes for any other crazy cupcake people who would like to spend a whole day making a cupcake or for anyone who would like to make just a small component of them (for example the truffles). I had to write this up to enter the contest which is why you are getting more detailed notes than normal.
Pesto Truffles
Makes dozens. You will definitely have more truffles than cupcakes and you will be happy about that. Truffle recipe found on http://thedoughball.blogspot.com/2007/06/my-second-sugar-high-friday-and-my.html
Tomato Cupcakes
Basil cream filling and tomato glaze make these cupcakes a full meal.
Ingredients
Cake Ingredients
2

cans of tomato paste

1

T

corn syrup

1

T

water

1

cup

milk

1

teaspoon

baking soda

1/3

cup

of butter

1

cup

white sugar

1

large egg

1

teaspoon

ground cinnamon

2/3

teaspoon

of ground cloves

1 1/2

cups

of sifted self-rising flour

1

teaspoon

of baking powder

crushed walnuts

optional
Basil Cream Filling Ingredients
1/4

cup

sugar

1/4

cup

water

All the basil that is leftover from the pesto truffle making

1

cup

heavy cream
Honey Tomato Glaze Ingredients
3

large very ripe heirloom tomatoes

diced

2

cups

aromatic honey

1

x vanilla bean

scraped
Instructions
Cake Instructions
Set the butter and egg out and let them come to room temperature. Set the over to 350 degrees.

Mix tomato paste, corn syrup, water, and baking soda in a bowl and let it stand. Use a deep bowl as the mixture will rise.

Cream the butter, sugar, and spices in bowl. Add the egg and mix for 30 seconds. Mix in the tomato and soda mixture. Mix in the milk.

Mix the flour and baking powder together, and then beat into the mixture until just combined.

Pour evenly into cupcake papers. Fill the papers high since the cupcakes won't rise much.

Bake for 20 min at 350 and then an additional 5 minutes at 310 or until toothpick comes out clean.
Basil Cream Filling Instructions
Bring sugar and water to a boil, stir until sugar dissolves.

Chop basil or mint and add to the mixture.

Boil for 3 minutes.

Cool to room temperature.

Beat heavy cream on high until stiff peaks form.

Add the five to six tablespoons of syrup to taste and beat until combined.
Honey Tomato Glaze Instructions
Combine everything in a stainless steel pot and bring to a boil.

Cover and reduce heat to a simmer.

Cook on medium low heat partially covered for 10 – 20 minutes until the tomatoes soften and the mixture has a glaze-like consistency.

Strain out liquid.

Blend the tomato and honey mixture that remains and chill.
Putting it all Together
When the cupcakes are cooled, cut a cone out of the top of each one.

Pipe some basil cream filling into the hole and replace the top.

Spread the glaze onto the top of each cupcake. The glaze will go on very thick (think applesauce). However after leaving it in the fridge overnight, much of it will absorb into the cupcake.

Top with a pesto truffle.

Eat and smile!
Nutrition
Nutrition Facts
Tomato Cupcakes
Amount Per Serving
Calories 451
Calories from Fat 117
% Daily Value*
Fat 13g20%
Cholesterol 56mg19%
Sodium 165mg7%
Potassium 198mg6%
Carbohydrates 83g28%
Protein 3g6%
Vitamin A 760IU15%
Vitamin C 4.6mg6%
Calcium 64mg6%
Iron 0.6mg3%
* Percent Daily Values are based on a 2000 calorie diet.
Tomato Cupcake
Modified from a recipe found on http://vanillagarlic.blogspot.com/2006/10/tomato-soup-cupcakes-with-cream-cheese.html.
(The reason for the modification was simply that all the condensed tomato soup that I found had high fructose corn syrup in it. Therefore, I tried to reproduce condensed tomato soup on my own with regular corn syrup. If you don't care about eating high fructose corn syrup, I'd use Garrett's recipe. It's probably lighter.)
Basil Cream Filling
Recipe from http://cupcakeblog.com/index.php/2006/03/basil-cream-and-mint-cream-filled-cupcakes-with-raspberry-mousse-frosting/
Honey Tomato Glaze
Modified from a recipe found on http://www.foodtv.ca/recipes/recipedetails.aspx?dishid=7445