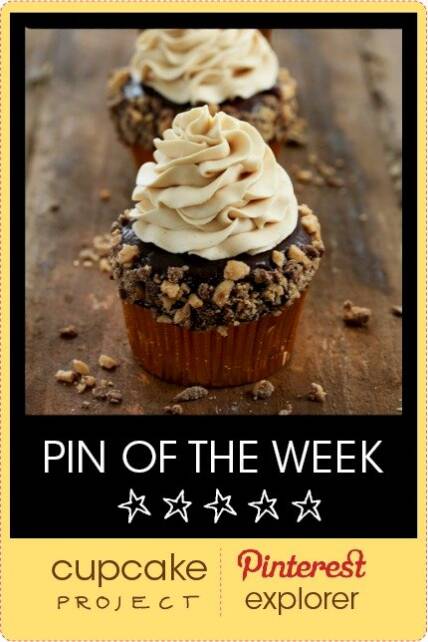 This week's Pin of the Week chosen by Pinterest Explorer Ashley Fehr is toffee crunch cupcakes by Bakers Royale.  Ashley says of the cupcakes, "I love all that's going on in these cupcakes, especially the contrast in textures: the crushed candy, chocolate ganache, moist cake and fluffy buttercream = amazing!"  I have to second that.
Naomi (the superstar behind Bakers Royale) created the toffee crunch cupcakes in 2011.  I've seen the photo hundreds of times since then and every time I see it, I pause as if I'm seeing the Mona Lisa for the first time – it's a true original piece of art.  Naomi is not a one hit wonder.  There are many more incredible creations where this one came from.  If you haven't seen Bakers Royale's beer and pretzel cupcakes, you must do so now.  They are just as amazing as the toffee crunch cupcakes.  Then, keep going down the rabbit hole to explore her entire archive.  It's addictive.
These toffee crunch cupcakes can be found on our Cupcakes Galore board.  Check them out and repin them!
This Week's Outstanding Explorer
This week's Outstanding Explorer is Ashley Fehr of The Recipe Rebel.  As someone who considers herself an experimental baker, I love the idea of calling oneself a recipe rebel.  Can't you image Experimental Baker and Recipe Rebel as two baking superheroes?
Ashley describes her baking as follows:
As a lover of food, I have a serious confession to make: I don't think I have ever sifted my dry ingredients. I am probably not going to beat my eggs before adding them to the mixer. And sometimes my butter gets a little soft or my egg whites don't get whipped.

The important thing, to me, is that my food is made to share with the people I love, and that they love the food I feed them. I know there are some classically trained chefs who would cringe at what they've read here, but I haven't had any classically trained chefs at my dinner table lately, so it doesn't worry me too much.
I think that we can all learn from Ashley to not take baking so seriously all the time!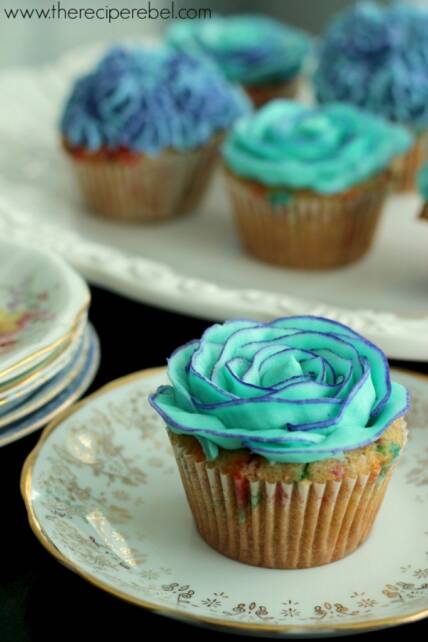 Some amazing things come out of Ashley's kitchen.  I'm awestruck by her two-toned buttercream roses (shown above) and she even has a tutorial on Recipe Rebel that teaches you how to make them!  I also want to try her strawberry pineapple lemonade bars and her apple crisp pancakes.
Ashley's favorite thing about cupcakes is that "you feel like you're eating less than if you cut yourself a big slice of cake… even if you eat 2… or 3….. which I never would. :)"
Congrats, Ashley, and thanks for all of your pinning!!
Also, a huge congrats to Naomi on having a new baby last week!  You can see pictures on her Instagram feed.
Baking Superhero