If this post doesn't make you crave an ice cream cupcake, I don't know what will.
Bethany, Tina
, and I are so excited about all the amazing entries we've received for this year's
ice cream cupcake roundup
! Remember that each person who entered is eligible to win a prize, and you get to vote for a winner!
In case you need an incentive to vote – Each person who votes will be entered into a raffle to win an 8-pack of homemade cupcake birthday cards directly from Bethany of Scoopalicious!
So…
Pick a time this week when you have a few minutes – this is going to take a while.
Read through the summary of each cupcake below.
Visit the blogs of the ones you like (I expect that will be all of them).
Somehow, pick your favorite cupcake (I have no idea how you will be able to choose).
Fill out the form at the very bottom of this post to vote.
VOTING CLOSES SUNDAY, JUNE 7, 11:59 PM PACIFIC TIME
ONLY ONE VOTE PER PERSON
WINNERS WILL BE ANNOUNCED NEXT WEEK
Thanks again to all of our fabulous prize sponsors: Bella Cupcake Couture, Just Jenn Designs, Avocado Creations, JB Dough, Patric Chocolate, Buzz Buzz Bee's, Cakespy, and Krissi's Mixed Media Arts. The prize details can be found along with the contest details.

The Entries!!
Monkey Butt Cupcake from Nonesuch
Cupcake: Banana cupcake made healthier using wheat flour, egg substitute, and Splenda
Ice Cream: Chocolate
Frosting: Peanut butter
Topping: Toffee bits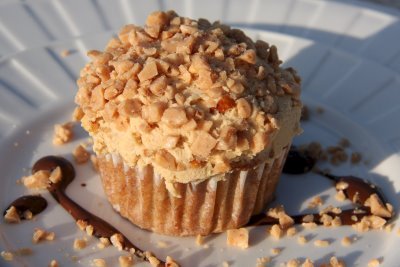 ---
The Perfect Summer Cupcake from A Scone's Throw
Cupcake: Strawberry
Ice Cream: Homemade strawberry and basil ice creams swirled together
Frosting: White balsamic buttercream
Topping: Fresh strawberry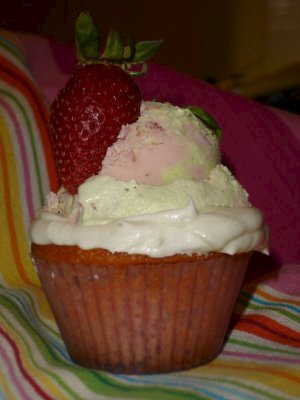 ---
Carrot Cake Ice Cream Cupcakes from Little Big Cakes
Cupcake: Carrot cake
Ice Cream: Pecan
Frosting: Cream cheese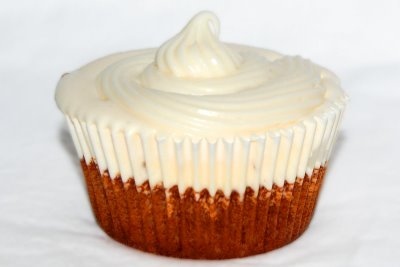 ---
Frozen Raspberry Truffle Cupcakes from Krista Joy
Cupcake: Chocolate fudge
Ice Cream: Vanilla and chocolate ice cream swirled together, with mixed in chopped chocolate and homemade raspberry truffles
Frosting: Chocolate cream cheese
Topping: Fresh raspberry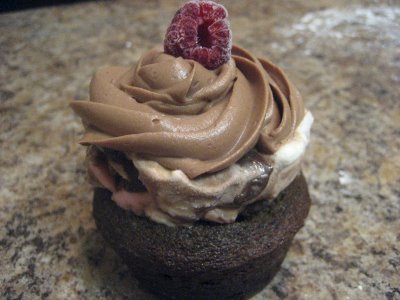 ---
Magic Ice Cream Cupcakes from Couldn't be Parve
Cupcake: Graham cracker
Ice Cream: Magic bar (Magic bars are also know as six layer bars. They are gooey bars with various kinds of chips, nuts and coconut, topped with sweetened condensed milk.)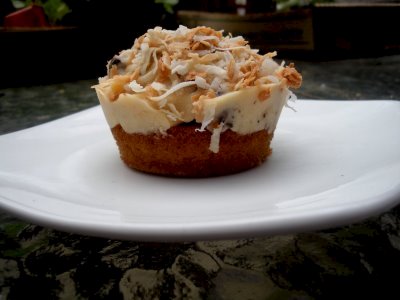 ---
Strawberry Balsamic Ice Cream Cupcakes from Cupcake Muffin
Cupcake: Angel food
Ice Cream: Homemade strawberry balsamic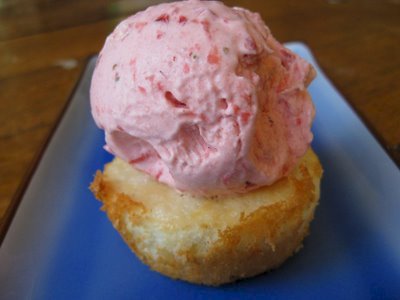 ---
Chocolate Raspberry Baby Cupcakes from Inspired Creations
Cupcake: Dark chocolate
Ice Cream: White chocolate raspberry swirl or black raspberry chip
Frosting: Dark chocolate ganache
Topping: Fresh raspberry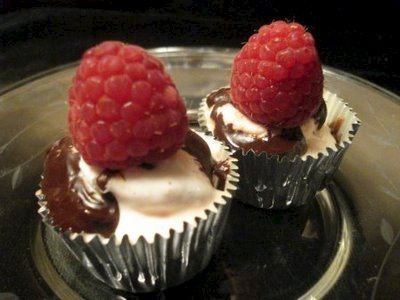 ---
Cup O' Tea Vegan/Wheat-Free Ice Cream Cupcakes by Tara Tabassi
(Note: Tara does not have a blog, so the link goes to a page we created for her with her description and recipe.)
Cupcake: Earl grey topped with white chocolate
Ice Cream: Homemade fresh coconut, lemon-rind, and blueberry
Frosting: Lavender buttercream
Topping: Homemade crystallized lavender blossom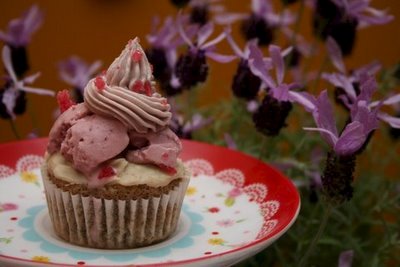 ---
Vegan Piña Colada Ice Cream Cupcakes from Cookies and Candids
Cupcake: Pineapple upside down
Ice Cream: Toasted coconut
Topping: Rum caramel sauce, pineapple slice, and a cherry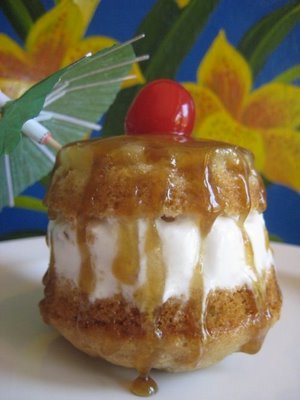 ---
Black Magick Cupcake from Cirque du Vie
Cupcake: Brownie topped with raspberry jam
Ice Cream: Vanilla ice cream topped with crushed Oreos, Magic Brownie ice cream, and chocolate ice cream
Topping: Brownie, whipped cream, and fresh raspberries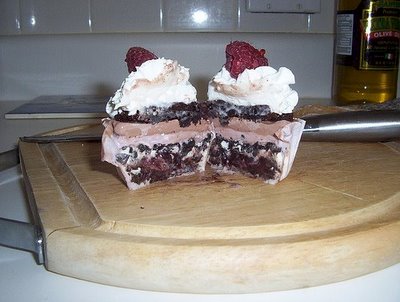 ---
Wet Dog Cupcakes with Pineapple Sherbet from Iron Stef
Cupcake: Tres leches
Ice Cream: Pineapple sherbet
Topping: Dulce de leche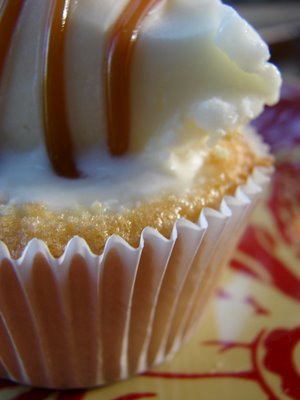 ---
Hot Fudge Cake from Is This Thing On
Cupcake: Double chocolate
Ice Cream: Vanilla
Topping: Chocolate syrup, whipped cream, and sprinkles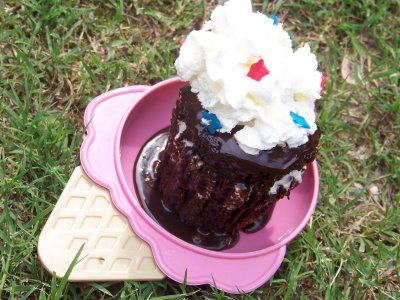 ---
Chipster Topped Brownie Ice Cream Cupcake from Spork or Foon?
Cupcake: Chipster topped brownie (basically a brownie with a cookie on top)
Ice Cream: Vanilla frozen yogurt
Topping: Sprinkles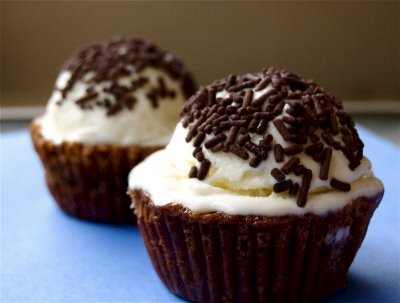 ---
Cake Batter Ice Cream Cupcakes from Tickled Pink Cupcakery
Cupcake: Vanilla cake
Ice Cream: Vanilla ice cream with cake mix-ins
Topping: Sprinkles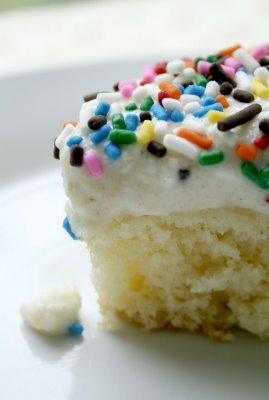 ---
Couch Peanut Cupcakes from Res-o-puh-leese
Cupcake: Peanut butter in a crushed Oreo cookie crust
Ice Cream: Vanilla rolled in Oreos
Frosting: Peanut butter
Topping: Reese's pieces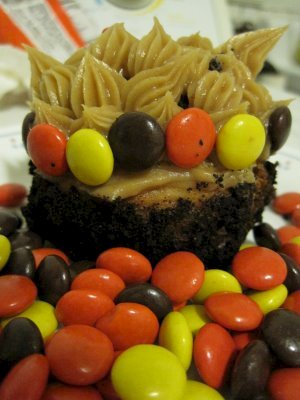 ---
Dairy Free Chocolate, Strawberry, and Vanilla Cupcakes from Beantown Baker
(Note: Beantown Baker also made a version of these cupcakes with dairy as a variation.)
Cupcake: Vegan chocolate
Ice Cream: Toffuti vanilla with a frozen strawberry inside
Frosting: Strawberry cream cheese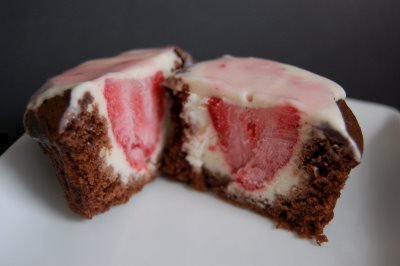 ---
Hot Cocoa Ice Cream Cupcakes by Rachel Schill
(Note: Rachel does not have a blog, so the link goes to the page we created for her with her description and recipe.)
Cupcake: Chocolate
Ice Cream: Homemade chocolate
Frosting: Marshmallow buttercream
Topping: Chocolate shavings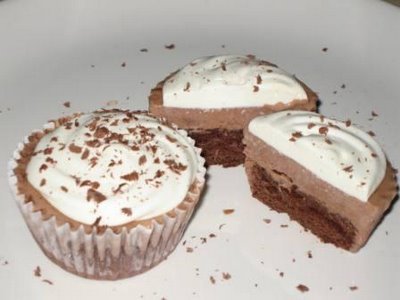 ---
Coconut Margarita Cupcakes from Beantown Baker
(Note: Beantown Baker also made a version of these cupcakes with raspberry ice cream as a variation.)
Cupcake: Coconut and lime
Ice Cream: Margarita sorbet
Frosting: Coconut cream cheese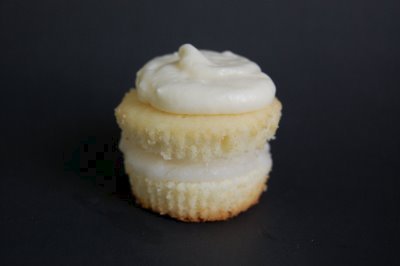 ---

Fragola Tiramisu olio d'oliva Gelato Tortatina (Strawberry Tiramisu Olive Oil Gelato Cupcake) from Little Ivy Cakes
Cupcake: Brown sugar cupcake soaked in Grand Marnier topped with orange-honey mascarpone and fresh summer strawberries splashed with Grand Marnier
Ice Cream: Homemade olive oil gelato
Frosting: Strawberry vanilla bean whipped cream
Topping: Shaved chocolate, orange, and a strawberry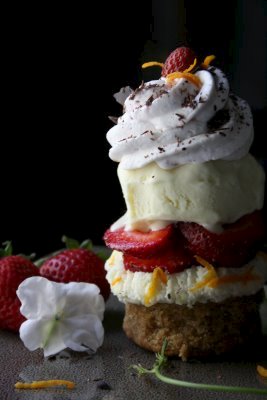 ---
Mexican Chocolate Cupcake with Fried Ice Cream from Yummy, Yummy, in My Tummy
Cupcake: Mexican chocolate
Ice Cream: Fried ice cream (honey cinnamon flavored ice cream with cinnamon sugar toasted pieces and a honey caramel ribbon)
Frosting: Whipped cream
Topping: Cinnamon sugar triangles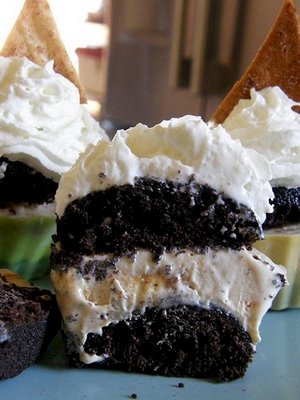 ---
Lovelight Lemon Raspberry Sorbet Cupcakes from Sweet & Saucy
Cupcake: Lemon raspberry
Ice Cream: Häagen-Dazs lemon sorbet
Topping: Fresh raspberry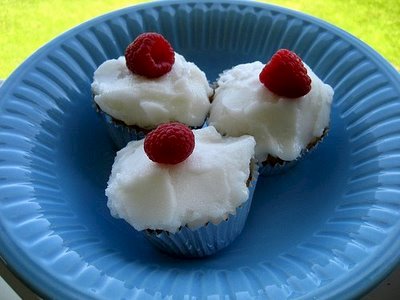 ---
Chocolate Peppermint Ice Cream Cupcakes from Nina's Cupcakes
Cupcake: Peppermint
Ice Cream: EXTREME! Moose Tracks
Frosting: Espresso whipped cream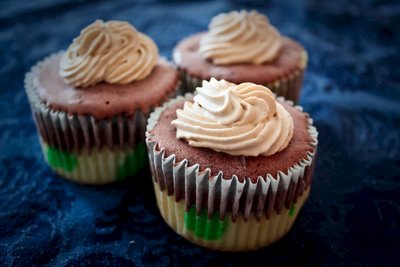 ---
Candy Bar Ice Cream Cupcakes from Mostly Martha
Cupcake: Brownie toffee
Ice Cream: Homemade sweet milk ice cream
Topping: Snickers bar and caramel drizzle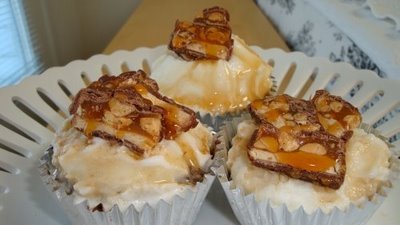 ---
Fried Ice Cream Cupcakes from Simple Food
Cupcake: Brown sugar with cornflake topping
Ice Cream: Caramel swirl
Frosting: Cinnamon whipped cream
Topping: Cinnamon tortilla crisps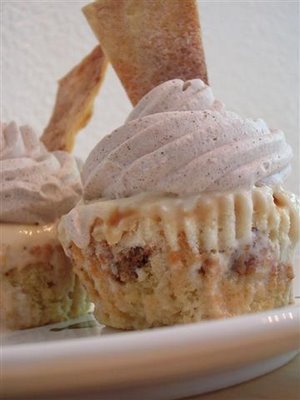 ---
Dippy Doo Dots Ice Cream Cone Cupcakes from I Heart Cuppycakes
Cupcake: Chocolate baked in ice cream cones
Ice Cream: Banana split Dippin' Dots
Frosting: Vanilla buttercream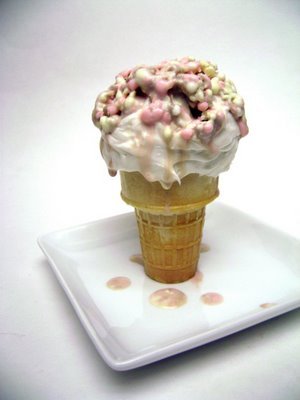 ---
Choconaners from Cherryspoon
Cupcake: Banana topped with semisweet chocolate
Ice Cream: Friendly's fudge swirl
Topping: Banana slice decorated with chocolate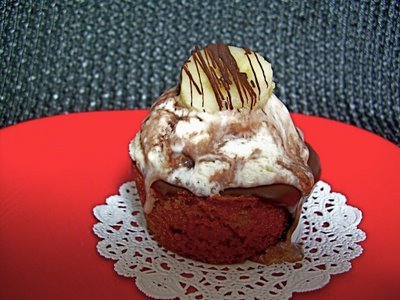 ---
Chocolate Caramel Ice Cream Cupcakes from Yumsilicious Bakes
Cupcake: Chocolate
Ice Cream: Baskin Robbins' gold medal ribbon
Frosting: Chocolate caramel ganache
Topping: Dulce de leche caramel topping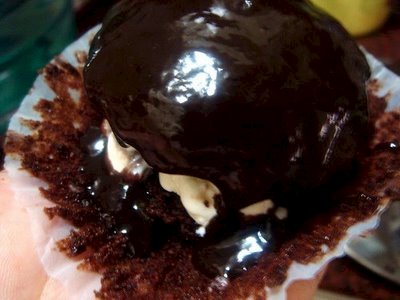 ---
Cherry with a Twist from Lost Star of David
Cupcake: Rich chocolate with gelatin
Ice Cream: Ben & Jerry's Cherry Garcia
Topping: Chocolate ganache and cherry sauce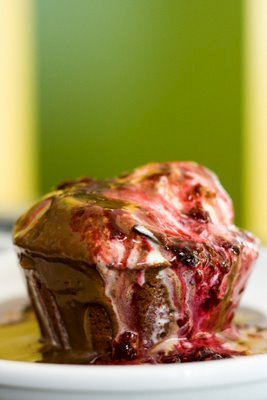 ---
Coconut Cream Identity Crisis from Crumbles
Cupcake: Coconut topped with crumbled graham crackers
Ice Cream: Homemade coconut ice cream
Frosting: Whipped cream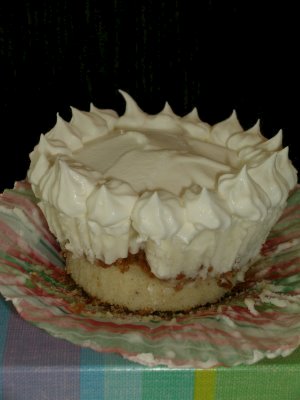 ---
Butter Rum Cakes with Ginger and Hibiscus from My Own Sweet Thyme
Cupcake: Ginger rum
Ice Cream: Coconut rum gelato
Topping: Butter rum sauce, dried sweetened hibiscus flowers, and candied ginger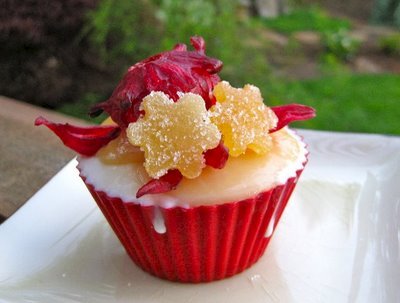 ---
Strawberry Short Cupcakes by Morgan Cadle
(Note: Morgan does not have a blog. This entry is not linked because we have no further information on this cupcake.)
Cupcake: Strawberry
Ice Cream: Vanilla
Frosting: Strawberries and cream
Topping: Flower made out of chocolate chips for the center and fresh cut strawberries for the petals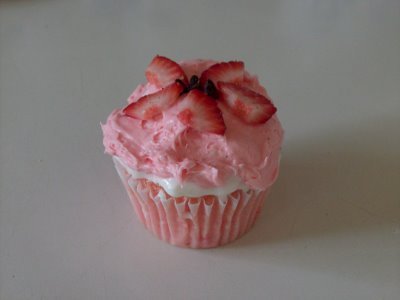 ---
Chocolate Lover's Dream by Morgan Cadle
(Note: Morgan does not have a blog. This entry is not linked because we have no further information on this cupcake.)
Cupcake: Chocolate
Ice Cream: Vanilla
Frosting: Chocolate
Topping: Mini-chocolate chips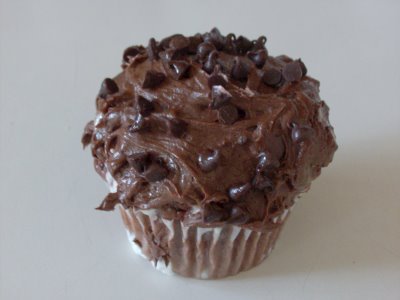 ---
Memorial Day BBQ Ice Cream Cone Cupcakes by Ann Carroll
(Note: Ann does not have a blog, so the link goes to the page we created for her with her description and recipe.)
Cupcake: Vanilla regular-sized and chocolate minis, plus hidden M&Ms at the bottom of the cone.
Ice Cream: N/A (There is no ice cream in these. They are simply made to look like they have ice cream.)
Frosting: Half were done with vanilla and half were done with chocolate
Topping: Sprinkles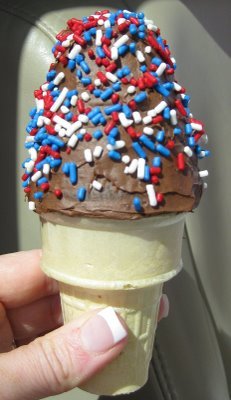 ---
Rocky Roca Ice Cream Cupcakes from Sweet & Saucy
Cupcake: Chocolate
Ice Cream: Tillamook rocky road
Frosting: Chocolate ganache
Topping: Almond roca (a chocolate and almond covered buttercrunch confection)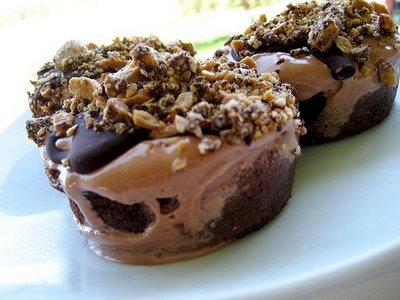 ---
Peanut Butter Ice Cream and Chocolate Fudge Ice Cream Cupcakes from Wemsical Cupcakes
Cupcake: Chocolate chip cookie pie crust with chocolate fudge cupcake
Ice Cream: Peanut butter ice cream
Topping: Chocolate ganache and a chocolate chip cookie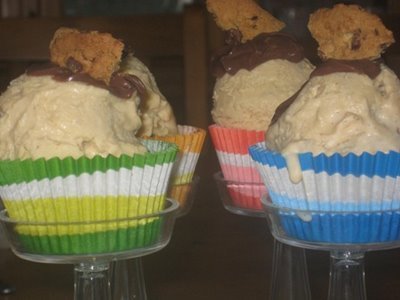 ---
As if these weren't enough… One of our awesome prize sponsors who is ineligible for a prize decided to make an ice cream cupcake just for fun! While you can't vote for it, you should check it out anyway!

Root Beer Float Cupcakes by JustJENN Rants & Raves
Cupcake: Root beer bunt
Ice Cream: Root beer sherbet
Frosting: Whipped cream
Topping: Sprinkles and a straw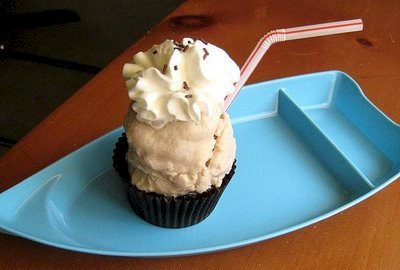 ---
Time to Vote:
Loading…