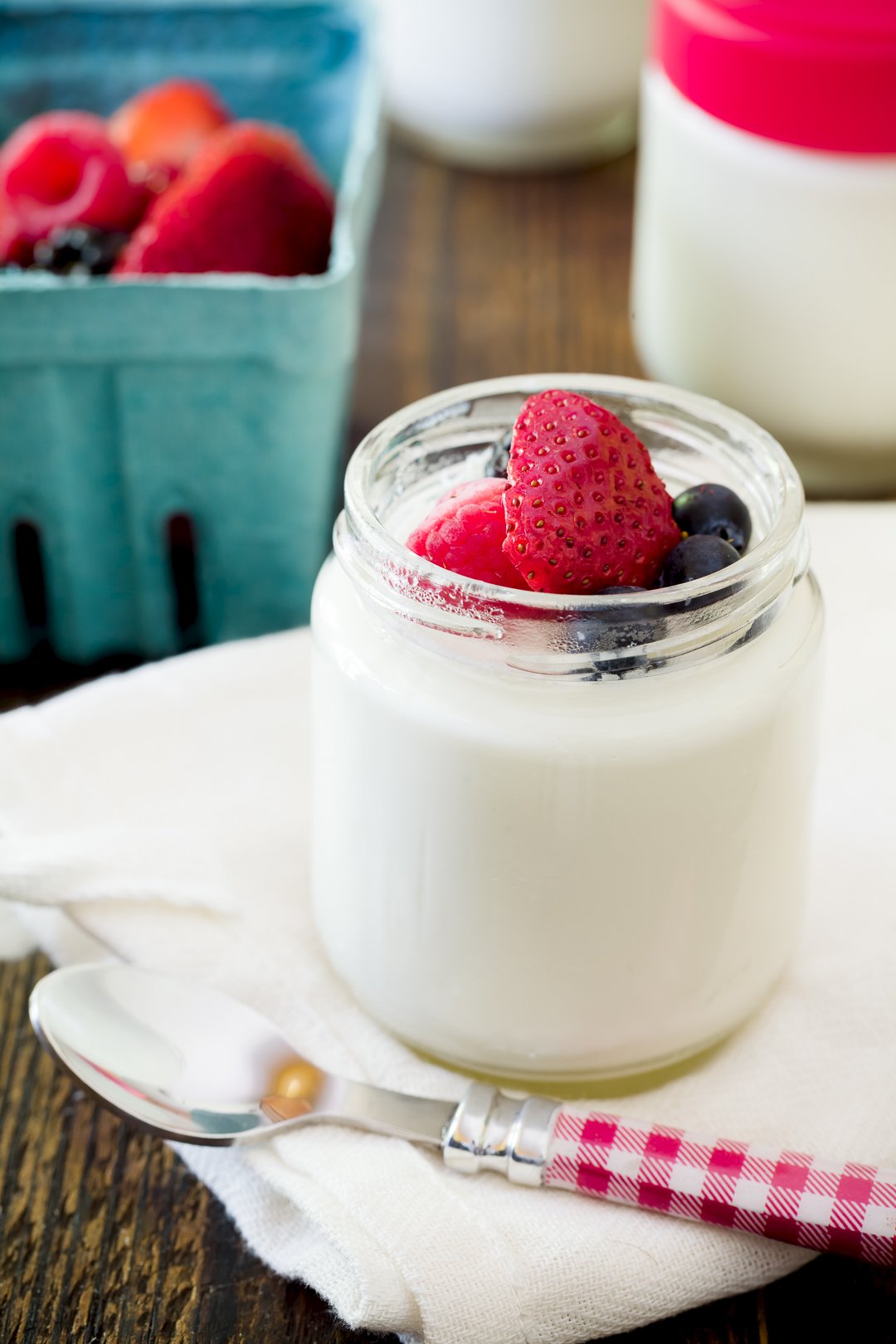 This post was sponsored by Cuisipro.
Why should you bother making homemade yogurt when it's SO easy to buy it? And, how do you make homemade yogurt? Let's take a look! Then, check back soon to see something super fun that I made with my yogurt.
Three Reasons to Make Homemade Yogurt
Homemade yogurt is about half the price of buying plain yogurt in the store. You can do the math yourself. Milk is the main ingredient in yogurt, so see how much it costs for a quart of yogurt versus a quart of milk where you shop.
You have more control over homemade yogurt. You can choose what type and brand of milk you start with, which yogurt cultures or store-bought yogurt to use as a starter, and you don't need to put in any additives.
It's good for the environment. There is no more need to buy so many little plastic cups of yogurt.
I will not suggest that you never buy yogurt – I certainly do. But, if you and your family are big yogurt consumers, I encourage you to experiment with making your own.
How to Make Yogurt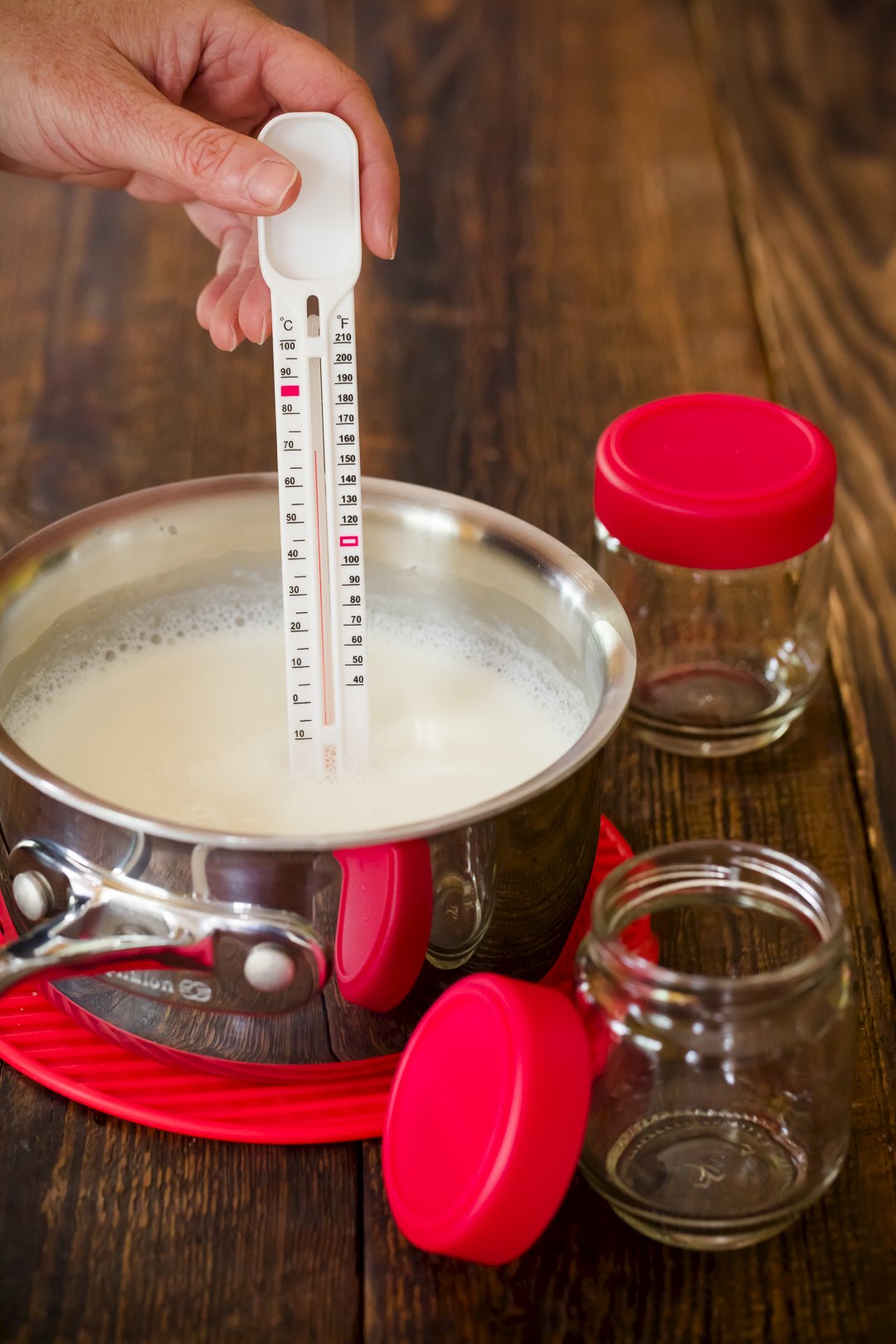 To make yogurt, you first start with milk. I prefer to use organic whole milk. You heat the milk to 185-190 F and then let it cool to 110-115 F. If you are a science-minded person and want to understand why this heating and cooling is done, Northwest Edible Life's post explains it all. If you just want it work and the yogurt-making process to be super ridiculously easy, then use Cuisipro's Thermospoon – yogurt thermometer (shown above). First, you heat the milk to the thick red line and then you cool it to the lower red line. You can't screw this up!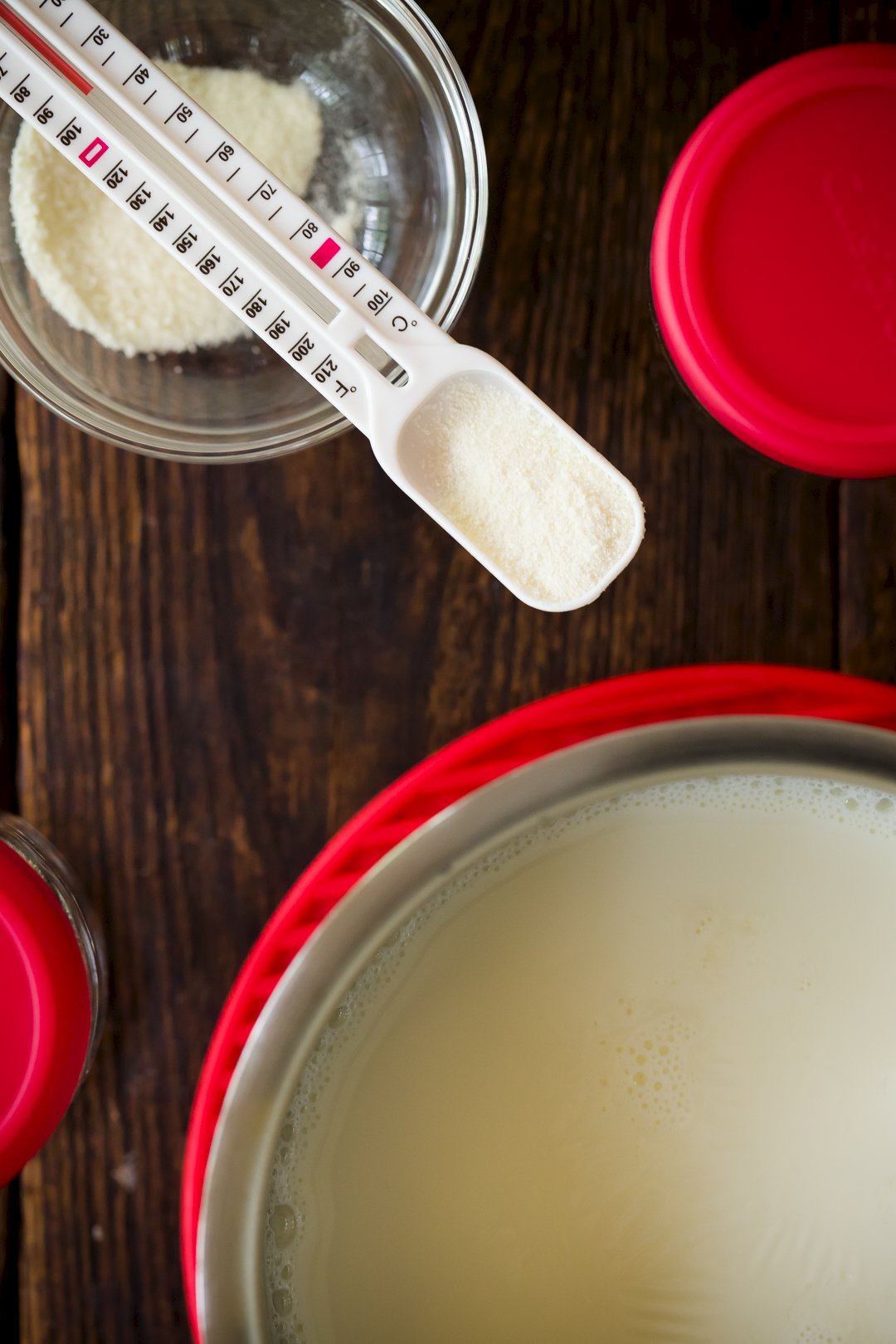 Once the milk is the correct temperature, you can add either store-bought yogurt with live cultures, homemade yogurt from a recent batch, or dried yogurt culture. You can use the top of the Thermospoon to measure!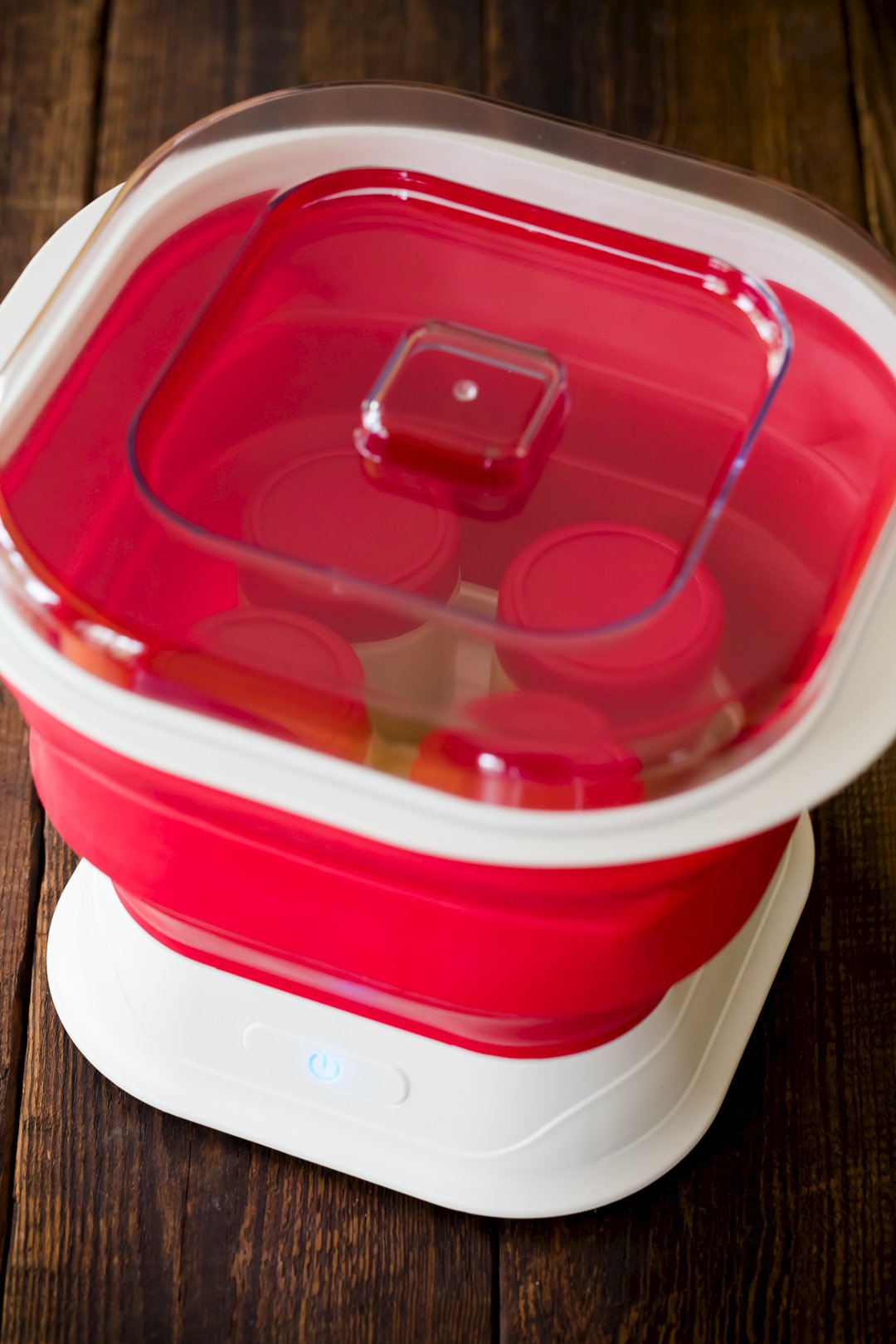 Next, you have to let the cultures sit in the milk at low heat for a long time (about 10 hours) so they can work their magic. There are many ways to do this (some people make yogurt in an oven that they have heated and turned off and others even make yogurt on their radiators). If you want consistent results, the best choice is a yogurt maker. I love Cuisipro's yogurt maker! First of all, it's a collapsible appliance. Check out my Instagram feed (if you aren't already following me there) for a quick video of me collapsing it. It's so easy! Why don't all appliances become flat for storage?
I also love that Cuisipro's leakproof glass jars fit right in the yogurt maker. When your yogurt is done (when the yogurt-making cycle is complete and the yogurt has been chilled), you have single-serving yogurt cups ready to go. You can also fit your own containers in the yogurt maker if you prefer.
Working with whole milk, the yogurt comes out quite thick. However, if you prefer thicker Greek-style yogurt, you can strain it with a cheesecloth.
Homemade Yogurt
Why should you bother making homemade yogurt when it's SO easy to buy it? And, how do you make homemade yogurt? Let's take a look!
Ingredients
3

cups

whole milk

2

teaspoons

plain store-bought yogurt with live cultures

2 teaspoons homemade yogurt from a recent batch, or 2.5 grams dried yogurt culture
Instructions
Heat milk to 185-190 F, stirring occasionally.

Remove from heat and let milk cool to 110-115 F.

Mix in store-bought yogurt, homemade yogurt, or dried yogurt cultures.

Pour mixture into heat-resistant container(s) and fully secure lid(s).

Place containers in yogurt maker and follow manufacturer's instructions.
Notes
If you prefer to use skim milk, optionally add 1/4 cup of milk powder to the milk before heating in order to produce a thicker yogurt. You may choose to use the milk powder with low-fat milk as well, but it is not absolutely necessary.
To produce a Greek-style yogurt, strain completed yogurt with a cheesecloth.
Nutrition
Nutrition Facts
Homemade Yogurt
Amount Per Serving
Calories 114
Calories from Fat 54
% Daily Value*
Fat 6g9%
Cholesterol 18mg6%
Sodium 80mg3%
Potassium 241mg7%
Carbohydrates 8g3%
Protein 5g10%
Vitamin A 295IU6%
Calcium 212mg21%
Iron 0.1mg1%
* Percent Daily Values are based on a 2000 calorie diet.