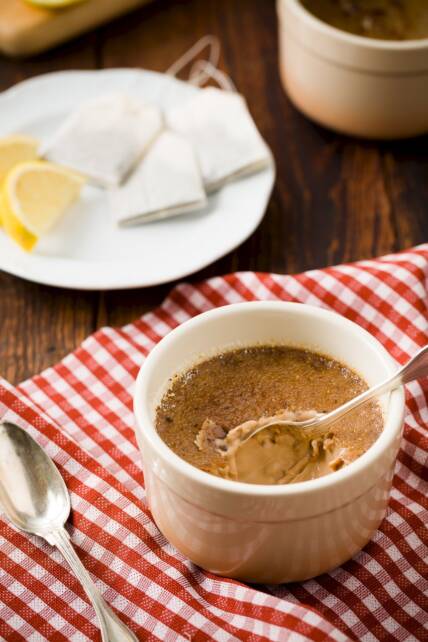 When I told a friend that I was making sweet tea crème brûlée, she looked at me quizzically.  Crème brûlée, she thought, is not the type of dessert that you make at home.  It turns out that crème brûlée is quite simple to make at home and serving it is a great way to step up your dessert game!
This sweet tea crème brûlée tastes just like the drink, and I top it with brûléed lemon sugar to simulate the lemon wedge served alongside sweet tea!
My crème brûlée recipe is adapted from Alton Brown's recipe because the man undeniably knows his stuff.
If you've tried this recipe, please RATE THE RECIPE and leave a comment below!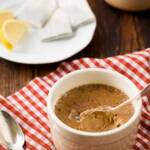 Sweet Tea Crème Brûlée
Servings
4
-6 ramekins of crème brûlée
Ingredients
Lemon Sugar Ingredients
1/2

cup

sugar

zest of one large lemon
Crème Brûlée Ingredients
1

quart

heavy whipping cream

1

ounce

loose black tea

four family-sized tea bags cut open

1/2

cup

sugar

6

large egg yolks
Instructions
Lemon Sugar Instructions
Pulse sugar and lemon zest together in a food processor until you can't see any big separate pieces of lemon.

Spread lemon sugar out on a cookie sheet and lightly cover with wax or parchment paper. Set on the counter overnight to dry out.
Crème Brûlée Instructions
Preheat oven to 325 F.

Bring cream to a low boil in a small saucepan on medium-high heat.

Add loose tea, remove from the heat, cover, and let stand for 15 minutes.

Strain out the tea using a fine strainer. Not all of the tea will be removed, but the strainer should catch a big pile of tea sludge. Try to push as much of the cream through as possible so as not to waste it.

In a medium-sized bowl, whisk together sugar and egg yolks until well-blended and the yolks just start to lighten in color.

Add the hot cream to the yolk mixture slowly, mixing the whole time. If you add the hot liquid to the yolks too quickly, you will cook the eggs.

Divide the mixture evenly between 4--6 ramekins (depending on the size of the ramekins).

Place ramekins into a large baking dish filled with water such that the water comes halfway up the sides of the ramekins.

Bake for 40-45 minutes or until the crème brûlée is set, but the centers are still a little jiggly.

Remove the ramekins from the water bath, set on a cooling rack to come to room temperature, and then refrigerate for at least two hours.

Just before serving, cover the tops of each ramekin with a thin layer of lemon sugar and brûlée with a culinary torch.