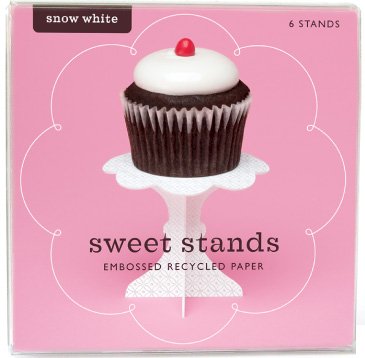 Update: This contest is over.  The winners are Trang from Lancaster, PA, Samantha Jo Jordan from Charlottesville, VA, and  Adrienne Rankin from Greenville, SC. Congrats!
Isn't it nice to be selfish sometimes?  There's no need to share your caramel cupcake – it's all for you!  Along the same line, have you ever considered the feelings of your cupcakes?  They are so often forced into crowded conditions, sharing tight living quarters with their peers on large stands.  With Sweet Stands, each of your empowered cupcakes can have a stand of its own
.
Sweet Stands (featured in my yogurt and honey cupcake post) would be so cute at your next dinner party, and Hello Hannah (the maker of Sweet Stands) has offered to give three packages of Sweet Stands away to Cupcake Project readers!


How to Win

When I started thinking about this giveaway, I began to ruminate on the word "stand."  I wondered about everyone reading this post and where in the world each of you are standing.  I thought it would be fun for us all to share where we live and (while we are at it) at least one of our favorite places to get dessert in our towns.
I trust that any Cupcake Project reader knows his/her desserts, and I, for one, would love to check out your top picks if I ever make it to your neck of the woods.
So, to enter:
Leave a comment on this blog with your hometown and one of your favorite places to get dessert (your kitchen doesn't count).
For a second chance, become a Facebook fan and leave a comment on this post on Facebook with your hometown and your second favorite place to get dessert (it must be a comment on this post, not just a comment on my wall).
The Fine Print
All entries must be in by Thursday, September 30, 11:59 PM CDT.
Only two entries are allowed per person (one on Facebook and one on this blog).
Blog entries must include an email address or a link to a profile with an email address.
I will randomly draw three winners and post the winners on this post on October 1.
If I do not hear back from a winner within one week, I will draw a new winner.
Sorry, the prize can only be shipped to an address in the continental U.S.  However, just for fun, I'd love to hear from international readers.  Maybe, if you win, you'll know someone in the States that you'd like me to send the prize to.
My Answer to The Question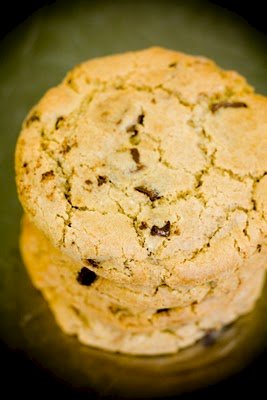 Gluten-free chocolate chip cookies from Free Range Cookies
As most of your know, I'm from St. Louis, Missouri.  I have so many favorite places to get dessert.  But, the place that I want to highlight today is Free Range Cookies.  Linda of Free Range Cookies makes the very best gluten-free baked goods that I have ever had (I'm not gluten-free and I still love her stuff).  Aside from her fine pastries, I chose Free Range Cookies because of this:
Lynda is not only the one person who asked me to sign the copy of People Magazine that I was featured in, but she actually hung it on the wall (not even my mom did that!).
I felt like a rock star!  Thanks, Linda!