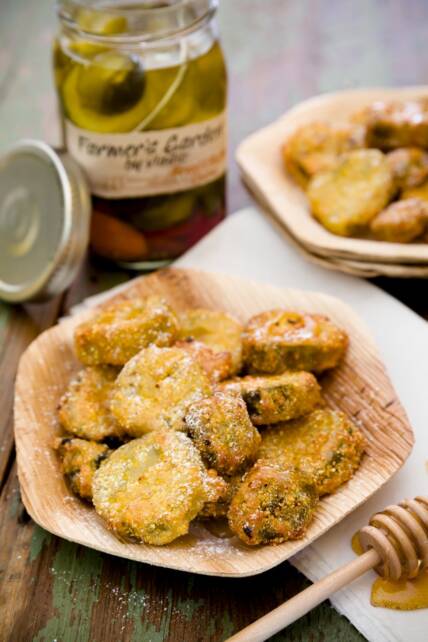 These sweet cornmeal deep fried pickles sprinkled with powdered sugar and drizzled with sticky honey are meant to be served hot.  When I arrived at a going-away party with the fried pickles, the oven was occupied and the pickles could not be reheated immediately.  I was surprised to see that people started eating the pickles cold and LOVED them; knowing that the fried pickles would be even better warmed up, my friends practically threw the pickles in the oven for me.  The crunch of the sweet cornmeal plays well with the tart and tangy pickles to create a completely addictive combination.
These pickles work as an appetizer, but they shine as a surprise dessert!  Hold the eye rolls, please.  I kid you not –  these fried pickles actually work for dessert!  Don't knock them until you try them!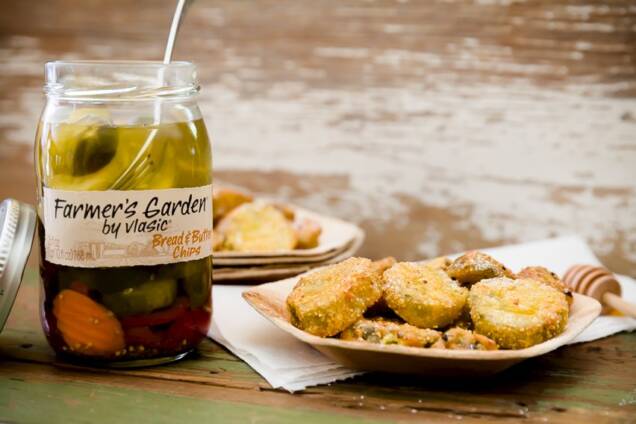 To make these deep fried pickles, I used Farmer's Garden by Vlasic pickles.  They are artisanal-quality, premium pickles, made with no artificial flavors.  Each Farmer's Garden cucumber is hand-packed in a traditional mason jar and pickled using home-style canning techniques to lock in the bold, fresh taste.  The Farmer's Garden by Vlasic pickles come in five varieties: Zesty Garlic Chips, Bread & Butter Chips, Kosher Dill Spears, Kosher Dill Halves, and Dill Chips.  I found that the Bread & Butter chips work best for this dessert recipe both because of their size and the fact that they are very sweet pickles on their own.
Want to Win a Prize Valued at $1500?
Farmer's Garden is celebrating the authentic taste of  #Farmtojar with the Savor Simplicity Sweepstakes running through July 31. You could win a weekend cooking adventure or summer entertaining package, each worth $1,500. To enter, head to Farmer's Garden's site.  A $1 off coupon will also be given to all entrants immediately following entry.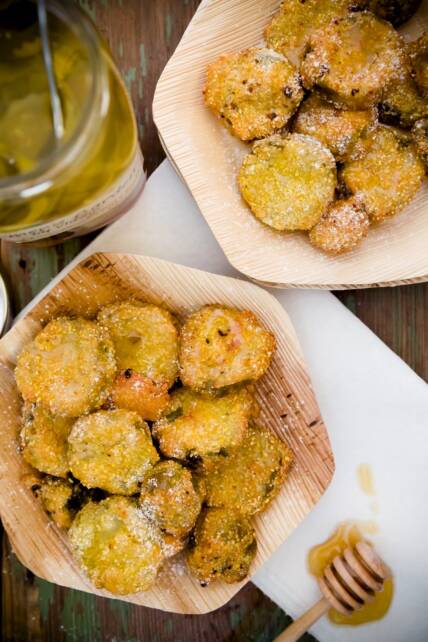 If you've tried this recipe, please RATE THE RECIPE and leave a comment below!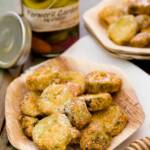 Sweet Cornmeal Deep Fried Pickles
Ingredients
vegetable oil for frying

2/3

cup

all-purpose flour

1/2

cup

buttermilk

1

large egg

1/3

cup

cornmeal

1/4

cup

sugar

1

jar Farmer's Garden by Vlasic Bread & Butter pickles

powdered sugar for dusting

honey for drizzling
Instructions
Heat oil in a large, deep skillet or a deep fryer to 350 F.

Line up 3 cereal bowls and two plates.

Place the flour in the first bowl.

Mix the buttermilk and egg in the second bowl.

Mix the cornmeal and sugar in the third bowl.

Dunk pickles, one at a time, in the buttermilk bowl, coat in flour from the flour bowl, dunk again in the buttermilk bowl, and finally coat with the cornmeal from the cornmeal bowl.

Place on the first plate until ready to fry.

Line the second plate with paper towels.

Fry pickles for about 4 minutes or until the coating is golden brown.

Set on paper towels to absorb any excess oil.

Serve hot, dusted with powdered sugar and drizzled with honey.

If not serving immediately, refrigerate until ready to serve and reheat on a cookie sheet in a 350 F oven for about 10 minutes.
Do You Want More Pickle Recipes?
Be sure to check out Farmer's Garden's blog for all kinds of pickle fun!
Disclaimer: This post was sponsored by Farmer's Garden by Vlasic, but opinions expressed (like the fact that pickles for dessert can be a great thing) are totally mine!