I've been fascinated with Supreme Spice extracts ever since I used the tea masala extract in my bhapa sandesh Indian cupcakes.
Anjali Damerla, the owner of Supreme Spice, agreed to an interview. In this post, I share that interview with you! Anjali also went one step further and offered to give some free spice extracts to one of my readers!
If you comment on this post by the end of the day on Wednesday, you are eligible to win this prize package: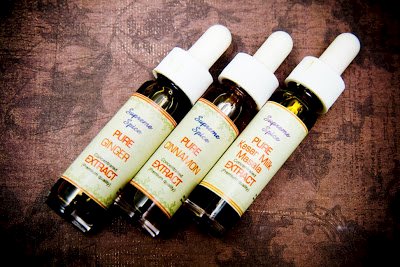 Your prize includes ginger extract, cinnamon extract, and kesar milk extract (a blend of nutmeg, cardamom, saffron and curcumin – a spice found in turmeric). One winner will be selected at random from everyone that comments by the deadline.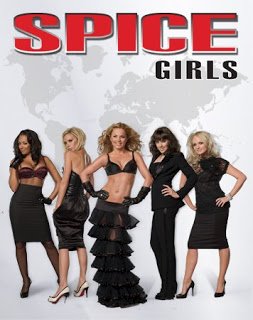 What Happens if You Don't Give Me a Photo
The one thing that Anjali wouldn't provide was a photo. I'm forced to assume that she would fit in nicely with the other Spice Girls.
Scary, Baby, Ginger, Posh and Sporty – welcome Supreme Spice!
(Note: The *vere* surprising person I am interviewing next is now vere glad that she decided to give me a picture.)
Photo credit: Thespicegirls.com.
The interview begins after the break. Enjoy, and good luck to everyone.
When did you first become interested in extracts?
When my daughter was around 3 years old, she used to catch a cold very frequently and I knew that getting some garlic or ginger in her system would help boost her immunity and reduce her frequent colds. But how does one make a child understand this? Garlic supplements are not for kids and I wanted the ability to control the amount I gave her. I used to think it would be amazing if I could just add garlic liquid to her meals.
That's when I found something called Spice Oleoresins (extracts) that are in liquid form and have all medicinal properties of the parent spice. I did more research and found that the food industry already was using these extracts in making sauces, salsas, etc. But these were not available in retail stores. And that's when I thought of starting my own business in Spice extracts, found a manufacturer in India who was already making extracts (also called Oleoresins) for bigger food companies and was able to get these extracts in smaller bottles for retail.
How long has Supreme Spice been around?
I started Supreme Spice around two and half years back.
What has been the most exciting thing for you about owning the company?
Starting and maintaining your own company is not easy. It comes with its own challenges but has far more advantages. But the most exciting thing about owning my own company is the feeling of achievement that I get without sacrificing any family time. I am still able to volunteer at my kids' schools, join a book club and pursue my other hobbies. I can be with kids if they fall sick and do not have to worry about getting leave from office, etc.
What is the advantage of using extracts vs. ground spices? For example, why would someone use cinnamon extract instead of ground cinnamon?
The main advantage of using extracts is that they never lose flavor or fragrance. Ground spices become stale and flavorless within 6 months. Extracts have longer shelf life and contain all the medicinal properties of the parent spice. They blend very well without leaving any spice pockets and let you customize the amount of spice according to individual taste. For example, say, you like ginger tea but your spouse prefers cardamom tea and your friend would like to have masala tea. What you do is make just 1 pot of tea. Add ginger extract to your cup, cardamom extract to your spouse's and tea masala extract to your friend's cup. Customize.
Are you working on any new spice extracts?
I am in the process of adding Lemon Grass extract to my product line.
How are extracts made?
The volatile oil of the spice is extracted using solvents. The solvent is then separated from the extract and a emulsifier is added to keep the extract free flowing. Ingredients that are in the spice extracts are only the volatile oil of the parent spice and the emulsifier (to keep the extract free flowing). It contains no preservatives or alcohol. The quality of spices that are used to make the extracts is very important and the spices come mainly from the local farmers and with whom my manufacturer has been dealing for years.
What is your favorite extract?
I will have to say that Tea Masala extract is my most favorite. I am a big fan of Masala Chai and have it everyday.
What do you do when you are not selling extracts?
I am a mother of 2 wonderful kids and I volunteer at their schools a lot. I also love to read (recently joined a book club) and paint (take a look at some of my paintings here).
If you were Bride 2.0, what cupcakes would you want at your wedding?
Hmm.. As a Bride 2.0, I would love to have a cupcake which had some spices in it and since this cupcake is going to be for a wedding, I would choose the most Royal and Aromatic spice of all – Saffron. So, there you have it, as a Bride 2.0, I would choose a Saffron cupcake.