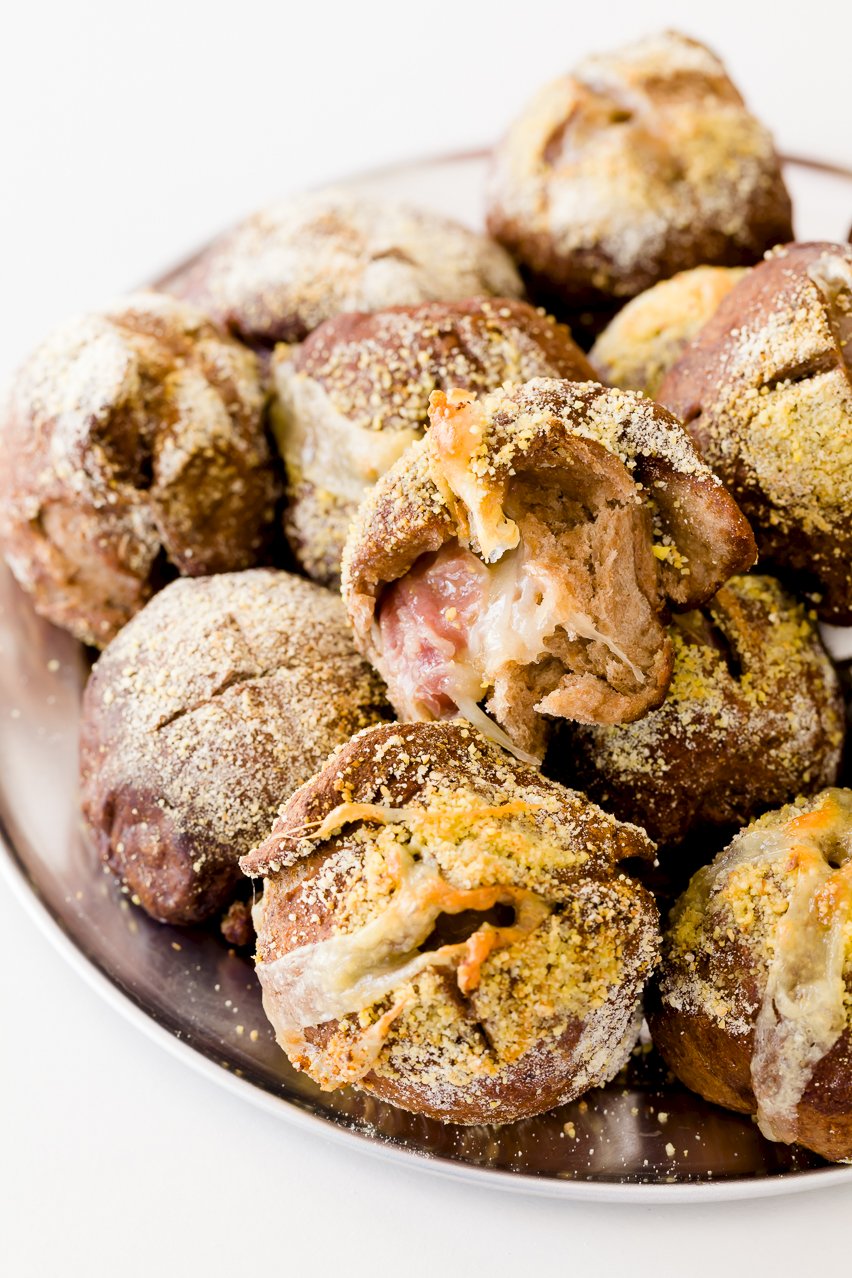 These pumpernickel pretzel bites have the same doughy, chewy interior with a harder but still chewy crust that you would expect of any soft pretzel. Also, like all pretzels, they take a dip in an alkaline solution (baking soda + water) before baking to give them a signature pretzel flavor. While they are completely recognizable as pretzels, they are equally recognizable as pumpernickel. The pumpernickel pretzel bite dough contains whole grain rye flour and these beauties get a cornmeal treatment instead of a dusting with coarse salt.
This recipe for pumpernickel pretzel bites could easily be made in a more classic pretzel shape or as larger pretzel rolls. I know I'll be trying these varieties down the road and I'd love to hear about it if you try them. However, stuffing the pretzel bites with cheddar cheese and prosciutto like I did is a great way to go; the fillings add the salt that is missing from the pretzels. As a bonus, if you eat the pretzels warm (and is there really any other way?), you get the joy of hot oozey cheese tumbling out of the pretzels! These little guys were meant to be a snack food or a game day treat, but I apologetically devoured them for lunch today!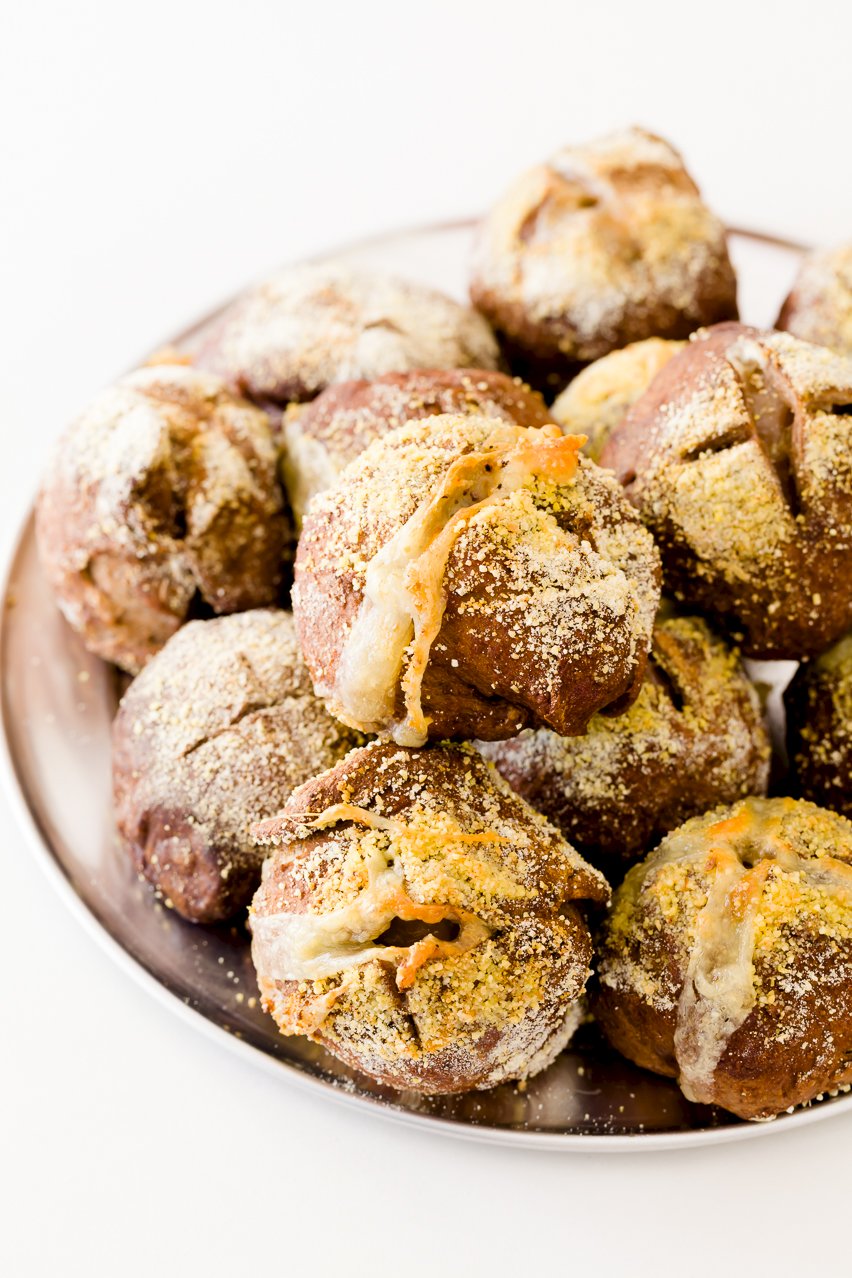 Stuffed Pumpernickel Pretzel Bites Recipe
My recipe was adapted from Smitten Kitchen's recipe for pumpernickel bread.
If you do a side by side of the two recipes, which I don't really expect anyone will do, you'll notice that I replaced the all-purpose flour and whole wheat flour with bread flour to make the pretzels more chewy. (View on Amazon)
I also replaced the molasses with barley malt syrup. Barley malt syrup is a common sweetener in pretzels. (View on Amazon)
You might question why there is cocoa powder in the recipe. It's to give the pretzels a darker color. This is one case where I would suggest using inexpensive cocoa powder. You may never hear me suggest using cheap cocoa powder again. (View on Amazon)
I used this dark rye flour in my recipe. Bob's Red Mill also makes a specific pumpernickel rye flour that I'd love to try, but it's much harder to find in stores near me. I found that the regular dark rye tasted pumpernickely enough to make this recipe work. (View on Amazon)
Stuffed Pumpernickel Pretzel Bites
The pumpernickel pretzel bite dough contains whole grain rye flour and these beauties get a cornmeal treatment instead of a dusting with coarse salt.
Prep Time
2
hours
10
minutes
Total Time
2
hours
30
minutes
Servings
16
stuffed pretzel bites
Ingredients
Pumpernickel Dough Ingredients
1

cup

warm water

Don't stress about the temperature. It should be warmer than room temperature, but not so hot that you burn yourself if you touch it.

2 1/2

teaspoons

1 envelope active dry yeast

1

tablespoon

barley malt syrup

2 1/2

cups

bread flour

1/2

cup

whole grain rye flour

1

tablespoon

cocoa powder

not dutch-processed

2

teaspoons

salt
Filling Ingredients
about 6 ounces cheddar cheese

cut into 16 1" square pieces

about 3 ounces prosciutto
Water Bath and Topping Ingredients
10

cups

water

2/3

cup

baking soda

1/4

cup

cornmeal
Instructions
Pumpernickel Dough Instructions
Whisk together water and yeast in a large mixing bowl. Let sit for five minutes. It should get a little frothy.

Stir in barley malt syrup.

Stir in bread flour, rye flour, cocoa powder, and salt.

Transfer to a clean work surface and knead until smooth, about five minutes. You won't need to put down any additional flour as the dough is not sticky.

Transfer to an oiled bowl, cover, and place in a warm place to rise until it doubles - about one hour.
Filling Instructions
Punch down the dough.

Use a bench scraper or knife to cut the dough into quarters. Then, cut each quarter into four pieces.

Press each dough piece into a flat disc.

Wrap each piece of cheese in just enough prosciutto to go around the entire cheese piece.

Place one wrapped cheese piece in the center of each dough disc.

For each disc, grab two opposing edges of the disc, pull up over the filling, and press together to seal. Repeat with the other two edges, ensuring that the cheese is completely covered. Roll into a ball shape.

Place completed balls on two baking sheets. Loosely cover with towels and set in a warm place to rest for an hour. The dough will rise a little over this time although it won't quite double.
Water Bath, Topping, and Baking Instructions
Preheat oven to 500 F.

Prepare water bath by bringing water and baking soda to a boil in a large pot.

Add a few dough balls at a time to the boiling water. Leave in the water for about one minute, remove with a slotted spoon, and place on Silpat- or parchment-lined baking sheets. (Although lining the baking sheet isn't a requirement, it will save you a rough cleanup in the event that the cheese spills out of the pretzels and burns onto the cookie sheet.)

Dust pretzel balls with cornmeal.

Slice an "x" into the top of each ball. Don't be shy about cutting deep into the dough. This "x" is not just for aesthetics; it provides a release for the steam that will build up inside the ball as it bakes. This keeps the cheese from exploding out of the side or the bottom of the ball. Some cheese may escape out of the top of the ball during the bake and that is not a bad thing.

Lower oven temperature to 450 F.

Bake for 10 minutes or until pretzels are dark and somewhat glossy.

Eat hot, but be careful not to burn yourself on the cheese and end up with that annoying hanging thing on your palate.
Nutrition
Nutrition Facts
Stuffed Pumpernickel Pretzel Bites
Amount Per Serving
Calories 166
Calories from Fat 54
% Daily Value*
Fat 6g9%
Cholesterol 14mg5%
Sodium 1770mg74%
Potassium 83mg2%
Carbohydrates 20g7%
Protein 7g14%
Vitamin A 105IU2%
Calcium 86mg9%
Iron 0.5mg3%
* Percent Daily Values are based on a 2000 calorie diet.