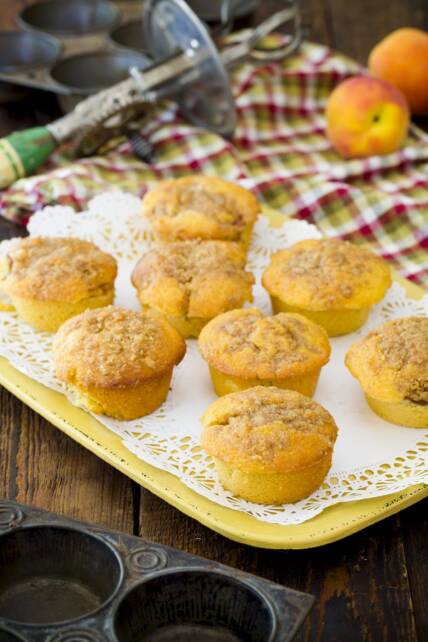 Corn muffins are often unremarkable – although they always make superb delivery mechanisms for honey butter.  My corn muffins are extraordinary in their own right (which is good or bad, depending on how much you love honey butter).
My corn muffins are pleasantly light and sweetened with a touch of sorghum, but it's what's on top and what's inside that make them special.  I start with a basic corn muffin recipe and layer in pie filling prepared with fresh peaches, brown sugar, and cinnamon.  Then, I top the muffins with a brown sugar cornmeal streusel.
Have you ever been sad to bring dessert to a party because you wanted it all for yourself?  That was me with these muffins: "Bye bye, muffins!  I'll have to make you again soon!"
Before we get to the corn muffin recipe, I want to let you know that if you love Southern food, you won't want to miss Southern Uncovered on Ovation TV, Sundays at 8pm EST:
James Beard Award-winning food and travel writers, Matt and Ted Lee, uncover the unexpected bites and sights in their hometown of Charleston, South Carolina. From Lowcountry oyster roasts to an undersea winery and dinner that comes with a side of dance lessons, Matt and Ted prove there's far more to Charleston's food scene than the tour guide lets on.
Here's a sneak peak of Southern Uncovered:
Streusel-Topped Peach-Stuffed Corn Muffins
To give credit where credit is due, I used an ever-so-slightly adapted version of Patrick and Gina Neely's corn muffin recipe as the base for these corn muffins.  The peach pie filling recipe is my own, and the cornmeal streusel is from the sweet cherry pie with cornmeal streusel on the fabulous pie blog, Nothing in The House.
If you've tried this recipe, please RATE THE RECIPE and leave a comment below!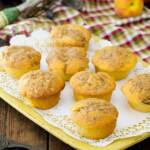 Streusel-Topped Peach-Stuffed Corn Muffins
Ingredients
Peach Pie Filling Ingredients
3/4

cup

chopped ripe peaches

3/4

teaspoon

lemon juice

1 1/2

teaspoons

flour

1 1/2

teaspoons

brown sugar

3/4

teaspoon

cinnamon
Cornmeal Streusel Ingredients
3

tablespoons

all-purpose flour

1 1/2

tablespoons

cornmeal

3

tablespoons

brown sugar

3

tablespoons

unsalted butter

cold and cut into small pieces
Corn Muffin Ingredients
1

cup

yellow cornmeal

1

cup

all-purpose flour

1

tablespoon

baking powder

1/2

cup

sugar

1/2

teaspoon

salt

1

cup

whole milk

2

large eggs

1/4

cup

unsalted butter

melted

2

tablespoons

sorghum molasses
Instructions
Peach Pie Filling Instructions
Mix all ingredients in a small bowl until the mixture gets a little gooey and the the peaches are completely coated with the other ingredients.
Cornmeal Streusel Instructions
Place all ingredients in a small bowl and use your hands to mix together until small clumps form.
Corn Muffin Instructions
Preheat oven to 400 F.

In a large mixing bowl, whisk together cornmeal, flour, baking powder, sugar, and salt.

In a medium-sized bowl, whisk together milk, eggs, butter, and sorghum.

Add the wet ingredients to the dry ingredients a little bit at a time, mixing until just combined.

Spray muffin tins with a non-stick baking spray.

Fill each muffin tin depression about 1/3 full with batter.

Top with a layer of peach pie filling.

Top peach pie filling with more batter to reach almost the top of the tin.

Sprinkle liberally with cornmeal streusel.

Bake for 20 minutes or until a toothpick comes out clean.

Cool in the tins for five minutes, then carefully remove the muffins and place on a cooling rack to finish cooling.
Recipe Notes
You may also choose to use cupcake liners for this recipe. That makes removing the muffins from the tins much easier.
Note: This post was sponsored by Ovation TV.