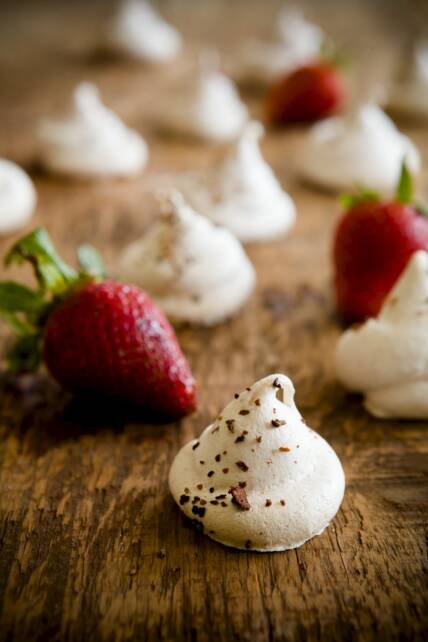 Meringues are finicky little things – try adding wet fruit into the mix and the egg whites will collapse like bedsheets drifting down onto a mattress.  I wanted meringues with the flavor of strawberry rhubarb pie and I certainly couldn't achieve that goal by adding fresh fruit to my fluffy meringue batter.  Instead, I mixed in sifted strawberry rhubarb powder (read my post on how to make fruit powder for details).  The end result was an intensely fruity meringue.  Score!
What's on Top of the Strawberry Rhubarb Meringue Cookies?
When I posted the photo above on the Cupcake Project Facebook page, many of you thought the meringues were topped with shaved chocolate.  While that would be tasty, my meringues were topped with strawberry rhubarb powder.  When I sifted my strawberry rhubarb powder, I saved the pieces that were too large to fit through the sifter and sprinkled them over the cookies prior to baking.  The extra powder gave the cookies a cute look while adding an additional flavor punch.
Why Aren't the Strawberry Rhubarb Meringue Cookies Pink?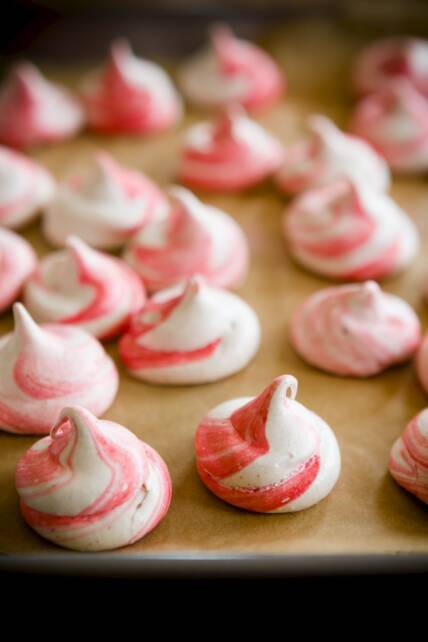 I tried a version of the strawberry rhubarb meringue cookies that had a pink swirl.  However, I was only able to achieve this using lots of red food coloring (I'd have to add way too much strawberry rhubarb powder to actually color the cookies).  Maybe someone can do this in a more natural way and share the technique in the comments.  Also, even though the swirls were pink and not red, they ended up looking a little too pepperminty.  Another idea would be to make the meringue cookies solid pink.
Strawberry Rhubarb Meringue Cookie Recipe
This recipe is my slight adaptation of Martha Stewart's meringue cookie recipe.  If you like the look of the color swirl rather than the strawberry rhubarb topping, you can get complete instructions on how to create that effect on her site.
If you've tried this recipe, please RATE THE RECIPE and leave a comment below!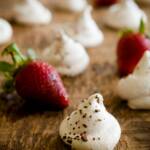 Strawberry Rhubarb Meringue Cookies
Servings
30
small meringue cookies
Ingredients
3

large egg whites

room temperature

3/4

cup

sugar

1/8

teaspoon

salt

1/8

teaspoon

cream of tartar

1

tablespoon

plus 2 teaspoons strawberry rhubarb powder

see my post on how to make fruit powder for the recipe
Instructions
Preheat oven to 200 F.

Bring a pot of water to a low simmer.

Set a heatproof bowl over the pot and add egg whites and sugar. Stir regularly until sugar completely dissolves (about 3 minutes).

Remove the bowl from the heat and mix in salt and cream of tartar.

Beat on high speed until stiff peaks form (about 5 minutes).

Sift in strawberry rhubarb powder and gently stir to combine. Reserve any chunks of powder that don't fit through the sifter.

Line two cookie sheets with parchment paper or a

Silpat

.

Using a large round pastry tip, pipe swirls of meringue (any size you'd like) onto the lined cookie sheets. Leave a little space (about an inch) between the meringues to allow for their growth during baking.

Sprinkle piped meringues with reserved chunks of fruit powder.

Bake for an hour and 15 minutes or until the meringues are crisp on the outside but still soft on the inside.