Arctic rolls are summer's answer to jelly rolls. They are ice cream cake rolls – sponge cakes rolled around ice cream!
Learn how to make this impressive-looking and refreshing dessert and try out some fun flavor ideas!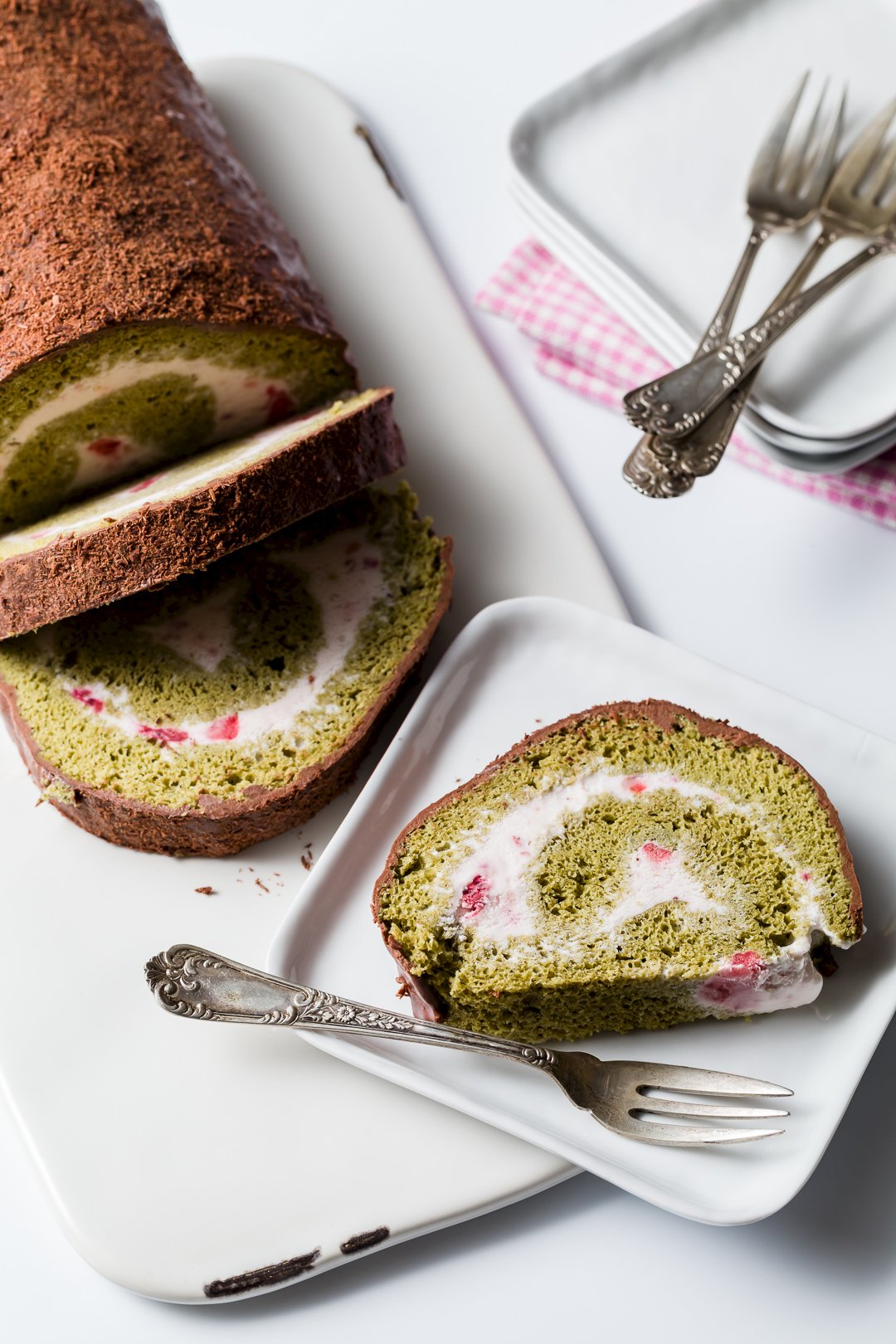 What is An Arctic Roll?
An arctic roll is a sponge cake rolled around a layer of ice cream. Arctic roll differs from a classic ice cream cake in that it is rolled up; because of this, it is often called an ice cream cake roll.
It is sometimes topped with chantilly cream and fresh fruit, sometimes covered in ganache, or simply dusted with powdered sugar.
How to Make an Arctic Roll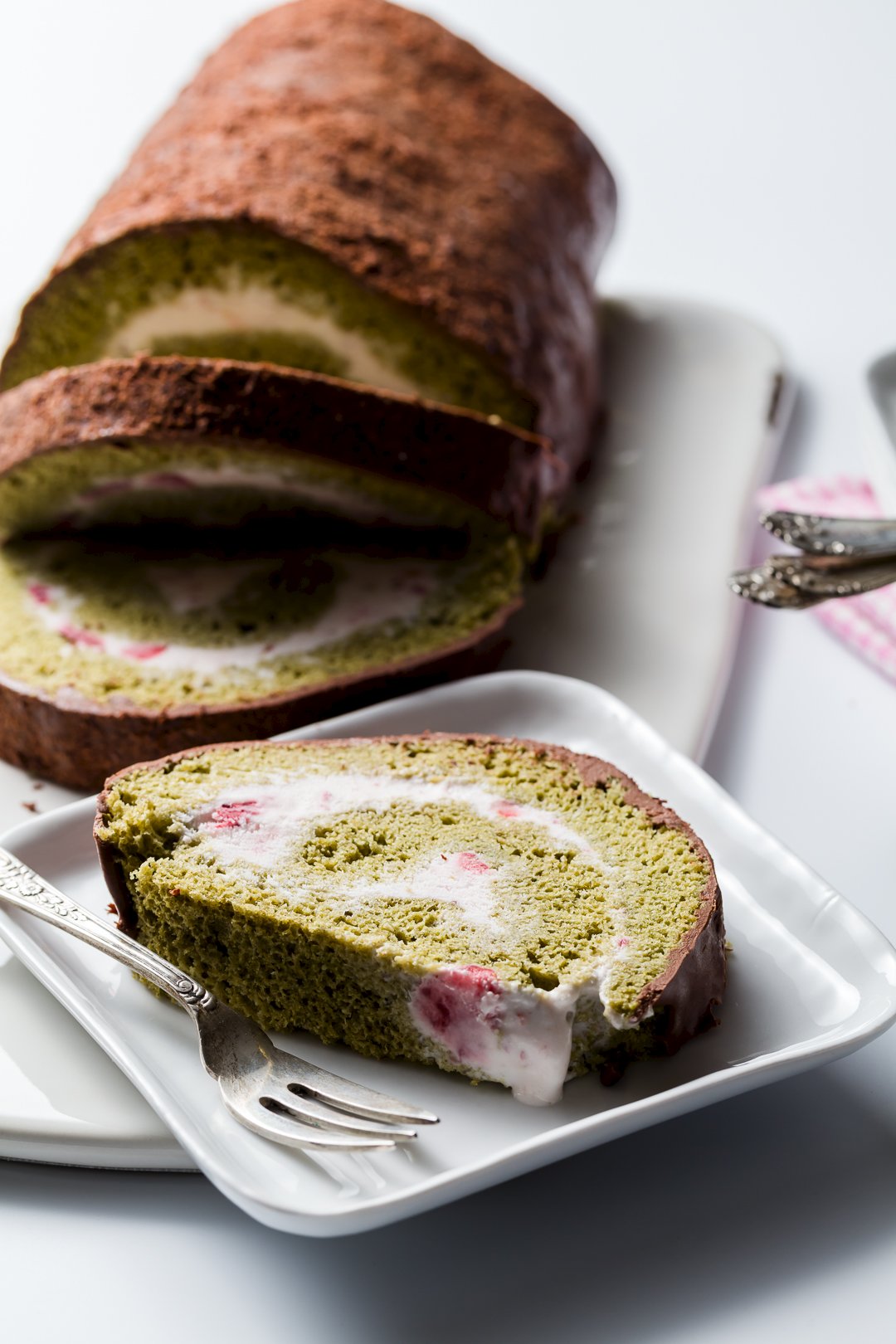 To make an arctic roll, you start by baking a thin sponge cake on a 15″x 10″ jelly roll pan.
Next, you spread softened ice cream all over the top of the cake and roll the cake up.
Finally, freeze the cake completely before serving.
Ice Cream Cake Roll Troubleshooting
The biggest concern when making jelly rolls or arctic rolls is that the cake will crack when you roll it. People get so worried about their cake cracking that they avoid making rolled cakes entirely.
Fortunately, there are some steps you can take to minimize cracking:
Right after taking the cake out of its pan, set the hot cake on a kitchen towel on a heat-resistant surface and roll it up without any ice cream.
When it cools, unroll it, spread the ice cream on, and re-roll. The cake remembers the shape it had when it was hot and it will easily roll up again.
If you do have a crack, nobody ever needs to know!
The ice cream will freeze and fill any cracks on the bottom of the cake.
Cover the cake with ganache to hide any cracks on top of the cake.
Boom! Problem solved!
Arctic Roll Flavors
There are so many possibilities for cake and ice cream flavors in this dessert. Below, you'll find the recipe for my matcha (green tea) and strawberry arctic roll. The vibrant green of the matcha cake not only looks pretty, but it also has a wonderful bold flavor and goes really nicely with the strawberry and chocolate.
Here are some other flavors to consider:
Arctic Roll Topping Ideas
I like to top my rolls with chocolate ganache. Once frozen, place the ice cream cake roll on a cooling rack and pour the ganache over the top of the roll, covering the whole thing. Garnish with chocolate shavings and return to the freezer.
Other topping ideas include:
Arctic Roll
A refreshing strawberry matcha arctic roll (ice cream cake roll) topped with chocolate ganache and chocolate shavings.
Ingredients
Arctic Roll Ingredients
1

cup

cake flour

not self-rising

1

teaspoon

baking powder

2

tablespoons

matcha powder

1/4

teaspoon

salt

5

large eggs

separated

3/4

cup

sugar

1/4

cup

whole milk

1

pint

strawberry ice cream
Ganache Ingredients
1/4

cup

heavy whipping cream

3

ounces

dark chocolate

discs or chocolate that has been chopped into small pieces

a handful of chocolate shavings

optional
Instructions
Arctic Roll Instructions
Preheat oven to 400 F.

In a medium-sized bowl, sift together cake flour, baking powder, matcha, and salt.

In another medium-sized bowl, whisk together egg yolks, sugar and milk until pale yellow and thick, about two minutes.

Add the flour mixture to the yolk mixture and fold until combined.

In the bowl of a stand mixer, whisk the egg whites until stiff peaks form.

Fold the egg whites into the batter in three additions. You should have a thick and fluffy batter that is a uniform green color.

Line an approximately 15"x10" jelly roll pan with parchment paper.

Pour batter onto pan and shake the pan to evenly distribute the batter.

Bake for 7 minutes or until a toothpick inserted into the center of the cake comes out clean.

Flip the hot cake out onto a tea towel and peel off the parchment paper.

Roll the hot cake tightly around the tea towel and let it cool. (Make sure that tea towel is on something heat-resistant. I put mine on a wood table thinking that the heat wouldn't be too intense through the tea towel. I have no idea why I thought that. Mistake. Luckily, we fixed the damage to the wood with an iron. If are actually reading this fine point and have questions about it, hit me up in the comments.)

While the cake is cooling, remove the ice cream from the freezer to soften.

Unroll cooled cake and evenly spread ice cream over the cake, leaving a 1" border on all sides.

Re-roll the cake and return to the freezer to harden for at least two hours.
Ganache Instructions
Heat cream in the microwave or on the stove top until it is just about to boil.

Pour hot cream over the chocolate and stir until all of the chocolate melts and combines with the milk.

Place arctic roll on a cooling rack set on top of a cookie sheet.

Pour chocolate evenly over the arctic roll.

Sprinkle chocolate shavings over the ganache.

Return to the freezer overnight before slicing and enjoying.
Notes
The matcha roll recipe is loosely adapted from Food 52's matcha jelly roll recipe.
Nutrition
Nutrition Facts
Arctic Roll
Amount Per Serving
Calories 293
Calories from Fat 126
% Daily Value*
Fat 14g22%
Cholesterol 103mg34%
Sodium 93mg4%
Potassium 180mg5%
Carbohydrates 33g11%
Protein 6g12%
Vitamin A 770IU15%
Vitamin C 1.3mg2%
Calcium 74mg7%
Iron 1.9mg11%
* Percent Daily Values are based on a 2000 calorie diet.