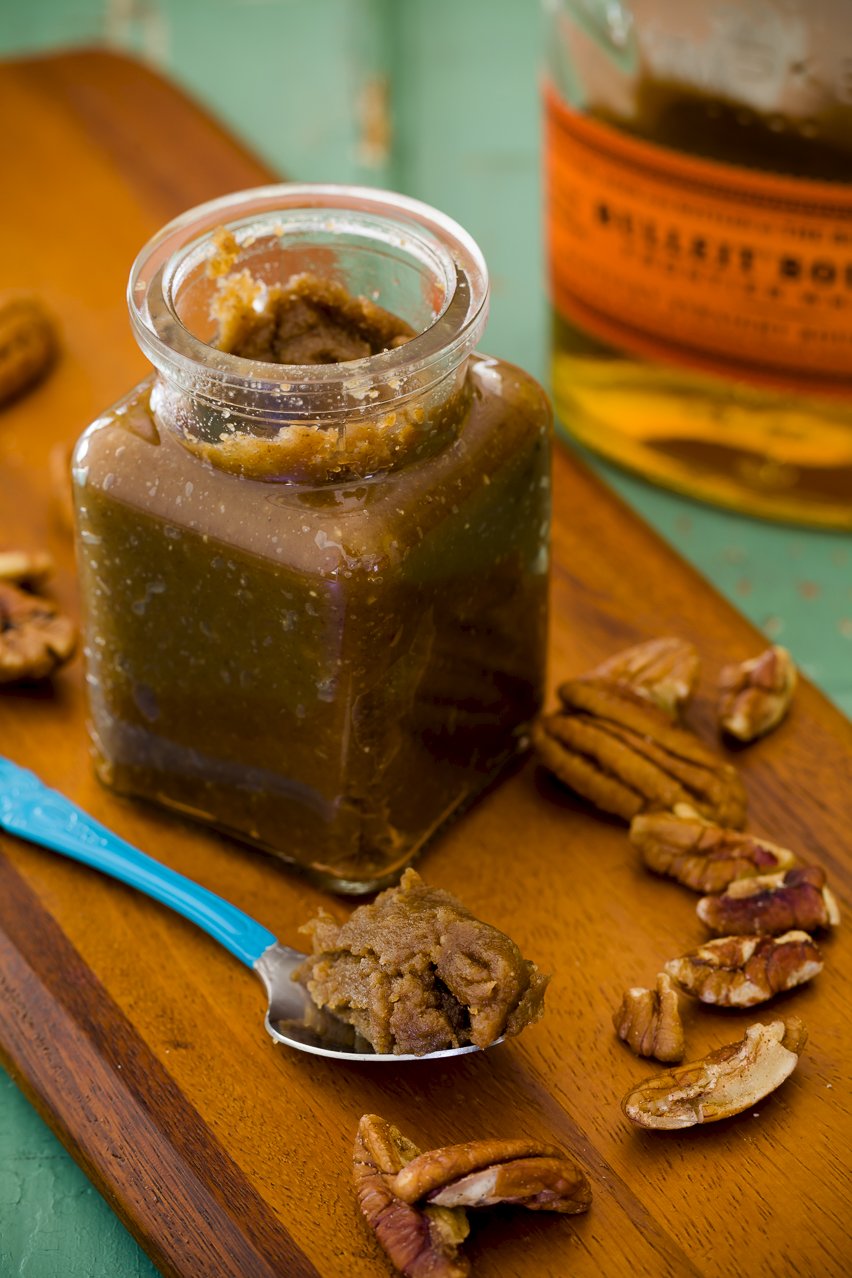 My master plan was to make a southern sweet pecan butter to spread on corn muffins. Because things rarely stay simple around here, the pecan butter turned into sorghum and bourbon pecan butter and the corn muffins turned into streusel-topped, peach-stuffed corn muffins. The original idea would have been blue skies, but my new plan was blue skies with puffy white clouds – more interesting and dynamic.
The glorified pecan butter was crazy-spread-it-on-almost-everything-good! It's sweet, nutty, a little boozey, and would be so incredible on a biscuit or a plain-ol' piece of cornbread. The one thing the pecan butter was not good with was my corn muffins. It totally distracted from the muffin's complex flavor. My plan was still a win because I now have pecan butter to eat right off of that cute blue spoon and to-die-for muffins!
Before we get to the pecan butter recipe, I want to let you know that if you love Southern food, you won't want to miss the premiere of Southern Uncovered on Ovation TV – this Sunday, June 14th at 8pm EST:
James Beard Award-winning food and travel writers, Matt and Ted Lee, uncover the unexpected bites and sights in their hometown of Charleston, South Carolina. From Lowcountry oyster roasts to an undersea winery and dinner that comes with a side of dance lessons, Matt and Ted prove there's far more to Charleston's food scene than the tour guide lets on.
I've only been to Charleston once and I had some of the best food of my life there. Some day I will make it back to McCrady's – I dream of it! I can't wait to hear what the Lee Brothers have to say!
Here's a sneak peak of Southern Uncovered:
Southern Sorghum and Bourbon Pecan Butter Recipe
This recipe is super easy to make if you have the right tool – a really powerful blender or food processor. (I've made pecan butter in a weak food processor before, so I know that it can be done; you may end up overheating and possibly breaking your machine in the process.)
It's also important to use sorghum molasses. Sorghum molasses tastes completely different than other types of molasses as it's made from sorghum (a grass-like plant) instead of cane sugar. (View on Amazon)
Southern Sorghum and Bourbon Pecan Butter
Sorghum and bourbon bring wonderful warmth to pecan butter.
Ingredients
2

cups

pecans

2

tablespoons

sorghum molasses

2

tablespoons

bourbon whiskey

2

teaspoons

vegetable oil
Instructions
Blend all ingredients in a powerful blender (like a Vitamix or a BlendTec) until completely smooth.
Notes
This nut butter is quite thick. If you prefer a thiner, more spreadable nut butter, add more oil to the mix a teaspoon at a time until you are happy with the consistency.
Yield: 1 cup
Nutrition
Nutrition Facts
Southern Sorghum and Bourbon Pecan Butter
Amount Per Serving
Calories 101
Calories from Fat 81
% Daily Value*
Fat 9g14%
Potassium 87mg2%
Carbohydrates 3g1%
Protein 1g2%
Vitamin A 5IU0%
Vitamin C 0.2mg0%
Calcium 14mg1%
Iron 0.4mg2%
* Percent Daily Values are based on a 2000 calorie diet.
Note: This post was sponsored by Ovation TV.