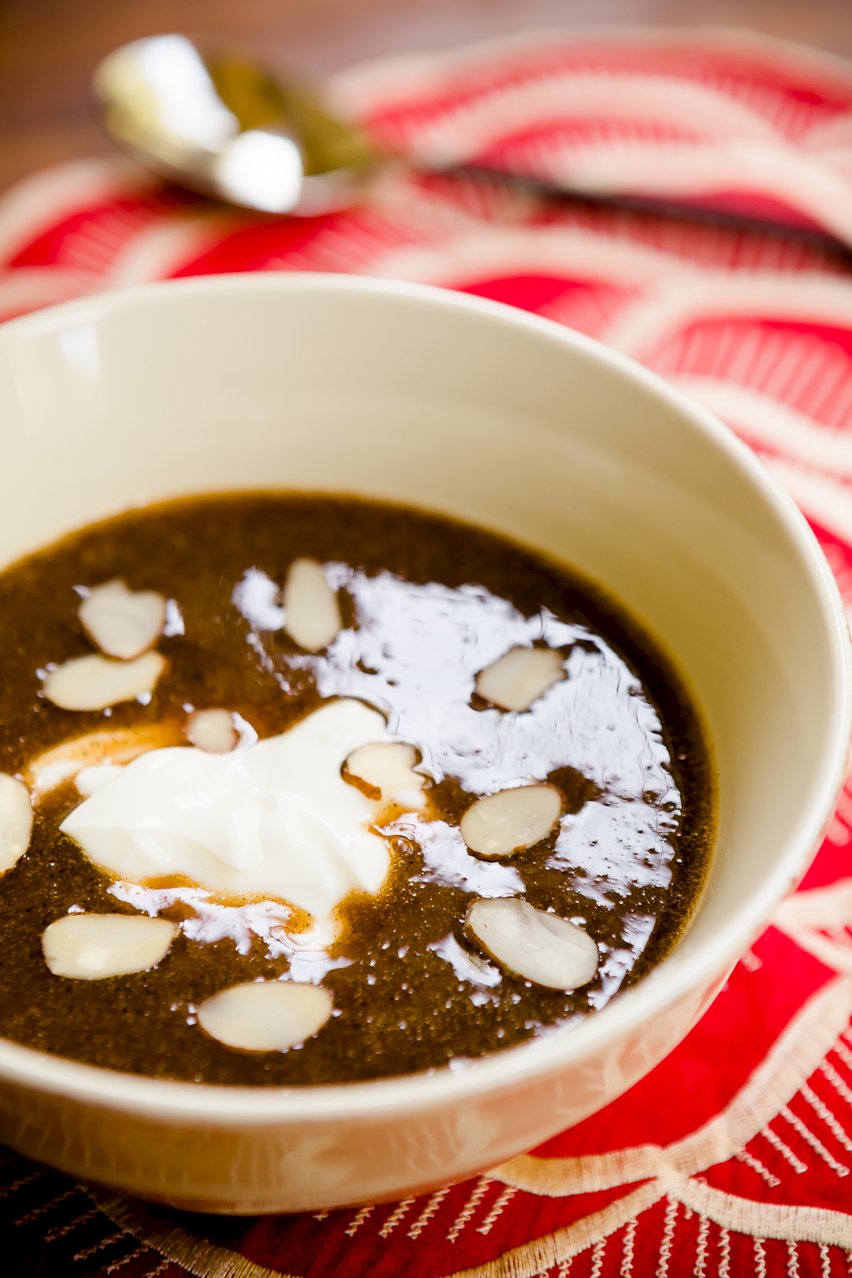 Rose hip soup (nypon soppa) is citrusy and ever-so-slightly floral like hibiscus or jasmine tea. It's stick-to-the-back-of-your spoon thick and served with an island of yogurt or vanilla ice cream and slivered almonds for texture.  Rose hip soup is a staple in Sweden where it is not only served as a dessert, but can also be found on the breakfast table.
Nypon soppa is likely something completely new to your palate (as it was mine), but because it's so easy to make and far healthier than, say, a cupcake, I encourage you to give it a try – especially if you love tea.
Important:  Rose Hips Don't Taste Like Roses
Rose hip soup (nypon soppa) is made not from the flower of the rose, but from rose hips (the fruits produced by a rose bush).  I'm not a big fan of rose-scented desserts. I object to them on the same grounds that others object to lavender desserts – they remind me of perfume.  While rose hips come from the same plant as roses, they taste nothing like the flower.  I've never tried a fresh rose hip so I can't comment on them, but once they are dried, they taste as described above – like citrusy, herbal, floral tea.
Rose Hip Soup Recipe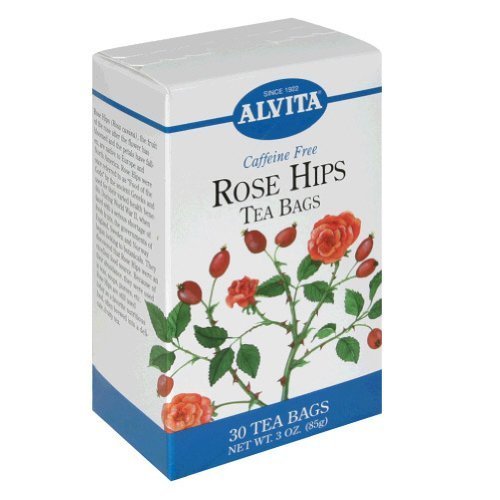 Rose hip soup can be prepared in a variety of ways: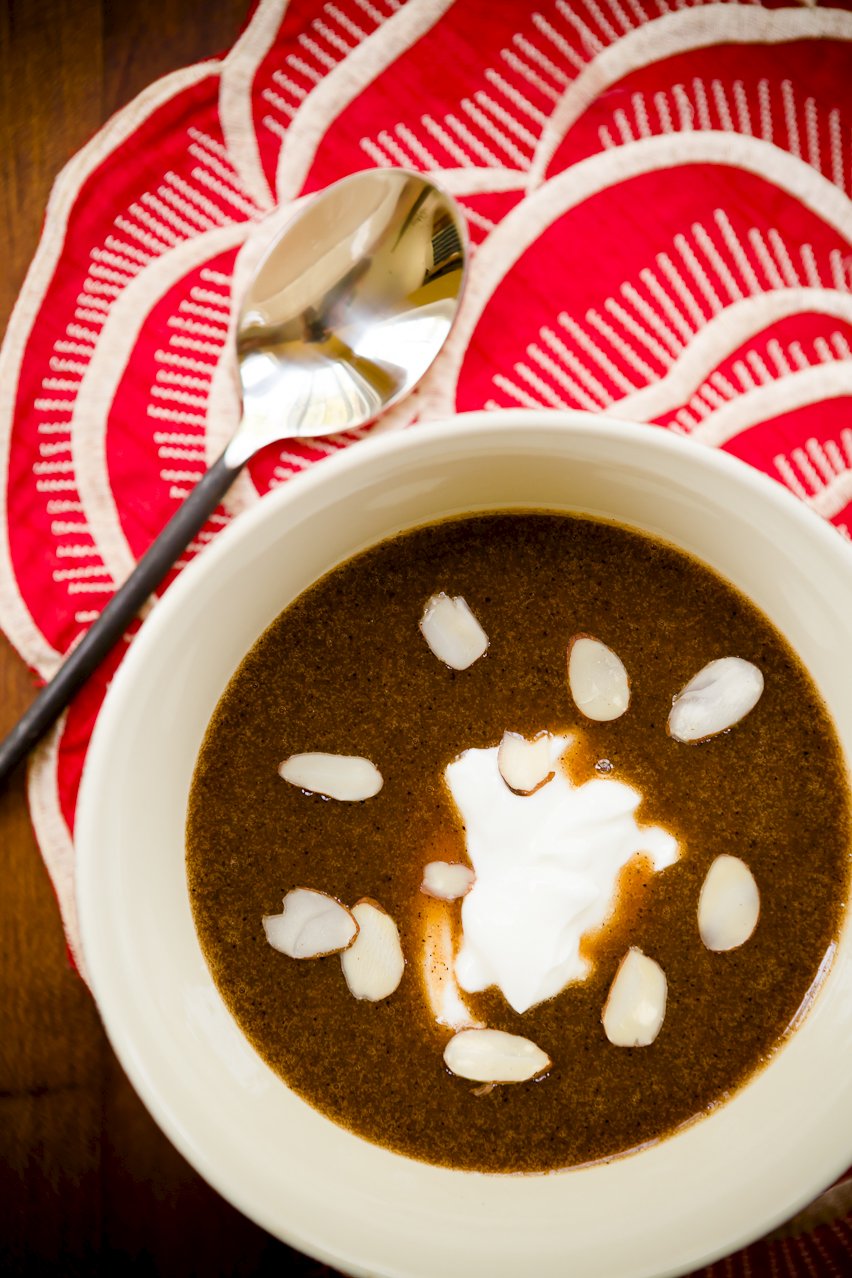 If you've tried this recipe, please RATE THE RECIPE and leave a comment below!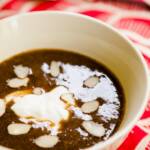 Soup for Dessert – Rose Hip Soup (Nypon Soppa)
Servings
4
-6 bowls of rose hip soup (depending on how much soup you like)
Ingredients
9

rose hip tea bags or three tablespoons of loose rose hip tea

1

quart

water

1

cinnamon stick

1/4

cup

+ 2 tablespoons potato starch or corn starch

1/4

cup

+ 2 tablespoons sugar

Seeds from 1 vanilla bean

Greek yogurt or vanilla ice cream

to taste

Slivered almonds

to taste
Instructions
Place tea bags or loose tea in a medium-sized sauce pan on medium-low heat with water and cinnamon stick.

Simmer for 15 minutes.

Remove from heat and remove cinnamon stick and tea bags, pressing out any excess water (or straining out loose tea).

Return to heat and mix in starch, sugar, and vanilla seeds until the soup is smooth and thick.

Serve warm with a dollop of Greek yogurt or vanilla ice cream and slivered almonds.
Other Dessert Soup Ideas
Are you new to dessert soups?  I posted about dessert soups on the Cupcake Project Facebook page and the community there was quick to share some of their favorites.  Head over to get some ideas or to share some of your own.
What's Next?
A rose hip cupcake is coming next, of course!