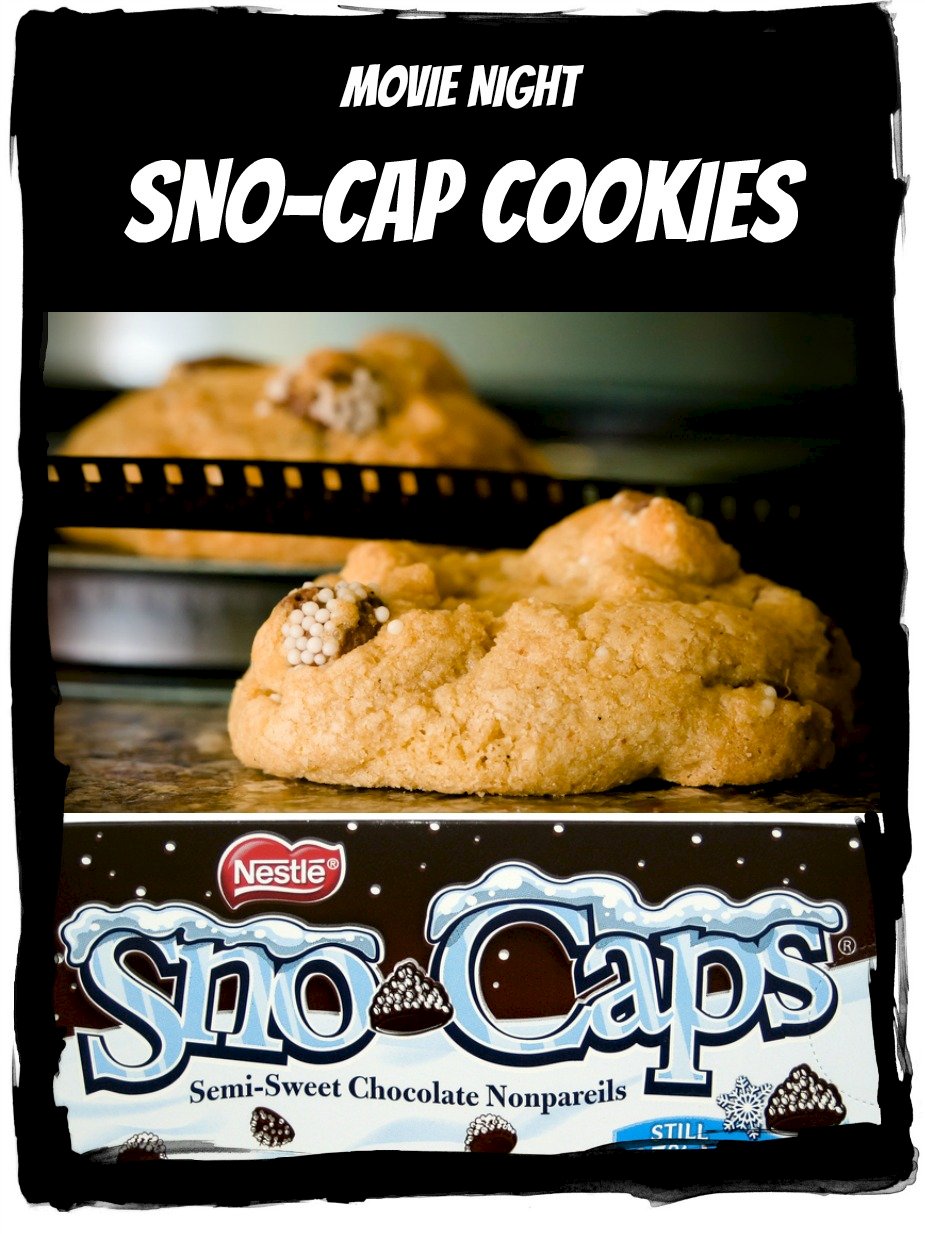 Why You Should Make Sno-Cap Cookies for Your Next Movie Night
You are a huge Sno-Cap fan. (I know many of you love Sno-Caps. When I asked on Facebook about your favorite movie theater snacks other than popcorn, Sno-Caps came up multiple times.)
You are making popcorn cupcakes for your movie night and you need an appetizer that will be a sure-fire blockbuster hit.
You are having a chocolate chip cookie craving, but it's midnight and the only store that sells chocolate chips is closed. Guess what? 24-hour drug stores sell Sno-Caps.
You like to buy your cookie ingredients at the movie theater concession stand. (This is not recommended unless you like getting ripped off.)
What Are Sno-Caps?
Those of you not familiar with the American movie theater experience may not know about Sno-Caps. Sno-Caps are a candy made by Nestle. They are essentially chocolate chips covered in tiny nonpareils (little white sprinkle balls).
(View on Amazon)
Why Are Sno-Caps Popular at the Movies?
Perhaps Sno-Caps are popular at movie theaters because, like popcorn, they feature something crunchy and white and they are small enough to shovel into your mouth by the handful. Unlike popcorn, Sno-Caps come in a box too small to fit two hands inside. Thus, it is a great litmus test for your date. Do they let you go first or do they hoard the box?
Why Are M&M Cookies so Popular and not Sno-Cap Cookies?
M&M cookies are everywhere; I've seen them at countless parties and even sold in coffee shops. Yet, I have never seen a Sno-Cap cookie – even after an extensive Google search. Because Sno-Caps are actually chocolate chips (topped with candy), they are the ideal substitute for chocolate chips in cookies. I can only speculate that people haven't tried this before because:
Sno-Caps are too similar to chocolate chips. The substitution was so obvious that people didn't see it. You can compare this to to the invention of the Snuggie for Dogs
(people love dogs
and they love the Snuggie
, but it took a while for someone brilliant to put the two together). (View on Amazon)
Sno-Caps aren't as fun as M&M's because they aren't multi-colored. You can compare this to the invention of Play-Doh
. No one thought to play with regular old dough because it wasn't multi-colored. (View on Amazon)
Sno-Cap Cookie Recipe
To make Sno-Cap cookies, use your favorite chocolate chip cookie recipe, but use Sno-Caps instead of the chocolate chips. A quick poll on Facebook introduced me to Alton Brown's chocolate chip cookie recipe that he calls The Chewy. While I didn't find these cookies to be chewy (except when they were hot)*, they were exceptional cookies. This may be my new go-to chocolate chip cookie recipe. The Chewy is the kind of cookie that you have to hide from yourself so you don't gobble the whole bowl down before your friends arrive. They are even better microwaved for 20 seconds to make them hot again.
*It's possible that they weren't chewy because I didn't chill them long enough. I've heard that chilling the dough thoroughly helps make the cookies chewier.
Here's Alton's recipe as I made it with my oh-so-minor (and yet earth-shattering to Sno-Cap fans) change to make them Sno-Cap cookies:
Sno-Cap Cookies
To make Sno-Cap cookies, use your favorite chocolate chip cookie recipe, but use Sno-Caps instead of the chocolate chips.
Ingredients
2 1/4

cups

bread flour

You read that right. I've never made cookies with bread flour before, but I figured Alton knew what he was doing - and it worked!

1

teaspoon

kosher salt

Sometimes I'm tempted to cut the salt in recipes. But, good chocolate chip - or Sno-Cap - cookies need salt. In this case, using Kosher salt versus the smaller grain table salt makes the salt flavor pop.

1

teaspoon

baking soda

1

cup

unsalted butter

1/4

C

sugar

1 1/4

cups

brown sugar

1

large egg

1

large egg yolk

2

tablespoons

milk

1 1/2

teaspoons

vanilla extract

I used vanilla bean paste.

2

cups

Sno-Caps

About 3 3.1oz boxes
Instructions
Sift together the flour, salt, and baking soda and set aside.

Melt the butter in a heavy-bottom medium saucepan (or a microwave) over low heat and pour it into a medium-sized mixing bowl.

Add the sugar and brown sugar and cream with the butter.

Add the egg, yolk, milk, and vanilla extract and mix until well combined.

Slowly incorporate the flour mixture until thoroughly combined.

Stir in the Sno-Caps.

Chill the dough (I did this for about thirty minutes and, as noted above, I wonder if doing this for longer would have made my cookies chewier).

Scoop onto parchment-lined baking sheets. Alton suggests making 6 cookies per sheet. I didn't stick to this and made all different sizes.

Bake at 375 F for 14 minutes or until golden brown. Rotate the baking sheet for even browning.

Cool completely and store in an airtight container.
Nutrition
Nutrition Facts
Sno-Cap Cookies
Amount Per Serving
Calories 194
Calories from Fat 81
% Daily Value*
Fat 9g14%
Cholesterol 30mg10%
Sodium 128mg5%
Potassium 26mg1%
Carbohydrates 25g8%
Protein 2g4%
Vitamin A 235IU5%
Vitamin C 0.1mg0%
Calcium 27mg3%
Iron 0.3mg2%
* Percent Daily Values are based on a 2000 calorie diet.