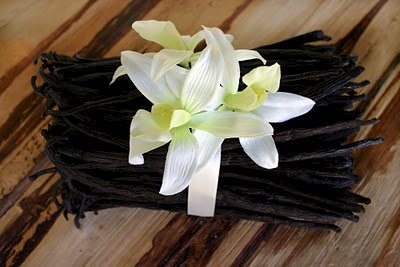 Photo courtesy of IndriVanilla
When the Cupcake Project Explorers and I came up with the recipe for the Ultimate Vanilla Cupcakes, we learned that nothing gave the cupcakes as much of a true vanilla flavor as a real vanilla bean.  Although I am a tremendous fan of vanilla bean paste (it makes the best vanilla buttercream frosting – read the comments on the post if you are a doubter), in the cupcake itself, nothing works like a bean.
Beans, however, can be pricey.  I've seen vanilla beans sold for as high as $7 for one bean.  For a quality bean at a cheaper price, I've recently turned to IndriVanilla.  IndriVanilla is a small business owned by Whitney, a PhD student who wanted a cheaper, better-quality bean. She found a way to procure the beans and decided to create a business out of it. "Middlemen, referred to by the farmers as 'traders,' pay vanilla farmers very little for their prized beans. IndriVanilla was born to provide more people besides myself with high-quality, low-cost vanilla. I buy direct from the farmers at their asking price."
IndriVanilla charges just $0.50 for individual beans and as little as $0.30 each if you buy in bulk.  Plus, IndriVanilla is offering a 10% discount to Cupcake Project readers; just enter the code "thecupcakeproject" at checkout.  (Full disclosure: supporting her small business also supports mine.  I get a small commission every time that code is used.)
How to Win Some Vanilla Beans
Update:  The contest is over.  The winners are Maegyn and Pat R.  Congrats to to you both!
Today is Small Business Saturday.  It's a day that has particular meaning to me.   As a blogger married to a photographer, I have a vested interest in supporting small businesses.  But, small businesses are nothing new to me.  Both sets of my grandparents were small business owners and my father is a small business owner. Dad owns a shop in Forest Hills, NY that sells second-hand designer bags, clothing, jewelry, antiques, and collectibles.  He doesn't have a website or Facebook page and telling you that the shop is called Instant Replay won't make it too much easier to find (there isn't even a sign out front).  His shop survives because of loyal customers, foot traffic on his street, and people that like to shop at businesses that have a face.
Today (and every day), I encourage you to support the small businesses in your neighborhood and the millions of small businesses online.  Now, I'm going to give you one more reason to do so.  For a chance to win a first prize of two dozen premium vanilla beans or a second prize of one dozen premium vanilla beans, leave a comment on this post with the answer to the following question:
What small business did you shop at today?  Although it's not required, feel free to also tell us a little bit about that business and share a link to the shop to show them some love.
The fine print:
All comments must be posted by 11:59 PM CST on November 30, 2011.
Be sure that your comment includes a way to contact you if you win.
Limit of one entry per person.
I will randomly draw two winners on December 1, 2011.  I will contact the winners and update this post with their names.
If I don't hear from a winner within one week to claim their prize, I reserve the right to choose a new winner.
Prizes can only be shipped within the U.S.
Good luck!
(Psst – There will be two more chances to win vanilla beans coming up soon: one on Cupcake Project's Facebook page and one on IndriVanilla's Facebook page.  Make sure that you "like" both pages so that you don't miss the announcements.)