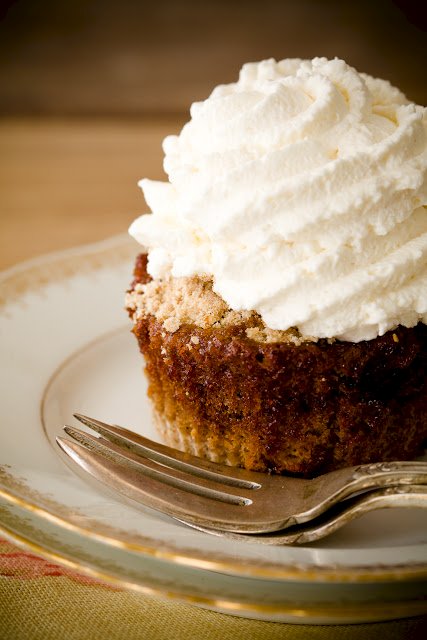 If you saw my post on shoofly pie bars, you now know what shoofly pie is (if you didn't see the post, have a look).  I could say that shoofly pie cupcakes are my cupcake interpretation of shoofly pie.  But, it's more fun to say that shoofly pie cupcakes are the cupcake version of shoofly pie bars, which are the bar version of shoofly pie.
Shoofly pie cupcakes are sticky sweet cupcakes made with sugar syrup and brown sugar crumbs.  They are best served warm with whipped cream or à la mode.
Shoofly Pie Cupcake Recipe
The recipe for my shoofly pie cupcakes comes from Sallie's guest post on Not So Humble Pie. Here's my adaptation of her recipe.
If you've tried this recipe, please RATE THE RECIPE and leave a comment below!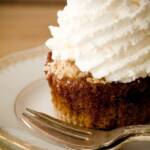 Shoofly Pie Cupcakes
Ingredients
For the crumbs
2

cups

flour

1

cup

brown sugar

1/4

cup

unsalted butter

room temperature

1

teaspoon

ground cinnamon

1/4

teaspoon

ground nutmeg

1/4

teaspoon

ground ginger

1/4

teaspoon

ground cloves
For the syrup filling
3/4

cup

syrup

I used Lyle's Golden Syrup. See my post on shoofly pie bars for other options.

3/4

cup

hot

but not boiling water

1

egg

beaten

1

teaspoon

vanilla extract

1

teaspoon

baking soda
For the whipped cream
1

cup

heavy whipping cream

2

tablespoons

crumbs

from above

2

tablespoons

sugar
Instructions
Prepare the crumbs
In a small mixing bowl, mix all of the crumb ingredients together. I do this part by hand. The crumbs will be small and loose, like fine breadcrumbs.

Set two tablespoons of crumbs aside to use in the whipped cream.
Prepare the syrup filling
In a small mixing bowl, whisk together all of the syrup filling ingredients.
Prepare the cupcakes
Preheat oven to 400 F.

Fill the cupcake liners one third full with packed down crumbs.

Pour about 3 tablespoons of the syrup over the crumbs. I used four tablespoons on mine and some of them overflowed in the oven.

Top the syrup with another layer of crumbs.

Bake for 10 minutes.

Lower heat to 350 F and bake for another 20 minutes.
Prepare the whipped cream.
Whip heavy whipping cream until it looks like whipped cream.

Mix in crumbs and sugar.

Pipe on warm cupcakes and enjoy!
How Much Whipped Cream Do You Like?
In the photo at the top of this post, I featured the shoofly pie cupcake with a huge mound of whipped cream.  I (and the majority of people in the Cupcake Project Facebook community who I polled) think it looks best this way.  However, if simplicity is your style, check out the alternate presentation of these cupcakes with just a small dollop of whipped cream that I shared on the Cupcake Project Facebook page.