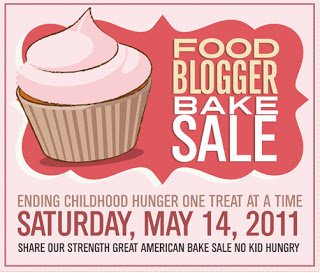 Pineapple meringue cake, cheese danish, coconut fudge, cardamom muffins, goat milk caramels with sea salt, bourbon-vanilla bean caramels, banana split cupcakes, mandel bread, apple pie, fresh-baked bread, banana cake, peanut butter banana cupcakes with Butterfinger buttercream, brown sugar cupcakes with salted caramel Swiss meringue buttercream, chocolate avalanche and vanilla avalanche cookies, gooey butter cake cookies, brown butter brownies, spring tulip cookies, homemade pretzels, key lime pie cupcakes, peach cobbler cupcakes, wine and cheese cupcakes, and much, much more will be available at…
…the Share Our Strength Food Blogger Bake Sale this Saturday!
If you live in the St. Louis area, stop by Sappington Farmers' Market from 10am-2pm, say, "Hi!", buy some baked goods, and do your grocery shopping (Sappington will be donating a portion of the proceeds of Saturday's sales to Share Our Strength)!  Get all of the details and share the event with your friends on our Facebook event page.
If you don't live in St. Louis, you can participate in your city.  Check out the map of bake sales going on around the country.

Participating Bloggers
We are thrilled to have so many participating bloggers.  Some of the bloggers represented on Saturday include:

Every Little Thing ● STL Hops ● The Cheesemonger's Wife ● South City Confidential ● One Hot Stove ● Wannabe Baker and Avid Homemaker ● Food Snob Stl ● That's What She Said ● In-home Culinary Classes ● Inkredible Stamping ● Ciao Annie ● Eat Laugh Love ● St. Louis Eats and Drinks with Joe and Ann Pollack ● Sounding my Barbaric Gulp ● The Sweet Art ● Rhubarb and Honey ● Andrew Mark Veety ● Cupcake Project (of course)
We also have many non-bloggers baking for the sale and we are greatly appreciative of their efforts!
Raffle Prizes
In addition to amazing home-baked goods, there will also be a raffle for gift cards to some of our favorite bakeries around town.  Here are the shops that have generously donated thus far (the list is growing and I'll update as more are added):

Whole Foods Market ● Whipt Cream ● Free Range Cookies ● Sweet Art ● Sugaree Baking ● Serendipity