I didn't like these Hoppin' John cupcakes.  In fact, the mere smell of them turned my stomach.  The full 15 ounce can of black-eyed peas in the recipe produced a dense cupcake with an occasional bean bite – and maybe I should have gone with the popular opinion that chicken broth doesn't belong in a cupcake.
Not everyone agreed with me.

Some people liked (and I mean really liked) these cupcakes; I know – I was surprised, too.  I served these Hoppin' John cupcakes with salt and pepper buttercream at a Christmas dinner and they were a hit.  The hostess even insisted that I leave the leftover Hoppin' John cupcakes at her house, assuring me that they would all get eaten.  If I didn't know her better, I would have thought she was a total liar, liar, pants on fire.
I think that the reason why others liked these cupcakes and I didn't was preconceptions.  At home, even though I knew what was in the cupcakes, I kept eating them for dessert and being disappointed.  At the Christmas dinner, we served the cupcakes alongside the main course.  People expected something savory and they were not let down.  As one taster gobbled his Hoppin' John cupcake up, he said they reminded him of spicy bread.
Set aside preconceived notions and the world is a often a happier place.  It's a lesson that I learn over and over again.  And, it's especially relevant on New Year's Eve where expectations of glitter, gold, and magical kisses don't always turn out the way we hope.
This New Year's Eve, I wish you a night of no preconceived notions – a go-with-the-flow evening full of simple surprises, giggles, friendship, love, or even satisfied solitude.
If you've tried this recipe, please RATE THE RECIPE and leave a comment below!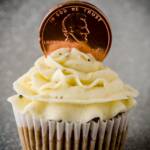 Savory Hoppin' John Cupcakes for New Year's Day
Ingredients
Cupcake Ingredients
1/4

cup

unsalted butter

room temperature

1

cup

sugar

1

large egg

1 15

ounce

can black-eyed peas

drained and mashed

1 3/4

cups

all-purpose flour

1

teaspoon

baking soda

1/8

teaspoon

ground clove

1/2

teaspoon

ground thyme

1/8

teaspoon

dried ground chipotle pepper

1

cup

chicken broth

1/3

cup

finely chopped cooked bacon
Frosting Ingredients
1/2

cup

butter

room temperature

2

cups

powdered sugar

1/4

teaspoon

salt

3/4

teaspoon

ground peppercorns

1

teaspoon

whole milk
Instructions
Cupcake Instructions
Preheat oven to 350 F.

In a medium-sized mixing bowl, mix butter and sugar until light and fluffy.

Add the egg and mix well.

Mix in the mashed beans.

In a small bowl, whisk together flour, baking soda, clove, thyme, and chipotle pepper.

Add dry mixture to wet mixture and mix until just combined.

Mix in chicken broth until just combined.

Fold in bacon.

Fill cupcake liners 3/4 full.

Bake for 20 minutes or until a toothpick inserted into the center of the cupcake comes out dry.
Frosting Instructions
In a medium-sized mixing bowl, beat butter on high speed until light and fluffy, about three minutes.

Add powdered sugar a little bit at a time until fully combined.

Mix in salt, peppercorns, and milk until fully combined.

Spread or pipe onto cooled cupcakes.
About the Penny On Top
There's a Southern tradition surrounding Hoppin' John where a penny is placed underneath each dish of Hoppin' John to increase one's chance for prosperity in the New Year (read more about this on History).   Instead of hiding the penny underneath my cupcakes, I put a chocolate penny on top of each cupcake.