The flavor of this cupcake is hard to place.  It's different and unexpected.  Once I tell you that it's a Riesling cupcake, it all makes sense.  You notice the familiar floral notes and mild sweetness that met you that last time that you sipped a glass of Riesling wine.  The Riesling cupcake is finished with a pear mascarpone frosting and heavily dusted with finely chopped walnuts, creating a wine and cheese plate experience.
I've made cupcakes containing wine before – mulled wine cupcakes, wine and cheese cupcakes, malva pudding cupcakes made from a dessert wine, and charoset cupcakes that contain a sweet Kosher for Passover wine.  But, I've never before achieved a cupcake that tasted just like a glass of wine.
There's a trick.

How Did I Create Cupcakes That Taste Just Like Riesling Wine?
To make a cupcake that tastes just like Riesling wine, I didn't just use Riesling wine in the batter. Although I did use quite a bit of wine, I also used grape seed flour made from Riesling grapes and grape seed oil made from Riesling grapes.  The combination of all three gives these cupcakes a triple Riesling punch.
Unfortunately,  Riesling flour and Riesling oil are not products that are readily available.  I was sent some free product samples from AprèsVin that I used to develop this recipe, and all of the unique products that you need to make these cupcakes can be found there.  Even if you do not intend to buy their products, I highly recommend viewing the presentation on their site about how grape flour and grape oil is made – it's fascinating!  Their flours and oils also come in several other wine flavors and my recipe can easily be adapted for your favorite wine.
Riesling Cupcake Recipe
I made these Riesling cupcakes gluten-free.  If this is not important to you, I have included substitutions to use regular all-purpose flour in the recipe below.  Also note that the frosting is not supposed to be stiff and pipeable.  It is meant to be spread on the cupcakes.
If you've tried this recipe, please RATE THE RECIPE and leave a comment below!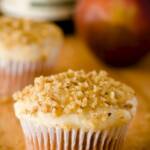 Riesling Cupcakes with Pear Mascarpone Frosting (Gluten-Free Cupcakes)
Servings
8
cupcakes (the recipe can be doubled)
Ingredients
Cupcake Ingredients
1/2

cup

sugar

1

cup

gluten-free all-purpose flour

I use King Arthur brand or regular all-purpose flour

1/4

teaspoon

xantham gum

this is only needed if you use gluten-free flour

1

tablespoon

Riesling grape seed flour

1/4

teaspoon

salt

3/4

teaspoon

baking powder

1/4

teaspoon

baking soda

1

large egg

1/4

cup

Riesling oil

you can also use another grape oil or any vegetable oil

2

tablespoons

sour cream

2

teaspoons

vanilla extract

1/3

cup

Riesling wine

1/4

cup

whole milk
Frosting Ingredients
1/4

cup

unsalted butter

room temperature

4

ounces

mascarpone cheese

room temperature

2

cups

powdered sugar

1

ripe pear

Finely chopped walnuts

to taste
Instructions
Cupcake Directions
Preheat oven to 350 F.

In a medium-sized mixing bowl, whisk together sugar, all-purpose flour, xantham gum, grape seed flour, salt, baking powder, and baking soda.

In a small mixing bowl, whisk together egg, oil, sour cream, and vanilla.

Mix wet ingredients into dry ingredients until just combined.

Mix in Riesling wine and milk a little bit at a time until just combined.

Fill cupcake liners 2/3 full.

Bake for twenty minutes or until a toothpick comes out dry. The cupcakes may have some cracks on the top - this is normal.
Frosting Directions
In a medium-sized mixing bowl, mix butter on high speed with an electric mixer for two minutes.

Add mascarpone and mix until just combined.

Add powdered sugar a little bit at a time until just combined.

Peel and slice the pear.

Puree the pear slices in a food processor.

Use a sieve to remove any excess liquid from the pear puree.

Mix two tablespoons of pear puree into the frosting.

Spread frosting over cooled cupcakes.

Top with walnuts.
Facebook Shout Outs
A couple of weeks ago, I posted on Facebook that I had discovered a new type of flour and asked you to see if you could guess what it was.  Two of you got it right!  Huge props to Monica Andersen and Free Range Cookies!!
I also got some help yesterday afternoon on Facebook coming up with the perfect frosting pairing for these cupcakes.  Thanks to Rachel Forrest for suggesting pear and Cara Ingenito for recommending mascarpone.
If you aren't already part of the Cupcake Project Facebook community, come join us so you don't miss out on the fun!