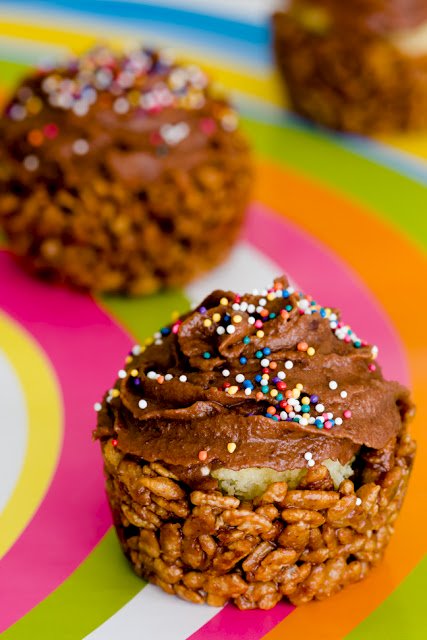 "It's genius!" I squealed as I emerged from the shower and explained my concept for Rice Krispie treat cupcakes to my husband and 16 month old child (there's no need to be modest in one's own home). "All I would need to do," I exclaimed, "is use Rice Krispie treats as an edible, crunchy cupcake liner, put a baked mini cupcake inside, frost, and add some sprinkles for fun!" They both shook their heads (Jonathan because he knows that there is no stopping me when I come up with one of these ideas, and Myles because he thinks it's funny to shake his head). "People will love it," I pronounced, "since it combines two of America's favorite desserts into one easy to make package!"
As soon as I had a chunk of time to bake, I tried out my concept. It worked! There's not much to it, but let me break it down for you anyway just to make sure that you've got it:
Make your favorite Rice Krispie treat recipe (I used my honey Nutella Rice Krispie treats). Instead of pressing the mixture into a baking pan, press it into a standard-sized cupcake tin, making sure that it goes up the sides of each depression (as shown above). I found that it helped to put an empty mini cupcake wrapper on top of the krispies and press down on all sides.
I used a silicone cupcake tin
to make it easier to pop the krispie liners out. If you don't have a silicone pan, be sure to grease the tin well before pressing the krispies in. (View on Amazon)
Refrigerate the tin of "cupcake liners" for at least three hours.
Bake 12 of your favorite mini cupcakes (I used basic vanilla cupcakes). Remember, to convert a standard cupcake recipe to minis, cut the bake time in half.
Do not remove the edible Rice Krispie treat liners from the cupcake tins. Do remove the paper liners from the mini cupcakes and place a mini cupcake in each krispie.
You will notice that the mini cupcake is taller than the liner. Press on the top of the cupcake to flatten it a bit (when I first tried this with the krispie liners removed from the tin, the force of pressing on the cupcakes caused the krispie liners to lose their shape).
Remove the cupcake-filled treats from the tin.
Frost with your favorite frosting (I recommend chocolate cream cheese frosting).
Top with sprinkles or anything else that makes you happy.
I used these nonpareils that I got from Amazon.
A Peek Inside
Here's a peek inside the Rice Krispie treat cupcakes. Are you ready to eat one now?
More Rice Krispie Fun
Did you know there's a whole cookbook devoted to Rice Krispie treats? Wow! (View on Amazon)