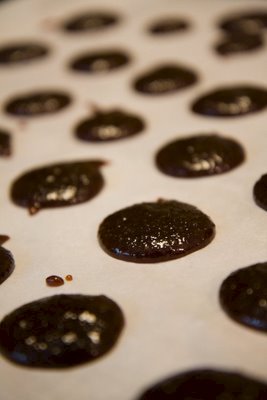 My really sticky candy with applesauce is like no other candy I've encountered before – which isn't necessarily a good thing. It's REALLY STICKY. It's so sticky, in fact, that unless it's fresh out of the refrigerator, you can't pick the candy up – it just sticks to your fingers.
Jonathan loved the sticky candy. I did not. Although I did enjoy the subtle apple flavor, I found it to be way too messy and somewhat too sweet for regular eating.
What I did love, however, is what I did with the sticky candy. I baked it right plop in the center of cupcakes to give them a sweet and chewy middle. You'll see that soon and by soon, I mean some time next week. Sorry to make you wait more than the normal couple of days. I'll explain why later.
The Sticky Candy with Applesauce Recipe
I based the sticky candy with applesauce recipe on the
pineapple candy
that I made a while back. Despite the recipes being very similar, swapping applesauce for pineapple gave me a completely different type of candy. This shouldn't be surprising since pineapple actually has a texture.
If you've tried this recipe, please RATE THE RECIPE and leave a comment below!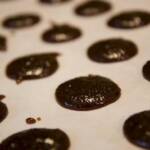 Really Sticky Candy with Applesauce
Ingredients
1

C

granulated white sugar

1/2

C

packed brown sugar

1/4

C

heavy cream

8

oz

applesauce

1

T

butter

1

t

pure vanilla extract
Instructions
Place white sugar, brown sugar, heavy cream, and applesauce in a heavy saucepan.

Stir and bring to a gentle boil.

Cook, without stirring, until the temperature reaches 242 F on a candy thermometer.

Remove from heat.

Stir in butter and vanilla.

Beat until creamy and thick.

Drop by the teaspoonful onto a baking sheet lined with parchment paper.

Let cool.

Refrigerate right on the baking sheet.

Once they are cold, you can pull them off the sheet and store them in a different container in the refrigerator or use them in cupcakes!