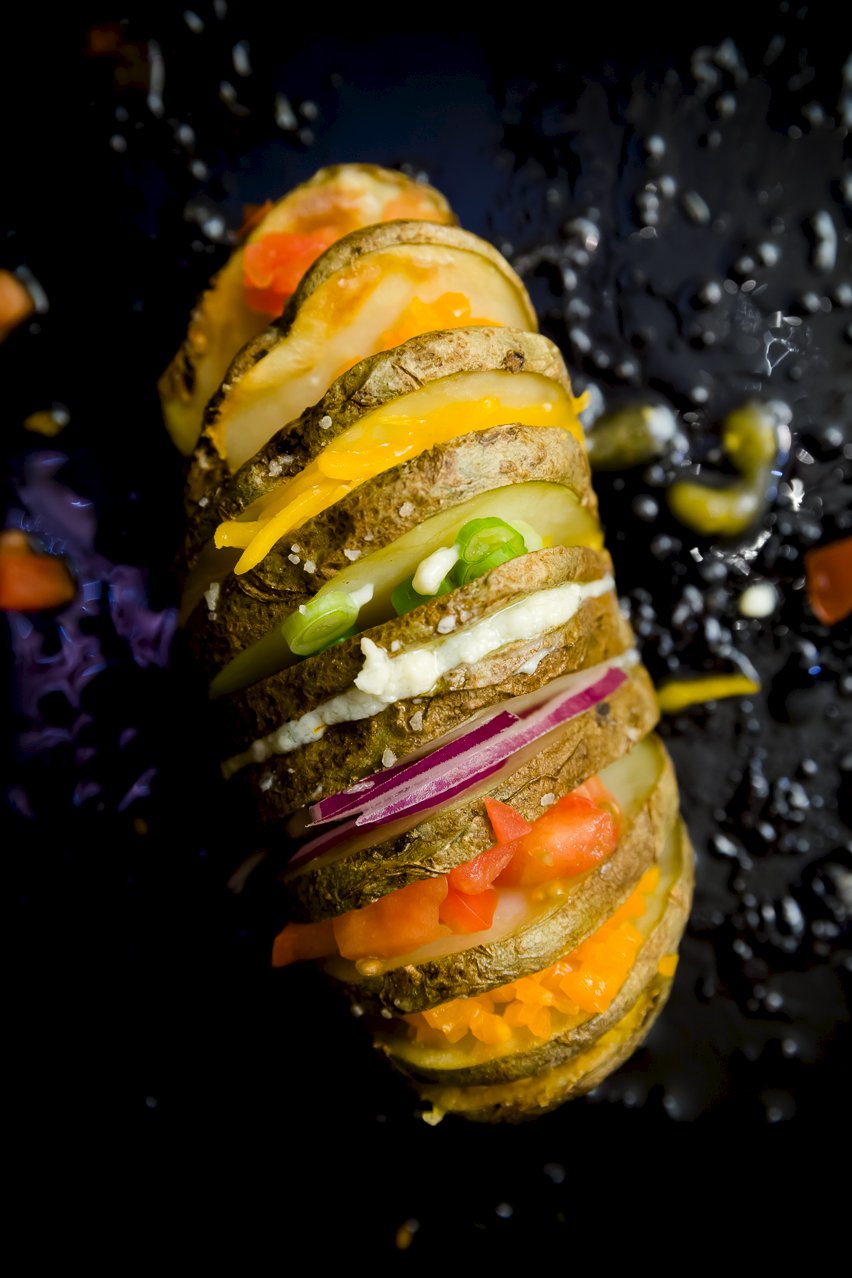 Hasselback potatoes (named after the restaurant at the Hasselbacken Hotel in Stockholm, Sweden) are a showstopping cross between thick-cut fries and loaded baked potatoes. They have the same appeal as pull-apart bread – ripping off pieces is irresistible! Each piping hot potato piece is crispy on the outside and soft on the inside.
In honor of St. Patrick's Day, I made rainbow Hasselback potatoes, filling each potato gap with a colored veggie or cheese. My family and I had a blast searching the grocery store to find just the right ingredients for each color. Here's what we came up with: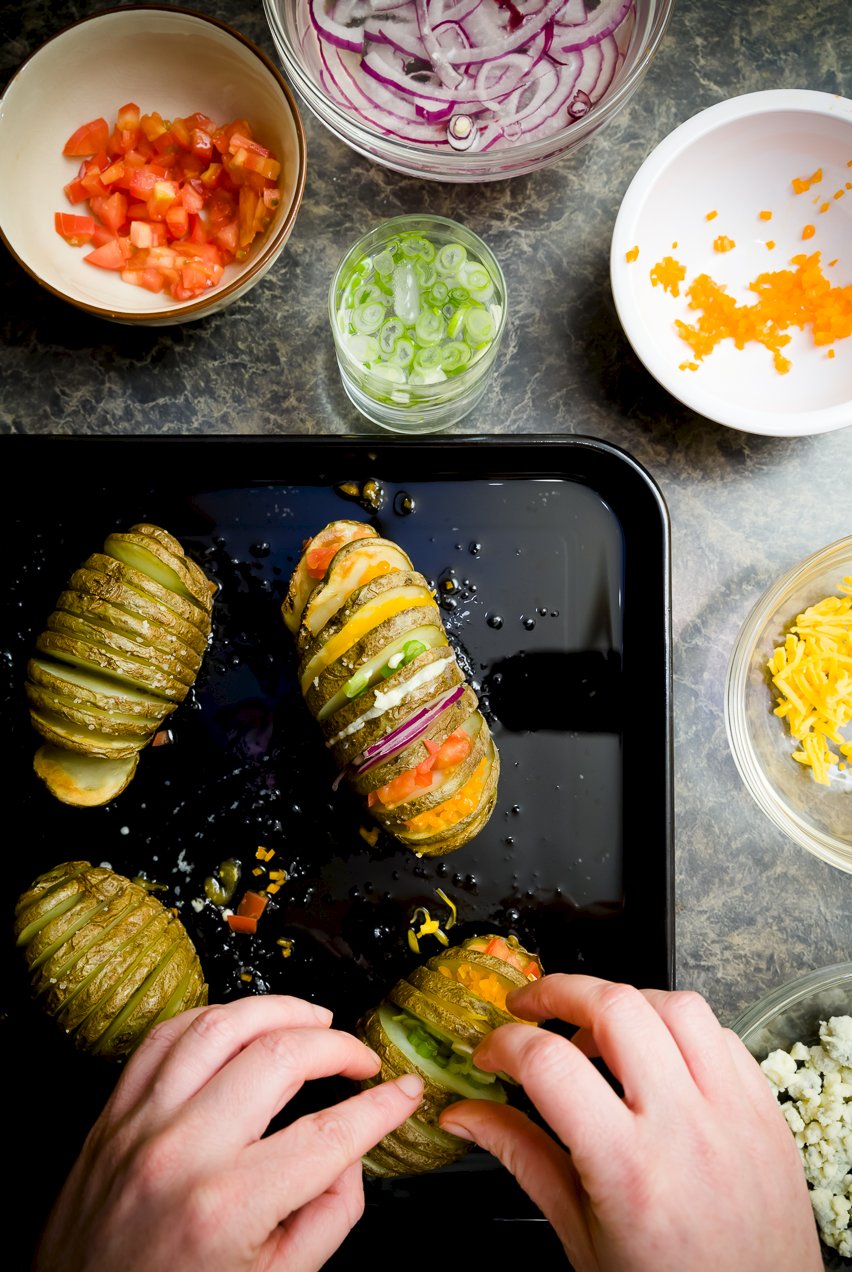 Red: Diced tomato
Orange: Diced orange peppers
Yellow: Cheddar cheese (We think of cheddar cheese as orange, but if you look at the image above, you'll see that the cheddar is very yellow when compared to the orange peppers.)
Green: Sliced green onions
Blue: Blue cheese (Natural blue foods are hard to come by. Sure, blue cheese doesn't look all that blue, but I had to compromise and blue cheese with potato is a winning combination.)
Purple: Red onion (This is another funny one. Red onions are really purple.)
Although Hasselback potatoes look super fancy, they are not all that hard to prepare.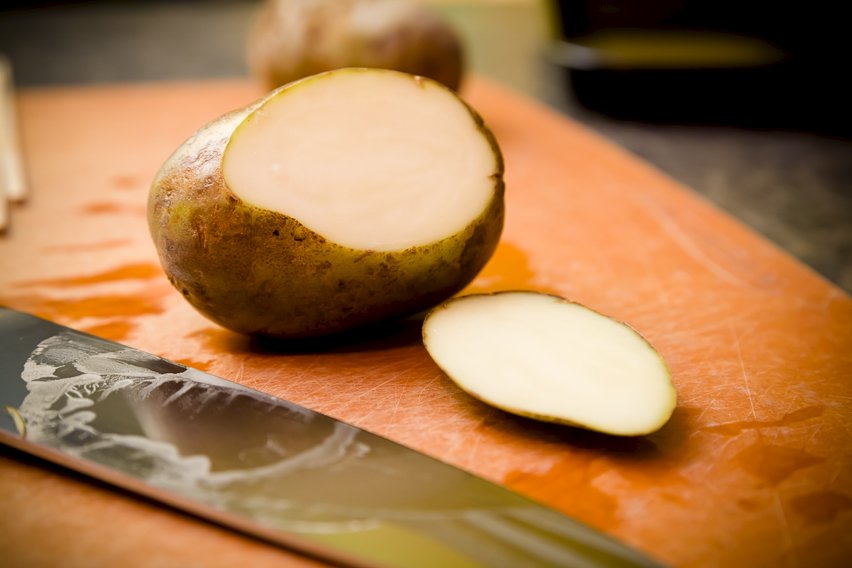 First, cut a small slice off of the potato so that it can lay flat. Then, it's time for the slicing. Here's the secret: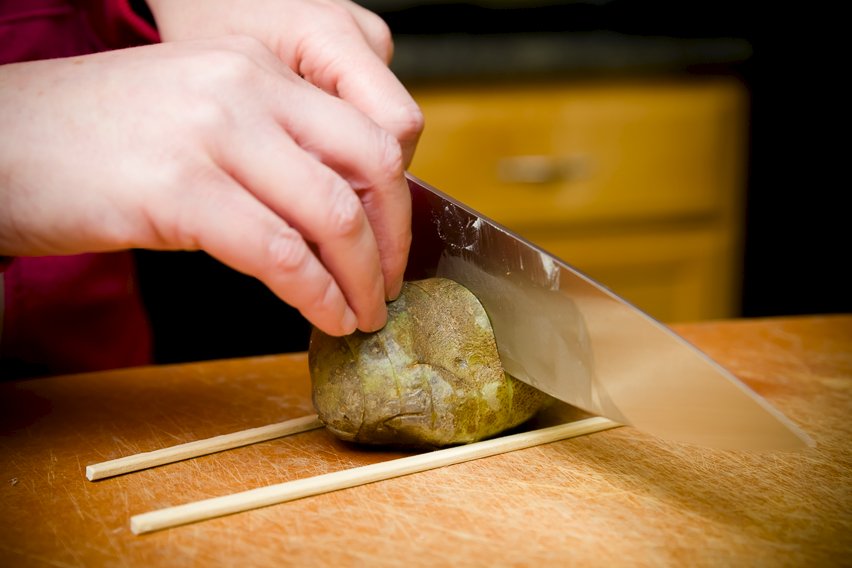 Line the chopsticks up like railroad tracks around the potato. Then, start making high cuts down until you hit the chopsticks. The chopsticks will keep you from cutting all the way through the potato. Neat, huh?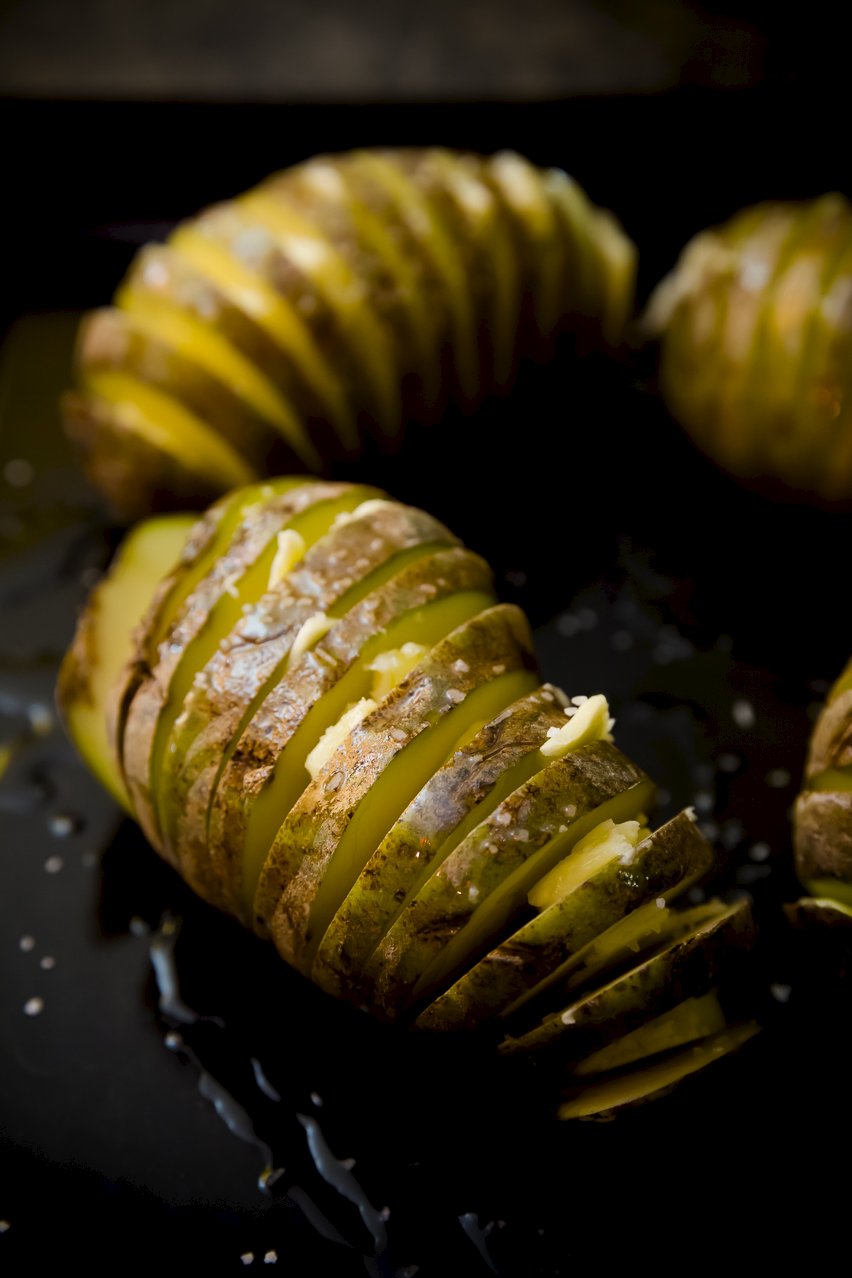 Put tiny pats of butter between each potato slice, drizzle with oil, sprinkle with kosher salt, and bake. I never said this was going to be healthy.
Then, you have two choices. You can bake for a full hour and add the rainbow fun after the potato is all done. The potato will still be hot enough to melt the cheeses, but the peppers, tomatoes, and onions will be raw.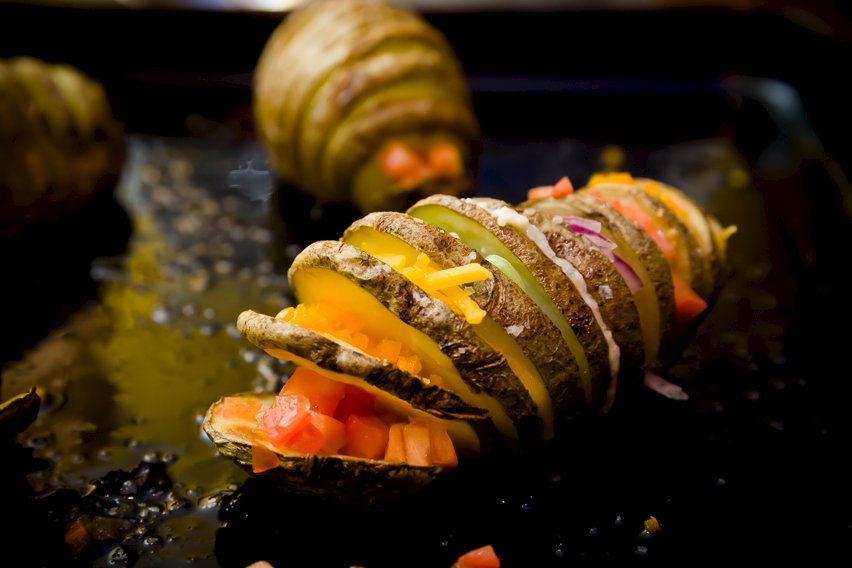 Or, you can remove the potatoes after 45 minutes, add the fillings, and bake with the fillings for the last fifteen minutes. I think this is the tastier option, but keep in mind that if you do this, the colors will be more muted and the fillings will sink a bit into the potato during cooking: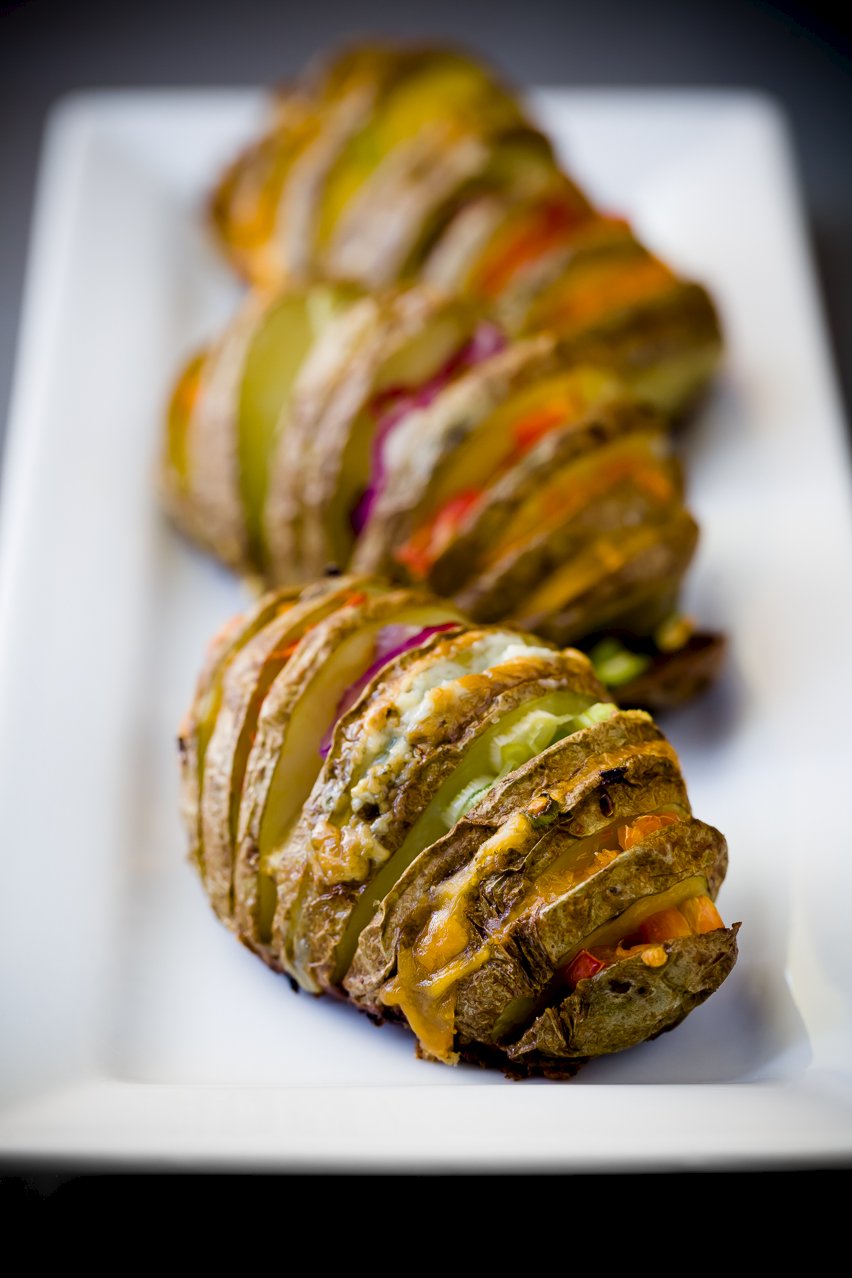 You can't go wrong either way. You can even create your own fillings. How about avocado for green or prosciutto for red?
What to Serve with these Potatoes
They are amazing with steak or hamburgers. But, if you want to try something different, consider serving them with bison chili!
Rainbow Potato
In honor of St. Patrick's Day, I made rainbow Hasselback potatoes, filling each potato gap with a colored veggie or cheese.
Ingredients
1

small Russet potato

washed and dried

1/2

tablespoon

butter

frozen butter works best but it's not required

2

teaspoons

olive oil

1/2

teaspoon

kosher salt

2

tablespoons

finely diced tomatoes

2

tablespoons

finely diced orange peppers

2

tablespoons

shredded cheddar cheese

2

tablespoons

finely sliced green onions

2

tablespoons

blue cheese crumbles

2

tablespoons

chopped red onion
Instructions
Preheat oven to 400 F.

Cut a small slice off of the long side of the potato so it can lay flat.

Line up two cheap chopsticks like railroad tracks on either side of the potato.

Make about 10 slices into the potato. For each slice, cut into the potato until the knife hits the chopsticks.

Cut the butter into really thin slices (as thin as you can). Place a slice in each potato slot.

Place potato on a baking sheet, drizzle with olive oil, and sprinkle with salt.

Either bake for 45 minutes, fill each slot with prepared fillings in color order, and bake for another 15 minutes OR bake for one hour and then fill each slot with prepared fillings in color order. The second method will look more vibrant, however the the vegetables won't be cooked. You could also do a combination of the two methods by adding the fillings after 45 minutes, and then adding additional fillings after the full hour.

Let the potato rest for five minutes (it continues to cook internally) and EAT!
Nutrition
Nutrition Facts
Rainbow Potato
Amount Per Serving
Calories 480
Calories from Fat 243
% Daily Value*
Fat 27g42%
Cholesterol 56mg19%
Sodium 1607mg67%
Potassium 1033mg30%
Carbohydrates 44g15%
Protein 15g30%
Vitamin A 1525IU31%
Vitamin C 43.6mg53%
Calcium 315mg32%
Iron 2mg11%
* Percent Daily Values are based on a 2000 calorie diet.