Update 9/1/2011:  This contest is now closed.  The winner is Grace Sheese!  Congrats, Grace!  Thanks to everyone who entered!
One of my son's favorite books is Everyone Poops
.  Everyone Poops reveals some important pooping facts (some animals poop on the go, while some stop to poop) and has some fun pooping humor (a one hump camel has a one hump poop, and a two hump camel has a two hump poop).  However, it leaves us with some vexing questions.  The book asks, "What does whale poop look like?" and it provides no answer.  Here's the answer:
I know. I know.  You didn't come to a cupcake blog to learn about whale poop.  So, let's talk about whales and cupcakes.
Is this not the cutest whale cupcake shirt that you've ever seen?!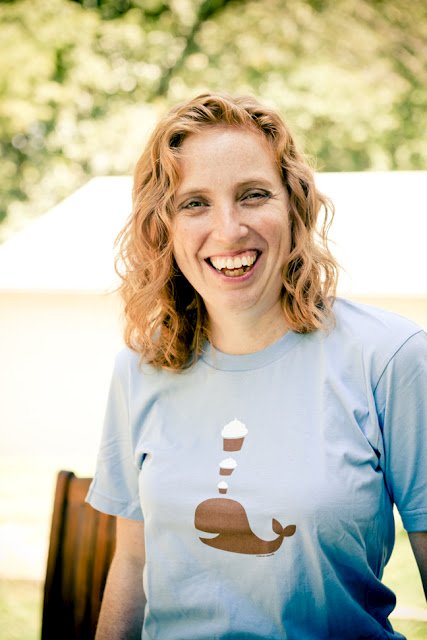 Want to win one? The shirt was a gift to me from Hey Cupcake! Threads and they are offering one to a Cupcake Project reader!
Leave a comment on this post (not on Facebook, e-mail, or Twitter) with your favorite fun fact about whales.

Your fact can be something true and fascinating (Google is your friend here, resist the urge to copy from the commenter above you – that's no fun),
a story about a personal experience that you've had with whales (maybe you went whale watching),

Be sure that your comment also includes a way to contact you if you win.
Fine Print:
All comments must be posted by 11:59 PM CDT on August 31, 2011.
Limit of one entry per person.
Winner will be randomly chosen on September 1.  I will email the winner and update this post with their name.
If I don't hear from the winner within one week to claim their prize, I will choose a new winner.
Sorry, but the prize can only be shipped to a U.S. address.
Want Another Chance to Win?
Hey Cupcake! Threads has lots of other cute cupcake-themed shirts (you should check them out!).  I'll be doing a giveaway for another shirt (you'll see which one soon) on my Facebook page.  Be sure to Like Cupcake Project on Facebook so you don't miss out!