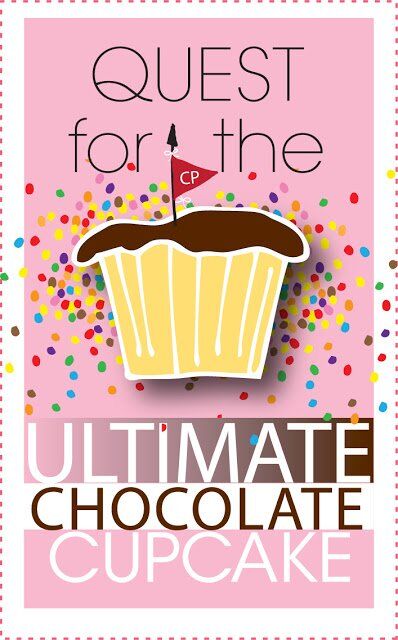 With the
hundreds of recipes I have developed for this blog
, the one that I am most proud of is the
Ultimate Vanilla Cupcake
.  I worked on the recipe for months, both on my own and with the help of an incredible team of Cupcake Project Explorers.  I still get comments on the Ultimate Vanilla Cupcake recipe almost daily from folks letting me know that it's their new favorite vanilla cupcake recipe.  I also know of several bakeries that are using it as their signature vanilla cupcake.
Many of you have asked when I would share a recipe for the Ultimate Chocolate Cupcake.  Those of you who follow
Cupcake Project on Facebook
already know that I've been testing chocolate cupcake recipes for months.  After baking 28 different chocolate cupcake recipes, I finally have one that I think is the Ultimate.
So, Where's the Recipe?
As with the Ultimate Vanilla Cupcake, I refuse to call my recipe the Ultimate Chocolate Cupcake until it's been baked by a 50 baker team of testers (Explorers).  If 60% or more of the Explorers agree that it's the Ultimate Chocolate Cupcake recipe, I will declare it as such (there's no recipe that everyone can agree on).  If the Explorers don't love it, I'll take their comments into consideration, go back to the cupcake tin, and try again.  (With the Ultimate Vanilla Cupcake, the Explorers baked three different recipes before declaring a winner.)
How to Become a Cupcake Project Explorer
and Get to Try My Chocolate Cupcake Recipe Before it is Posted
Update 6/28/12: The Explorers have been chosen.  Thanks to all who volunteered!
I'm looking for 50 bakers at all different skill levels to test my proposed Ultimate Chocolate Cupcake recipe.
Here are the details:
You must be able to bake one batch of chocolate cupcakes (the recipe makes 12 cupcakes) and fill out the feedback form between Sunday, July 1 and the end of the day on Saturday, July 7.
Signing up to be an Explorer does not guarantee you a spot.  I'll be looking for a good mix of skill levels – please apply if you've never baked a cupcake in your life, you are a professional pastry chef, or you're anywhere in between.
If chosen, you will be sent the recipe by Sunday, July 1.  You are required to keep the recipe a secret until I give you the go-ahead to share it.  This means no blog posts, Facebook status updates, Tweets, etc., that contain the recipe or your review of the recipe.  However, feel free to share the fact that you've been chosen as an Explorer.
If chosen, you may proudly display an Explorer badge on your blog (I'll send all of the Explorers code to put a badge on their sites).  Having a blog and posting the badge is not a requirement for participation.
The recipe that I will be providing uses weight measurements so you must have or be willing to buy a kitchen scale.
If 60% or more of the Explorers declare the cupcake to be the Ultimate Chocolate Cupcake recipe,  I will post the recipe on Cupcake Project and give the Explorers the go-ahead to write about the recipe. I will add links back to their posts from my post.
If the Explorers do not deem this recipe to be the Ultimate Chocolate Cupcake recipe, I will present them with another recipe to try.  Explorers will have the option of staying on and trying other chocolate cupcake recipes until one is declared the Ultimate or giving up their slot.
If you were an Explorer in the Quest for the Ultimate Vanilla Cupcake, you are not eligible for this quest.  You are now, however, an Explorer Alumnus and you may be called upon to complete special missions – keep an eye on your Inbox in the coming months.
Sign Up Now
If you are interested in becoming an Explorer, fill out the sign up form now.
Special Thanks
Huge thanks to Emma from SnapStories for designing the logo and badges for this program.  Her books make the perfect baby gifts, shower gifts, or birthday presents – go buy some and tell her I sent you!