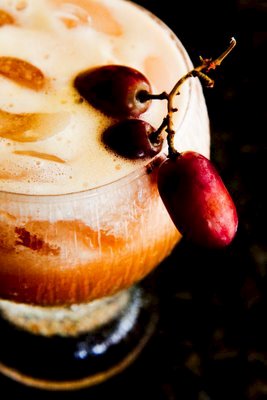 This punch recipe combines fresh grapes, pineapple, and ginger. Other grape punch recipes I've tried use grape juice or fake-tasting powder (like Kool-Aid). Using fresh grapes in a punch recipe works really well (aside from having to strain the skins), but don't expect the punch to taste like the traditional grape juice variety unless you are using Concord grapes.


Punch Recipe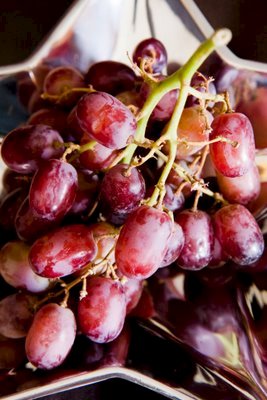 I made this punch recipe for this month's Taste & Create (the food blog event where food bloggers pair up to try each other's recipes). My partner this month was Experiments, Emotions, and Experiences with Food. While there were tons of appealing recipes of all kinds on my partner's blog, I decided to opt for her punch recipe to avoid worrying about converting a dessert into a Kosher for Passover creation (two days left!).
I am reprinting my partner's punch recipe below, with my notes. Note that the recipe makes just one large glass. Double, triple, or quadruple the recipe depending on how much punch you need!
1/2 C (around 15) black seedless grapes (Feel free to experiment with other seedless varieties.)
1/2 C pineapple, cubed
1 T fresh ginger, chopped (The ginger flavor is VERY strong in this punch. If you are not a huge ginger fan, you may want to reduce the amount to taste.)
1 lemon, juiced
3 T sugar
1/2 t salt (This was a bit too much salt for me. You might consider cutting this amount in half.)
1-2 C ice water
Put all ingredients in the blender.
Blend.

Up Next
Grape cupcakes with pineapple and ginger – of course!