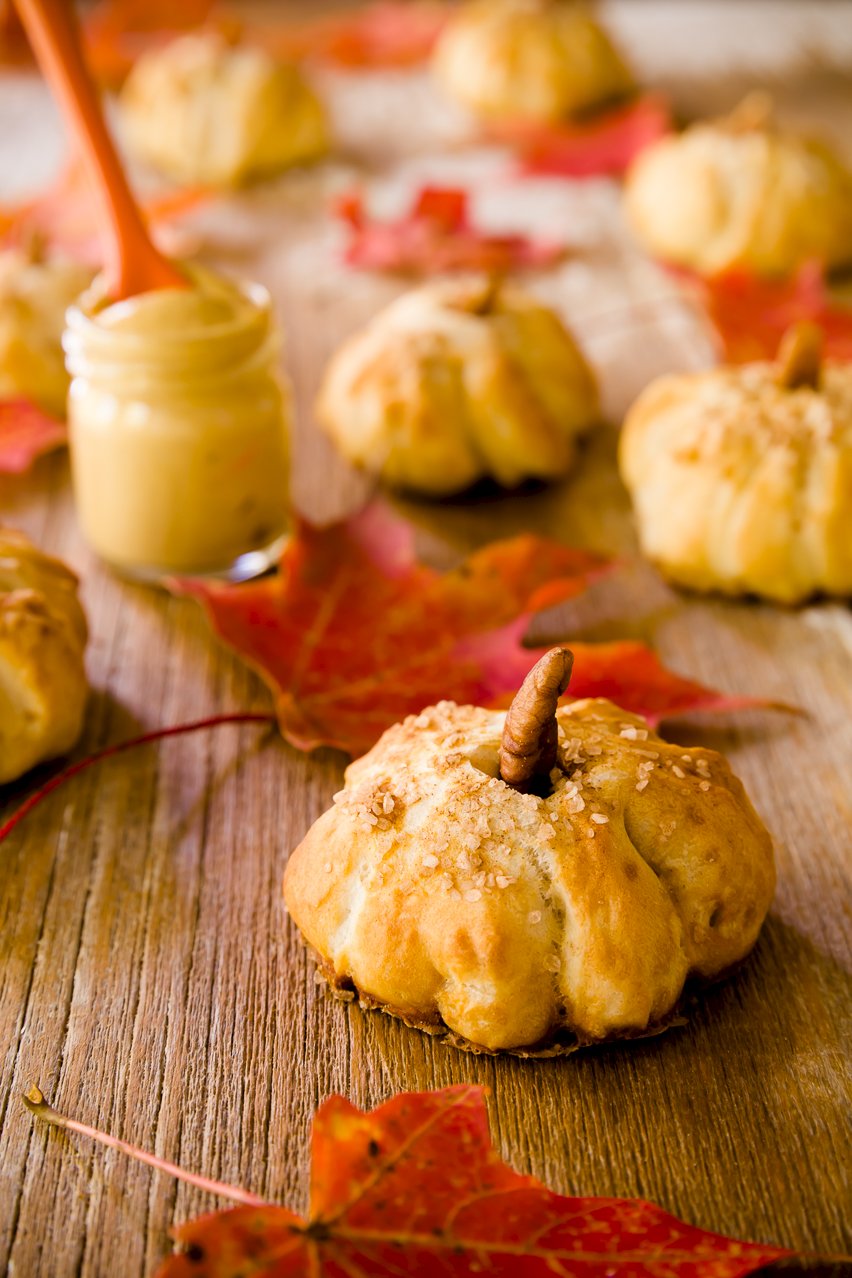 If you haven't seen a pretzel roll at the grocery store or on the menu at a local restaurant, you are bound to see it soon. People have begun to get more creative with pretzel shapes and I'm all about that trend! I'll take hot pretzels however I can get them.
Pumpkin-shaped pretzel bites are my contribution to the pretzel universe. They aren't as tricky to make as you might think and they are so stinkin' cute! I could easily see a pumpkin-shaped pretzel bite at every placesetting for a holiday meal or a big basket of them set on the table.
I used Peter Reinhart's pretzel recipe from this book for these pretzel bites. The recipe below is his with my adaption for the pumpkin shape. (View on Amazon)
Early this year, I took Peter's Crafty's class on bread making. Since then, if I want to master a new type of bread product, I refer to one of his recipes. He's a guru! I'd put these pretzels in the category of New York City street vendor pretzels – the kind I grew up snacking on during class field trips to the Museum of Natural History or holiday trips to FAO Schwarz. They're thick and hearty with large grains of salt whereas the typical mall pretzel tastes mostly like butter. Don't get me wrong, I love mall pretzels too, these just are not they.
I learned the pumpkin shaping technique from Beyond Kimchee. She makes totally adorable pumpkin dinner rolls with this technique and I encourage you to try her recipe if you think these are cute but would prefer a bread roll to a pretzel. And if you're looking for a cute decoration to place around or on them, take a look at my 30 Second Chocolate Leaves.
If you can get your hands on some pretzel salt, that is the best choice for this recipe. Otherwise, any coarse sea salt will work just fine. (View on Amazon)
Pumpkin-Shaped Pretzel Bites
Pumpkin-shaped pretzel bites are my contribution to the pretzel universe. They aren't as tricky to make as you might think and they are so stinkin' cute!
Servings
24
pretzel bites
Ingredients
1

teaspoon

0.11 oz/3 g instant yeast

1 1/2

cups

12 oz/340 g lukewarm water

4 1/2

cups

20 oz/567 g unbleached bread flour

1 3/4

teaspoons

0.4 oz/11 g salt, or 2 1/2 teaspoons coarse kosher salt

1 1/2

tablespoons

0.75 oz/21 g brown sugar

2

tablespoons

1 oz/28.5 g unsalted butter, melted

8

teaspoons

2 oz/57 g baking soda, for dipping

2

cups

16 oz/454 g warm water, for dipping

Pretzel salt or coarse sea salt

to taste

about 20 pecan halves
Instructions
In a small bowl, combine the yeast and lukewarm water and let sit for about 1 minute.

In a large mixing bowl, combine the flour, salt, and sugar.

Mix the yeast mixture and the melted butter into the flour mixture with a wooden spoon. It should not take longer than a minute and you should be left with a coarse ball.

Continue mixing by hand for about 2 minutes.

Let the dough rest for 5 minutes.

Mix by hand for 3 minutes, adding more water or flour as needed to form a smooth, lightly tacky ball.

Turn the ball out to a lightly floured surface, knead for one minute, and place it in a lightly oiled bowl.

Cover with plastic wrap and keep it in the refrigerator overnight or up to 4 days. If you want, you can even bake a few pretzels a day with this dough every day for the four days!

On the day you plan to bake, dissolve the baking soda in warm water in a medium-sized bowl. Preheat the oven to 400 F.

Remove the dough from the refrigerator and rip off a small piece (about one ounce). Form it into a ball.

Use kitchen scissors to cut the dough so it looks like a flower. Make cuts that start at the edge of the circle and go almost all the way to the center, creating about eight sections.

Rather than laying the "flower" flat, tuck the sections under themselves to give the dough a little height. As you can see below, the dough still doesn't look at all like a pumpkin, but it will! Also, note that my sections aren't perfectly even. Guess what? It doesn't really matter!

Dunk your flower-like dough ball into the baking soda water, and place it onto a parchment-lined cookie sheet. Adjust the shape as needed after the dunk.

Repeat for as many pretzels as you want to make that day. Space them about one inch apart on the cookie sheet.

Sprinkle the pretzels with salt.

Bake for 16 minutes or until browned. If baking multiple sheets at once, be sure to rotate halfway through baking.

While still warm, poke a pecan half into the center of each pumpkin to make a stem.
Nutrition
Nutrition Facts
Pumpkin-Shaped Pretzel Bites
Amount Per Serving
Calories 105
Calories from Fat 18
% Daily Value*
Fat 2g3%
Cholesterol 2mg1%
Sodium 537mg22%
Potassium 32mg1%
Carbohydrates 18g6%
Protein 3g6%
Vitamin A 30IU1%
Calcium 6mg1%
Iron 0.3mg2%
* Percent Daily Values are based on a 2000 calorie diet.