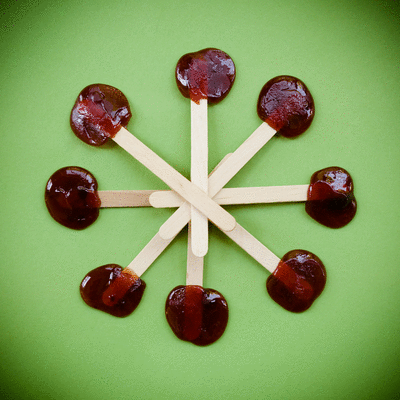 Lollipops don't require artificial flavors or colors or even fancy molds. All you'll need to make these lollipops are canned pumpkin, canned sweet potato, persimmon pulp, or lucuma pulp*, plus water, sugar, and some sticks. You'll also want to have a candy thermometer (my favorite is the Maverick
because it's digital and you can set an alarm to warn you when you reach the desired temperature – but any candy thermometer will do).
The texture of these lollipops is a bit different than a typical lollipop. When you bite them, they have a slight crunch, like maple candy
(my favorite candy on the planet). However, sucking the pops is definitely an option. I gave one to my gluten-free cousin (she is so happy when I make anything that she can eat), and she sucked on one pop for at least ten minutes. She smiled the whole time, in a closed-mouth-I'm-sucking-on-a-pop kind of way.
The lollipops taste like a super sweet candy version of whatever you make them out of (pumpkin, sweet potato, persimmon, or lucuma). If you make them out of pumpkin, they would be a such a fun treat for a Halloween party; it's mid-August – time to start thinking about one of the best holidays of the year!
Pumpkin Lollipop Recipe

I got the recipe for these lollipops from SugarLaws. She made them as adorable little candies instead of lollipops. The recipe below is hers, but converted to lollipops.
*The lollipops in the photo were made with lucuma. In fact, the whole reason that I made these was that I liked saying "lucuma lollys". If you've never heard of lucuma, be sure to check out my lucuma bars for more information about the fruit and how to use it.
Pumpkin Lollipops (or Sweet Potato or Persimmon or Lucuma)
All you'll need to make these lollipops are canned pumpkin plus water, sugar, and some sticks.
Ingredients
1/2

cup

canned pumpkin

1/2 cup canned sweet potato, 1/2 cup persimmon pulp, or 1/2 cup lucuma pulp

1/2

cup

water

1

cup

sugar
Instructions
Line up popsicle sticks on a

silpat

or parchment paper on top of a baking sheet. Leave enough space between the sticks so that the pops won't touch each other - the exact distance between popsicle sticks will depend on how big you want your lollys to be.

Bring all ingredients to a boil in a small heavy-bottomed saucepan, stirring periodically.

Heat the mixture to the soft crack stage (around 280 F).

VERY quickly, spoon a small amount of the mixture onto the top of each stick. You've got to act fast or the mixture will harden and you won't be able to work with it.

Cool for two hours.

Commence licking!
Notes
For lollipops with a more traditional lollipop texture and a more professional look, check out my Shirley Temple lollipops.
Nutrition
Nutrition Facts
Pumpkin Lollipops (or Sweet Potato or Persimmon or Lucuma)
Amount Per Serving
Calories 27
% Daily Value*
Potassium 8mg0%
Carbohydrates 6g2%
Vitamin A 635IU13%
Vitamin C 0.2mg0%
Calcium 1mg0%
Iron 0.1mg1%
* Percent Daily Values are based on a 2000 calorie diet.