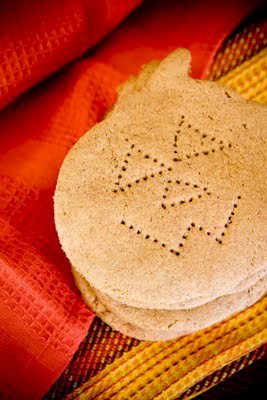 These homemade pumpkin graham crackers are not only pumpkin shaped, but also contain pumpkin puree and pumpkin pie spices, giving them a subtle pumpkin flavor.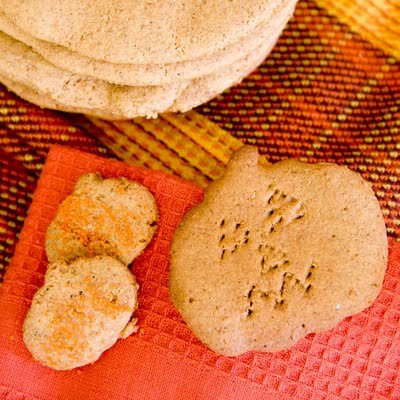 I made these pumpkin graham crackers in multiple sizes and added some orange sugar to the tiny ones (they were too small for me to give them good faces). Bride 3.0 said that she could "eat 100 of them!" But, she noted that they were a bit Halloweeny for a wedding. Come on – who doesn't want Jack-O-Lanterns at their Spring wedding? :)
The good news is that pumpkin graham crackers can be made in any shape you can cut out. Bride 3.0 suggested hearts.
What to Do With Your Pumpkin Graham Crackers
Aside from simply eating them all up, I have several usage ideas for these pumpkin graham crackers:
Crumble them to use in the crust for a homemade pumpkin pie.
Slather them with pumpkin butter or apple butter.
Put pumpkin ice cream between two of them and freeze for a pumpkin ice cream sandwich.
Use them to decorate your pumpkin cupcakes.
Pumpkin Graham Cracker Recipe
To make these pumpkin graham crackers, I modified my regular graham cracker recipe. I originally got that graham cracker recipe from Free Range Living. She got the recipe from The Fannie Farmer Baking Book.
My modified recipe is below.
If you've tried this recipe, please RATE THE RECIPE and leave a comment below!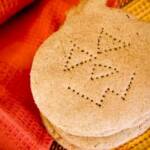 Pumpkin Graham Crackers
Servings
36
2 1/2 inch squares*
Ingredients
2

T

1/4 stick unsalted butter, softened

2

T

pumpkin puree

1

egg

6

T

sugar

4

T

honey

Some graham crackers use half honey and half molasses. You might consider trying that as a variation.

1/2

t

baking soda

1

t

ginger

1

t

nutmeg

1

t

cinnamon

3/4

t

allspice

2

t

water

3/4

t

salt

1 1/2

C

graham flour

If you can't get ahold of graham flour, there are plenty of graham cracker recipes that use regular whole wheat flour such as this graham cracker recipe from Baking Bites. You may also be able to directly substitute whole wheat flour in this recipe, but I haven't tested it and I make no promises.

3/4

C

all-purpose flour
Instructions
Combine the butter, pumpkin, egg, and sugar in a bowl and beat until smooth and creamy.

Stir in the honey.

Dissolve the baking soda in the water and add to the butter mixture.

Add the salt, graham flour, all-purpose flour, and spices to the mixture and blend thoroughly. The dough should hold together and be manageable. If it is too tacky, add a little more graham flour.

Liberally dust a surface with graham flour and roll the dough to a thickness of about 1/8 inch.

Use your cookie cutters to cut out pumpkins or any other shape.

Use the tines of a fork to make Jack O' Lantern faces on the pumpkins.

Using a spatula, place the pumpkin graham crackers on an ungreased cookie sheet.

Bake at 350 F for 15 minutes.

Remove from the oven and cool on racks. They won't be hard when you first take them out of the oven, but they will harden as they cool.
Recipe Notes
*You can do your own math on how many pumpkins that will get you. It obviously depends on the size of your cookie cutters.