Pumpkin crème brûlée is dangerously easy to make.  Pumpkin crème brûlée is a one-bowl recipe that takes five minutes – tops –  to put together and requires only four main ingredients plus some spice.  The only time-consuming element in preparing pumpkin crème brûlée is waiting for the brûlée to bake and then waiting for it to chill.

Perhaps some of you are like me and have enjoyed crème brûlée as a restaurant-only dessert.  Although I've owned a culinary torch for years and have used it liberally when making meringue frosting, I had never tackled crème brûlée.  With its layer of crackly sugar and the hidden creamy surprise underneath, it always felt like a dessert best left to a trained pastry chef.  It was just such a person who introduced me to pumpkin crème brûlée and inspired me to make crème brûlée for the first time.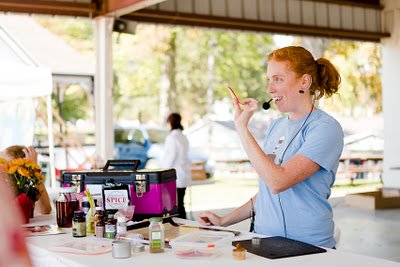 A few weeks ago, I did a short demo as part of an event called Dueling Desserts at Highland, Illinois's annual art fair, Art in The Park.  While the event is billed as a sword fight, it's actually an extremely friendly competition. One of the best parts about it is meeting the other chefs who show up.
The woman who you can see in the back left of the photo is Leslie Gillette, the pastry chef from esteemed St. Louis restaurant Salt.  Leslie prepared two pastries for the event. The first was this gorgeous cake: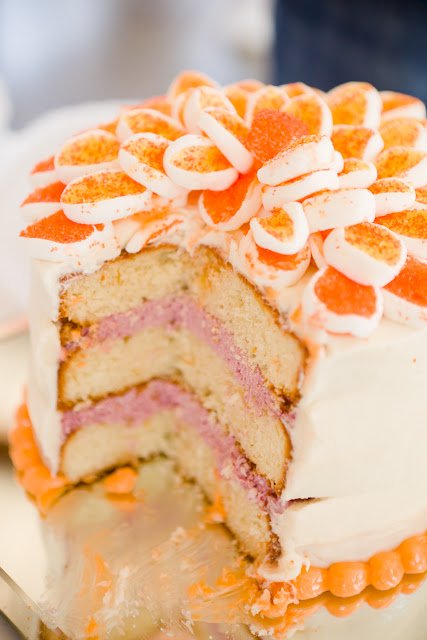 Leslie talked about decorating the cake with marshmallows cut in half and dipped in sugar.  This technique is often used on cupcakes and you can read about it in Hello, Cupcake!.
Leslie also brought along pumpkin crème brûlée that she baked in a pumpkin.  I HAD to sample that one!  I love anything pumpkin and her pumpkin twist on a classic crème brûlée won me over.  When she offered to send me the recipe, I knew that this would end my crème brûlée baking virginity.
How To Make Pumpkin Crème Brûlée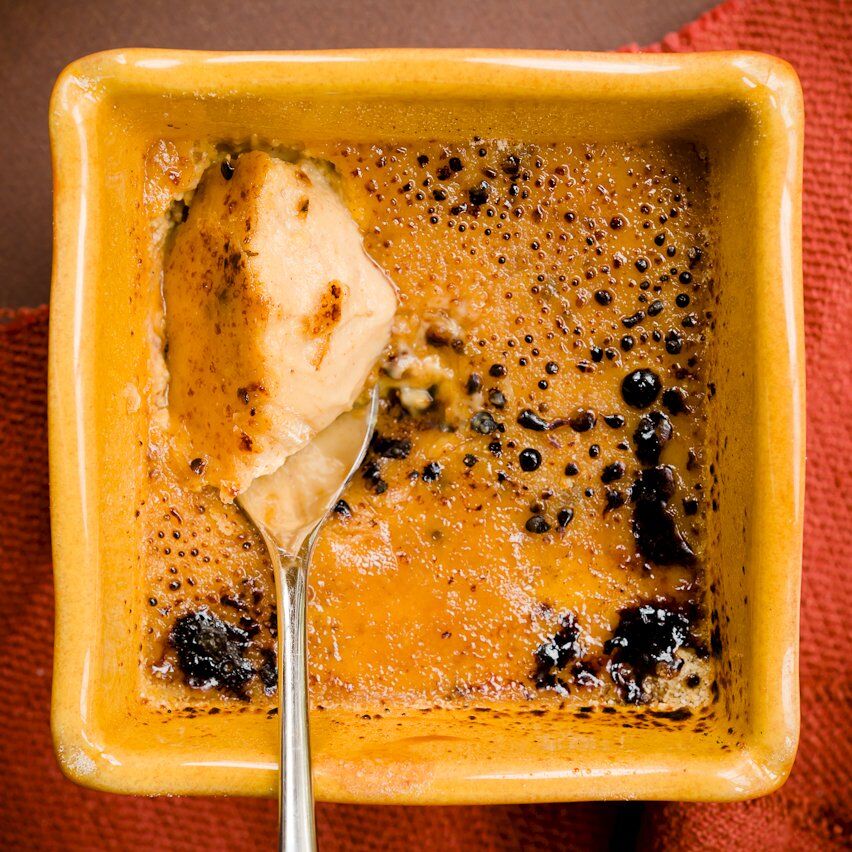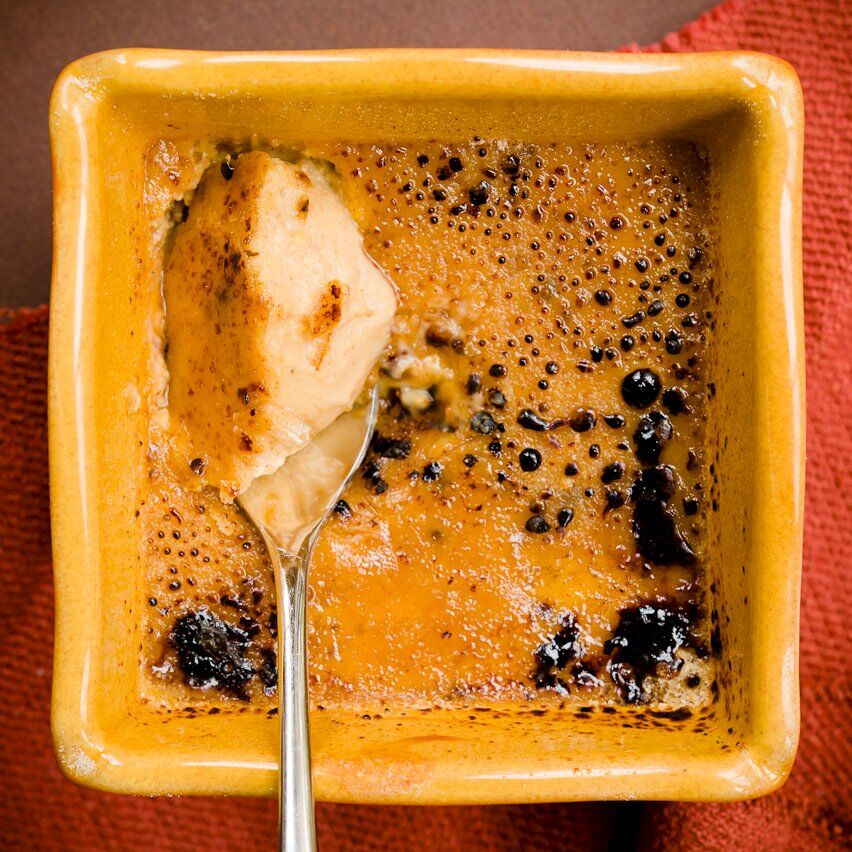 The pumpkin crème brûlée below is Leslie's recipe with my notes.  The only major change that I made was to use maple sugar for the brûléeing.  I adore the taste of maple sugar and it went supremely well with the pumpkin.  However, the maple sugar didn't brûlée as well as plain granulated sugar would have.  I was a bit bothered aesthetically by some of the dark bubbles that formed – but, man, did they taste good!!
If you've tried this recipe, please RATE THE RECIPE and leave a comment below!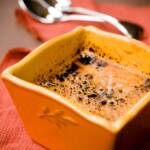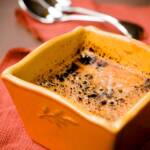 Pumpkin Crème Brûlée with Maple Sugar
Servings
6
ramekins of crème brûlée
Ingredients
10

egg yolks

1

quart

heavy whipping cream

1

cup

sugar

1 1/2

cups

pumpkin puree

1

tablespoon

pumpkin pie spice

fine maple sugar

you can use a food processor to make yours fine or granulated sugar for brûléeing
Instructions
Preheat oven to 300 F.

Whisk all ingredients together.

Divide evenly between the ramekins.

Place the filled ramekins into a deep roasting pan or whatever pan you would use to make something like lasagna.

Fill the pan with water to halfway up the dishes.

Bake 45-50 minutes or until the crème brûlée no longer jiggles when you move it.

Refrigerate the crème brûlée for at least three hours.

Top each ramekin with a thin layer of sifted maple sugar or granulated sugar. If you are using maple sugar and yours isn't fine grain, put it in the food processor first to make it finer.

Just before serving, use a

culinary torch

to brûlée the tops of the ramekins. If you'd like a thicker layer of sugar on top of the ramekins, add more sugar and brûlée a second time.
Pumpkin Crème Brûlée Cupcakes
Check out the crème brûlée cupcakes that I made with the pumpkin crème brûlée!