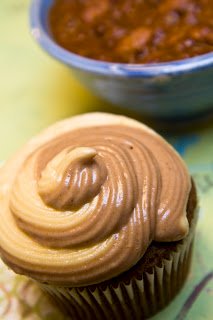 This month, I participated in a new blog event (well, new to me) called Taste & Create. In this event, food bloggers get partnered up. Participants pick a recipe from their partner's blog, make it, and blog about it.
I got paired with What's Cooking. What's Cooking is a blog by a man whose family owned a restaurant in Mexico for 40 years. He posts mostly – but not exclusively – Mexican recipes. He does not have any cupcakes on the blog to date.
As a cupcake only blog, what was I to do? Create my first cupcake pairing, of course.
I decided to select a recipe that appealed to me, make it, and then make a cupcake inspired by it. This would involve doing actual cooking, an activity that hasn't been done by me for 9 months or so.
There were many appealing recipes on What's Cooking, but I had to go with the Pumpkin Chili. It's chili season and the bride mentioned loving pumpkin. Also, the recipe contained an ingredient I had never used or, for that matter, even heard of. This always intrigues me. That ingredient was Abuelita.
What the Heck is Abuelita?
Abuelita is Mexican hot chocolate made by Nestle that is sold in a variety of formats. The chocolate is made of sugar, cocoa and artificial cinnamon flavoring. It is sickeningly sweet to eat straight up, but it has a really nice and subtle chocolate spice flavor. In addition to being good for hot chocolate, it works well in pumpkin chili and pumpkin chili cupcakes.
Those of you who are Spanish speakers (I am not) will know that abuelita means grandma. The grandma on the package is Sara García, a legendary Mexican actress of more than 140 films. Despite her fame, I wonder if this kind of marketing would work in the US. She's kind of scary and reminds me of Robin Williams in Mrs. Doubtfire. Then again, Mrs. Butterworth sells well, as does the Quaker Oats man, so who knows.
Where Can I find Abuelita if I'm not in Mexico?
My first concern about the chili was whether or not I would be able to find Abuelita. Thankfully, St. Louis has a number of different stores that carry Mexican products. I picked mine up at Global Foods Market in Kirkwood. If you don't have a good Mexican grocer near you, you can purchase Abuelita online.
The Pumpkin Chili
The pumpkin chili was fantastic. The combination of flavors was perfect: spicy but not too spicy with just a touch of sweet. I followed the recipe as written on What's Cooking with just a few exceptions as noted in red below.
Pumpkin Chili with Abuelita
The pumpkin chili was fantastic. The combination of flavors was perfect: spicy but not too spicy with just a touch of sweet.
Total Time
8
hours
20
minutes
Ingredients
For this recipe you will need
2

lbs

ground beef

I used local grass-fed beef from Whole Foods. It was great! It was the first time I have made something with beef that had no grease at all. Even after putting the chili in the fridge overnight, there was no nasty orange fat on the top to remove. If you like grease, don't use this.

1

cup

canned pumpkin puree

1 28

oz

can crushed tomatoes

1

cup

tomato juice

½

Abuelita chocolate bar

3

cloves

garlic

1

chopped onion

2

cups

pinto beans

olive oil
Special chili mixture
1

tbsp

black pepper

½

tbsp

cinnamon

1

tbsp

oregano

2

tbsp

salt

I don't like salt. I only used 1 tsp. That was plenty for me.

1

tbsp

cumin

2

tbsp

chili powder

2

tbsp

ground paprika

2

tbsp

ground chipotle pepper
Instructions
In a large pot cook onion and garlic in olive oil over medium heat.

When translucent, add ground beef and special chili mixture and cook until beef turns brown. It is important that the ground beef is thoroughly cooked.

Add pumpkin puree, chocolate, crushed tomatoes and tomato juice.

(At this point, I dumped everything into the crock pot and left it there for 8 hours. I added the pinto beans about halfway through. This worked perfectly for me. If you don't have a crock pot, read on.)

Stir and reduce heat to medium low and simmer for about one and a half hours.

Add pinto beans and simmer for about 20 more minutes.

Let it cool a little bit before serving.

Garnish with avocado, sour cream and fresh cilantro. (I topped mine with a Mexican cheese mix.)
Nutrition
Nutrition Facts
Pumpkin Chili with Abuelita
Amount Per Serving
Calories 428
Calories from Fat 216
% Daily Value*
Fat 24g37%
Cholesterol 80mg27%
Sodium 2029mg85%
Potassium 1098mg31%
Carbohydrates 28g9%
Protein 26g52%
Vitamin A 7165IU143%
Vitamin C 18mg22%
Calcium 133mg13%
Iron 6.9mg38%
* Percent Daily Values are based on a 2000 calorie diet.
The Pumpkin Chili Cupcakes
For the cupcakes, I turned to the book Vegan Cupcakes Take Over the World, which I finally broke down and purchased.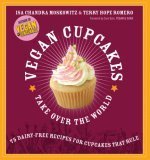 There is a recipe for pumpkin chocolate chip cupcakes that sounded great. I decided to use that as a base, but I added the chili flavors and used Abuelita instead of chocolate chips.
When I got to the step when I was about to add the chili spices, I almost backed down. The batter tasted so good, what if the chili ruined it? "Oh well, here goes nothing," I thought as I dumped it in. I did not regret the choice.
The cake was melt-in-your-mouth moist. It was ever so slightly spicy, mildly pumpkiny, mildly chocolaty, and extremely tasty.
For the frosting, I opted for a pumpkin cream cheese frosting. I added Abuelita to half of the frosting and did something I've been wanting to try for a very long time, a two color cupcake swirl. There are swirling instructions at the bottom of this post.
The Cupcake Review
Bride and Groom 2.0 came over last night to pick up their cupcake samples. They also took two extras for friends they were going to dinner with. Lest you think them rude, my husband and I were invited to join. I just wasn't feeling well and had them bring over movies to watch in exchange for the cupcake pickup.
One friend of ours who was at the dinner has never before given me a cupcake review. He emailed me a quality review this morning and he will therefore get more cupcakes.
"I tried a bite of just the cupcake without frosting. Sigh, the density was what every cupcake should have and the cake was moist throughout. Too often a cupcake is dried on the top and too moist on the bottom thus it crumbles in hand. The pumpkin cupcake was evenly baked, kudos, and the density was respectable. Run of the mill cupcakes are too airy and not very satisfying. I like a pastry to have resistance when I bite into it."
He continues to talk about how our other friend claimed to like the soda fountain cupcakes better. He explains that choice as follows, "Last night I learned he is one year and 363 days younger than myself. So, perhaps in about two years he'll favor the mature pumpkin over root beer."
Bride 2.0 also really liked the cupcakes. She called them "wedding contenders" and said she liked the mild kick and the cupcake to frosting ratio. Despite my pride at the neat looking swirl, this was WAY too much frosting for me. I was glad that others liked that quantity though.
As I had predicted, Groom 2.0 didn't like the spice factor. He's more of a basics guy.
The Cupcake Recipe
adapted from Vegan Cupcakes Take Over the World
Pumpkin Chili Cupcake with Abuelita
Taking the fun flavors of chocolate and chili and marrying them in a cupcake.
Ingredients
Cupcake Ingredients
2

C

canned pumpkin

2/3

C

vegetable oil

2

C

sugar

1/4

C

soy milk

1

t

vanilla extract

2 1/2

C

flour

1/4

t

black pepper

1/4

t

oregano

1/4

t

cumin

1/4

t

chili powder

1/4

t

ground paprika

1/4

t

ground chipotle pepper

1/4

t

cinnamon

1/2

t

baking soda

1/2

t

baking powder

1/2

bar Abuelita
Frosting Ingredients
1

pkg of cream cheese

1/4

C

butter

1/4

C

pumpkin

1

t

vanilla extract

4

C

powdered sugar

1/2

bar of Abuelita
Instructions
Cupcake Instructions
In a medium bowl, stir together pumpkin, oil, sugar, soy milk, and vanilla. Sift in the flour. In a separate bowl, combine all the spices. Add spice, baking soda, and baking powder. Do not over-mix. Melt 1/2 bar of Abuelita and stir in.

Bake for 20 min at 350 F.
Frosting Instructions
Mix cream cheese and butter well. Add pumpkin and vanilla extract. Add powdered sugar. Split frosting in half. Add melted Abuelita to 1/2 of the frosting. Note: If you plan to heavily frost the cupcakes, you may need to double this recipe.
Nutrition
Nutrition Facts
Pumpkin Chili Cupcake with Abuelita
Amount Per Serving
Calories 364
Calories from Fat 117
% Daily Value*
Fat 13g20%
Cholesterol 18mg6%
Sodium 93mg4%
Potassium 106mg3%
Carbohydrates 59g20%
Protein 2g4%
Vitamin A 4205IU84%
Vitamin C 1.4mg2%
Calcium 30mg3%
Iron 1.2mg7%
* Percent Daily Values are based on a 2000 calorie diet.
How to Make a Two Color Cupcake Swirl
I got some help from Clever Cupcakes (who happens to have some of the best cupcake photos on flickr) to figure out how to do a two color color cupcake swirl. The way I did it was to use 3 different disposable pastry bags. I put couplers but no tips in two pastry bags. You could also just cut a small hole and not use a coupler. I thought the coupler provided some stability and an even flow. I partly filled one bag with the pumpkin frosting without chocolate and one bag with the pumpkin frosting with chocolate. Then, I placed those two bags side by side in a bag with a star tip and started piping. Voila! A two colored swirl.