I hate to admit it, but when I first stumbled upon Cupcakes Take the Cake, I thought it was silly. What good is a blog about cupcakes with no recipes? Boy, was I wrong!! CTTC is wrappers down one of the best cupcake blogs on the web, and I was so honored to be asked to write a guest post here.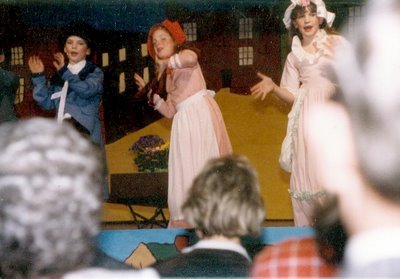 Me in my acting phase. I'm the one in the red bonnet.
Clearly this is an 80's photo taken long
before I met my
photographer
husband.
I've gone through a bunch of different hobbies in my life:
There was the acting phase. I was determined to be an actress, despite lack of skill and crooked teeth. Acting classes and braces sadly did not help.
There was the band phase. Yes, I went to band camp. No, I couldn't play the mellophone to save my life (a mellophone is like a trumpet, but with a bigger bell).
There have been various dance phases – probably the most fun was the swing dance phase. This phase is likely to make a recurrence at some point. I've been reluctant to get back into it for fear of addiction. Trust me, dance addiction is a true affliction.
I've learned that every hobby has it's obsessed regulars – core folks, people that you know will be there no matter what the event. These people almost come to represent that activity – for really any activity, even cupcake blogging (as it turns out), is more about the people than the activity.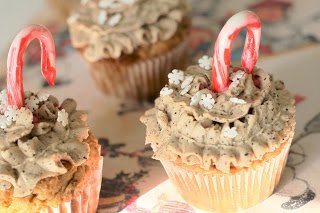 Sugary little love circle could apply
to my
Christmas cupcakes
, but that's not how it was used.
When I began writing my cupcake blog not quite two years ago, I knew that there were a couple of cupcake blogs out there, but I did not know that there was any connection between them – that these virtual people had the same kind of connections that the regulars in any other "real" group have. Natalie from Bake and Destroy put it best when she called it our "sugary little love circle."
I think it's sweet to be part of the sugary sircle (can I spell circle with an s just to alliterate?). However, I want you to know that the circle doesn't have to be little, and the nice thing about a circle is that every part is just as important.
Here are my tips on how to go from being a cupcake lover to being part of the cupcake bloggers' love circle: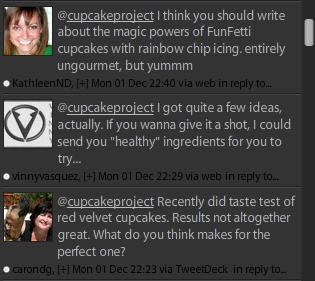 When I asked my friends on
Twitter
what I should write
about in this post, they had some clever suggestions.
I also got a bunch of great ones on Facebook that
(while not appearing here),
may be featured on Cupcake Project in the future.
Show up. What makes someone a regular and well known in any group is simply being there. In the virtual world this means having a blog and posting regularly. If you're not ready to take the dive and have your own blog, start commenting regularly on other people's blogs.
Talk. We love talking about cupcakes, but my relationships with other cupcake bloggers have grown tremendously since joining Twitter and occasionally sharing life details that have nothing to do with cupcakes or even baking!
Participate. There are tons of cupcake-related blog events to join in on. It's a nice way to meet other cupcake bloggers. I've enjoyed participating in Cupcake Hero and I should really take my own advice and join in on Iron Cupcake at some point.
Host. It's great to be the person who always shows up at the party, but sometimes it's nice to have your own party. My biggest hosting success thus far has been my Ice Cream Cupcake roundup. It was a fantastic way to connect with other cupcake lovers!
Welcome. When I was in my swing dancing phase, it would be so exciting when one of the established dancers would come and ask me to dance. The same thing applies to the cupcake love circle. Once you are in the circle, don't just comment on the more established blogs (although please comment on mine!). Comment on new blogs. I love leaving comments on blogs that don't have any. When I first started out, it made me feel so excited when comments left on my blog weren't from friends and relatives – actually it still does. I can see the stats and know that an amazing number of people read my blog, but if people don't leave comments, it's sometimes hard to believe that they are there.
Looking forward to making new cupcake friends,
Stef