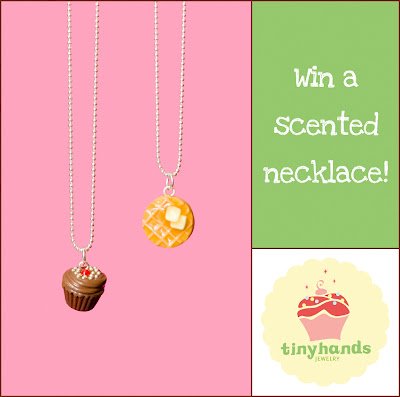 I've never been a big fan of perfume.  When I did wear it, which I haven't done in years, my favorites were a product by Demeter scented like ginger ale and another by the same brand that smelled like graham crackers.  Sure, some gals like to smell like flowers, but I like to smell like the food I love – yummy!
So, when Tiny Hands Jewelry contacted me about reviewing some of their scented necklaces, I was totally jazzed.  I browsed through the bubblegum scented lollipops, mint chocolate chip scented ice cream cones, and scented chocolate glazed doughnuts before settling on butter and maple syrup scented waffles and, of course, a chocolate scented chocolate cupcake.
Are you hungry yet?

When the necklaces arrived, they came with an adorable card that warned, "Please refrain from stuffing this up your nose, licking, chewing or biting on your new jewelry.  It is not for eating."  The card also advised me to keep my jewelry away from hungry puppies (smart!).
The necklaces were just as cute as they appeared online and they smelled delicious!  I wouldn't say that the chocolate cupcake smelled quite the same as all of the chocolate cupcakes that I've been baking on the quest for the Ultimate Chocolate Cupcake.  But, it did smell like chocolate, I had to keep my toddler from licking it, and it make me smile each time I looked down at it.
When I first put the necklace on, the smell was really strong.  As I wore it longer, I didn't notice the scent as much.  That's not because the scent was dissipating (nope, Tiny Hands works some kind of crazy magic to keep the scent strong); rather, you just get used to it.  The next time I put it on, I again had that burst of scent for the first 15 minutes or so.
Are You Ready to Win Your Own Tiny Hands Necklace?
Just use the Rafflecopter giveaway form below to enter for your chance to win a Tiny Hands necklace!  Oh, one last thing, even if you don't win, you can use the code "cupcakeproject15" when you check out for a 15% discount – just for being a Cupcake Project reader.  Woohoo!
Good luck!!