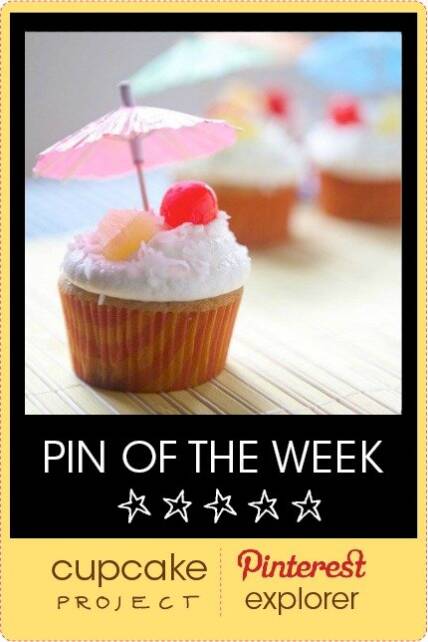 This week's Pin of the Week chosen by Pinterest Explorer Sarah Elizabeth Singleton is piña colada cupcakes from Teacher By Day Chef By Night.  Sarah chose these cupcakes because she "pinned that pin to the Cupcakes Galore board and it was repinned 694 times (my phone kept going off!) so there must be something special about that cupcake. It's next on my to-make list. It has summer written all over it and I can't wait to try it!"
I have my own piña colada cupcake recipe here on Cupcake Project (shown below) and I love Sarah's choice because it gives you a second option – the two recipes are really different.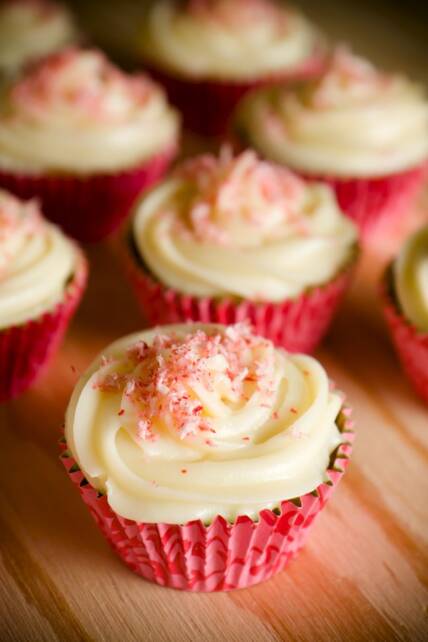 Teacher-Chef's piña colada cupcakes are a kid-friendly recipe.  They are made using pineapple juice and coconut milk.  My piña colada cupcakes are for an adult palate.  In addition to the coconut milk and pineapple juice, I use pineapple rum.  My cupcakes also have a less-smooth consistency since I add wet crushed pineapple and shredded coconut right into the cupcake batter.  She uses a coconut buttercream frosting while I use a coconut cream cheese frosting.  Try both recipes or mix and match cupcakes and frostings to your liking!
This Week's Outstanding Explorer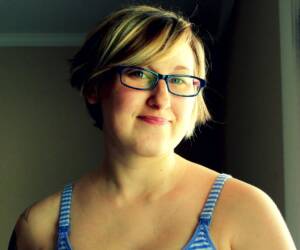 This week's Outstanding Explorer is Sarah Elizabeth Singleton.  Sarah is originally from Winston-Salem, North Carolina and currently lives in Nashville, Tennessee.  From 2009 to 2011, she worked for a small town newspaper as their food photographer.  She's also a new mom!
Sarah loves everything about cupcakes.  "They can be the perfect portion of cake to frosting, they are easy to give to others, and you can have two and it doesn't seem like a ton of dessert. I also love the many different varieties and the ways they can be decorated and displayed. All aspects of the cupcake rule!"
Music is Sarah's other love.  She's been a vinyl record DJ the majority of her life!  To combine her two loves, she  just started a new, very aptly titled blog, Cupcakes and Drum Breaks.  These's no cupcake content yet, but head over there just to check out her super fun logo and to wish her luck on the new endeavor.
You should also know that Sarah is one of the two Cupcake Project Facebook/Twitter interns (along with Faye from Live Bake Love).  Sarah has been doing an incredible job sharing fun stories, products, and recipes over on the Cupcake Project Facebook page and the Cupcake Project Twitter feed – we are so lucky to have her!!
Thanks, Sarah, for all of your hard work – and a huge congratulations!