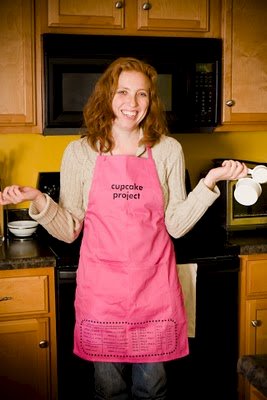 My baking math skills are embarrassing.  One of the many stories about my baking math shortcomings (that I probably shouldn't share) takes place at my friend Bryan's house. Someone needed three teaspoons and Bryan handed them a single measuring spoon.  I looked over and said the line that I will never live down: "Wow!  You have a three teaspoon spoon?"  If you don't get why that is funny, you definitely need The Smart Baker's Cheat Sheet Apron (shown above).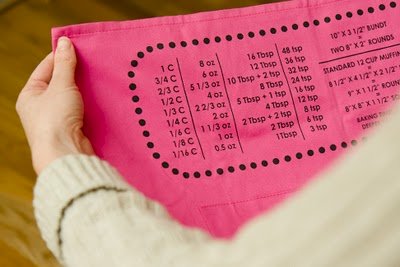 Note the bottom line, 3 tsp = 1 tbsp
Before The Smart Baker sent me the Cheat Sheet Apron for review, I'd inevitably gunk up my laptop keyboard Googling with batter-laden fingers whenever I had a baking math question.  Now, I just look down!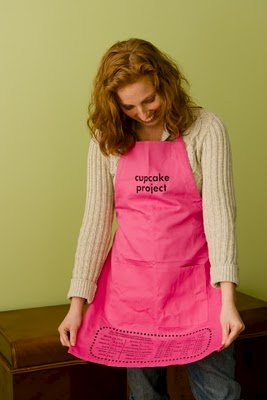 The measurements are all upside-down so that the
wearer can read them!
How to Win Your Own Cheat Sheet Apron
Update: The contest has ended.  The random winner is Angie who said, "A real success is one where people ask for the recipe. I have a couple standbys that almost always generate that reaction!"
The folks at The Smart Baker have offered to give away an apron to one lucky Cupcake Project reader.  The apron will be personalized for you where mine says "Cupcake Project."
To enter, simply leave a comment on this blog post (not on Facebook, email, or Twitter) with the following:
Since we are talking about measurements, I'd like to know about a different kind of measurement.  Tell me in your comment how you measure the success of your recipes.  Is a recipe successful if you love it, if your significant other loves it, if your kids will eat it, if people ask you for the recipe, or something else?  What factor is most important to you? (My answer: Success for me is when someone makes my recipe and tells me that it turned out perfect and they were thrilled.)
If you have any embarrassing baking math stories, please share them as well.  It's not required, but it  will help me feel less alone.
A way to contact you if you win.
The fine print:
All entries must be in by January 31, 11:59 PM CST.
The prize can only be shipped to a U.S. address.
If I do not hear back from the winner within one week of contacting him/her, I will draw another winner.
Tip
I'm going to host another giveaway for a different product from The Smart Baker on my Facebook page later this week.  Be sure to like my Facebook page so that you don't miss it.