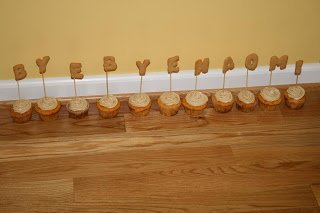 This weekend was the going away party for a dear friend of mine who has left STL to be back with her family in LA. I don't think I've ever used the expression "dear friend." It sounds so formal and British, but I'll stick with it.
Also this weekend, a friend (I'd call him a dear friend too, but can I really use the expression twice in one post) who moved to Seattle a while back was here to visit.
I wanted a cupcake that would show my moving friend that we would miss her and my visiting friend that we were glad he was here.
The visiting friend has a passion for carrot cakes, so I really felt obligated to go that route. I knew at some point I would want to try a carrot cupcake and it would feel all kinds of wrong trying it while he wasn't around.
As for the moving friend, I'd figured I focus the accoutrements on her. First, I thought about spelling her name out in carrot strips and putting them on top of the cupcakes. While that would be cute, maybe, not everyone loves raw carrots. I gathered this after looking at many many pictures of carrot cakes each adorned with a fake icing carrot on top of it. If people liked real carrots that much, why would so many people bother creating fake ones out of icing.
I then saw a picture of cupcakes for someone's birthday where each cupcake had a little candle sticking out of it, and inspiration hit me. I decided to make cookies which spelled "Good Bye Naomi" put them on little sticks and stick one in each cupcake.
What frosting? What cookies? I opted for both maple frosting and maple cookies. That part was for me. There has to be a me component. I love maple. I think maple syrup could go on anything and be yummy. I've even had it on pasta.
Overall, I was really pleased with the creation and particularly pleased with the comment of one friend who said, " These look like they are straight out of party magazine." I know I said at the beginning of the project that I was only going to care about taste, not looks. Well, call me shallow, but appearances are starting to matter to me.
The details
The cake
For the cake I used a carrot cupcake recipe from Diana's Desserts.
http://www.dianasdesserts.com/index.cfm/fuseaction/recipes.recipeListing/filter/dianas/recipeID/4271/Recipe.cfm
These didn't really taste like carrot cake. Oh well. Orange was definitely the predominant flavor. Guess I should have realized that with all the orange zest and orange juice. However, they were the perfect level of moistness and bursting with flavor. If you think of them as orange carrot cakes vs just carrot cakes you'll be in for a treat.
The Frosting
For the frosting, I returned to All Recipes.
http://allrecipes.com/Recipe/Maple-Icing/Detail.aspx?strb=1
The only thing I changed was to follow the advice of one of the commenters on that site and use 1/2 t vanilla and 1 1/4 t maple. This was to give it a stronger maple flavor. The consistency of the frosting was spot on. It had a perfect smooth texture and was really easy to pipe. As you can see in the pic, I piped on far more icing than I have in any past cupcakes.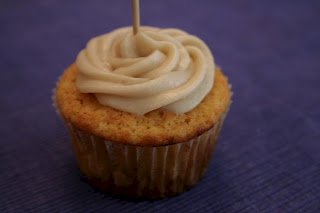 Everyone keeps requesting that I use more icing, so I finally listened. It is clear that I like much less icing on my cupcakes than the average person so I guess I'm just going to have to cave a bit on that on to please the masses. I can always wipe some of it off directly into my husband's mouth with no complaints.
I would definitely use this as a cream cheese base for future creations.
As for the maple flavor, it turned out this was a true test of just how much love of maple you have. Some said it was maple overload, but others and most importantly the bride and groom to be really liked it just as it was. If you aren't such a maple fan, just don't up the maple in the recipe as much as I did.
WARNING: The maple extract seems to some how get into your pores. For days after baking these, despite multiple showers and many other meals, I could smell maple on my skin. Good thing I like the smell of maple.
The Cookies
I knew I wanted a flat cookie that would hold its shape when made into a letter.
I opted for a Canadian Maple Leaf cookie found on Recipezaar minus the frosting. Figured I already had frosting.
http://www.food.com/recipe/canadian-maple-leaves-64633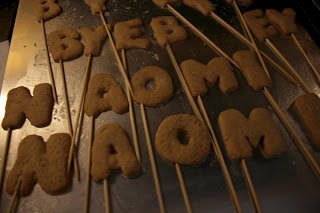 Never having made cookies on sticks before, I was a bit skeptical of how they would stick on the sticks. I cut out my little letters and just pressed them lightly into wood skewers. When they came out of the oven, they were stuck. It's just that easy.
I was reminded though of what a pain cookies are, mainly because you can't make that many at a time. Cutting out all those suckers and doing all those batches can get old fast. My solution, just stop when you get bored. As it turns out, I still have 3 times as much dough as I used sitting in my freezer for future use. You may see more maple creations coming so I can have an excuse to use some of it.
For those reading and viewing closely you may note that I said the letters would spell "Goodbye Naomi". Somehow I lost my D cookie cutter, good thing her name didn't have a D in it.