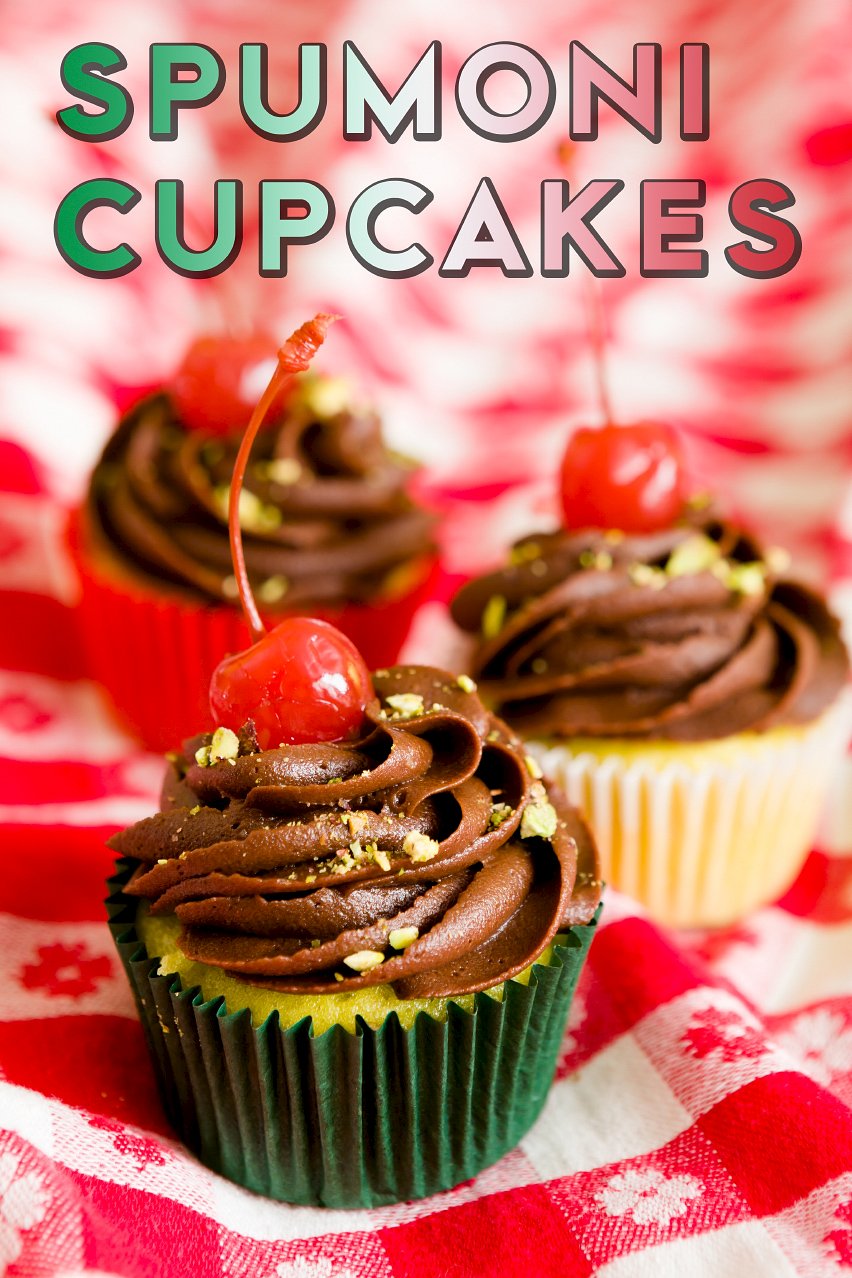 I haven't had spumoni ice cream in years (hey St. Louis, are there restaurants here that give spumoni ice cream away as a free dessert like they do on Long Island?). I decided to rectify that by making homemade spumoni – in spumoni cupcake form, of course!
For the uninitiated, spumoni ice cream as served in America's Italian restaurants is a mix of three flavors: chocolate, pistachio (typically in some very fake green color), and cherry. It often contains candied cherries and other fruit bits between the layers. When I was handed one from an older waiter with a gold chain and a smile or an adorable, shy busboy who was probably the owner's son, I would always head directly for the chocolate and avoid the candied fruit bits at all costs.
My spumoni cupcakes begin with pistachio cake made with pistachio oil and loaded with finely chopped nuts, filled with cherry jam, frosted with chocolate cream cheese frosting, and topped with chopped pistachios and a maraschino cherry. Unlike the ice cream itself, I enjoy every part of the spumoni cupcakes and the best bite is the one with every part together.
Spumoni Cupcake Recipe

I used pistachio oil in these spumoni cupcakes to give them an extra pistachio kick. I realize that it is an expensive and difficult to find oil. You can substitute any vegetable oil – ideally one from another nut like peanut or walnut – but I encourage you to splurge for the full pistachio experience.
One Bowl Spumoni Cupcakes
Pistachio cake, cherry jam, chocolate cream cheese frosting, and topped with chopped pistachios and a maraschino cherry.
Ingredients
1

cup

sugar

1 1/2

cups

all-purpose flour

1 1/2

teaspoon

baking powder

1/2

teaspoon

baking soda

1

teaspoon

salt

2

large eggs

room temperature

1/2

cup

pistachio oil (this can be purchased on Amazon

1/2

cup

whole milk

1

cup

finely chopped pistachios plus a little extra to top cupcakes

1/4

cup

cherry jam

chocolate cream cheese frosting

get the recipe from my chocolate cream cheese frosting post

12

maraschino cherries

I highly recommend making homemade maraschino cherries
Instructions
Preheat oven to 350 F.

In a large mixing bowl, mix sugar, flour, baking powder, baking soda, and salt.

Mix in eggs one and a time.

Mix in pistachio oil.

Mix in milk.

Fold in pistachios.

Fill cupcake liners 2/3 full.

Bake for 20 minutes or until a toothpick comes out dry.

Once cupcakes are cool, core a hole in the center of them with a paring knife or cupcake corer, fill each cupcake with about a teaspoon of cherry jam, and stick the cake bit you removed back on top of the jam. Don't worry that the top is no longer flat - this will be completely hidden by the frosting.

Frost the cupcakes with the chocolate cream cheese frosting. I used a

Wilton 2D tip,

but you can frost them however you'd like.

Sprinkle chopped pistachios on top of the frosting.

Top with a cherry.

Serve after a pasta dinner.
Nutrition
Nutrition Facts
One Bowl Spumoni Cupcakes
Amount Per Serving
Calories 301
Calories from Fat 126
% Daily Value*
Fat 14g22%
Cholesterol 28mg9%
Sodium 257mg11%
Potassium 201mg6%
Carbohydrates 39g13%
Protein 4g8%
Vitamin A 100IU2%
Vitamin C 1.2mg1%
Calcium 54mg5%
Iron 1.4mg8%
* Percent Daily Values are based on a 2000 calorie diet.