Olive oil cupcakes with balsamic vinegar whipped cream don't taste like salad dressing. If you love olive oil and balsamic vinegar, don't be afraid to try them in something sweet. You won't regret it!
My olive oil cupcakes were made with lemon and thyme. They were dense and crumbly, yet plenty moist and tasted like a lemon pound cake without the pound of butter. The fresh thyme gave them an even more Springy feel and the balsamic whipped cream blew me away! I could eat that stuff on anything!
How Did I End Up Making the Olive Oil Cupcakes with Lemon and Thyme?
Rachel of
Coconut and Lime
and I have again and again blogged about things at the same "thyme":
I am very lucky that Rachel didn't brand me a copycat. I wasn't copying – really, honestly, truly I wasn't. I hadn't even read her posts yet when I made any of my cupcakes. The thyming was just eerie.
Rachel and I talked about it and decided that since we clearly like the same kinds of things and it was bound to happen anyway, we should plan to post something at the same thyme. Since the whole thing was about thyming, we decided to both make cupcakes with thyme! (Fine, we didn't know what to bake and Rachel suggested an herb and we ended up with thyme. I like my made- up version better though.)
Shopping for Ingredients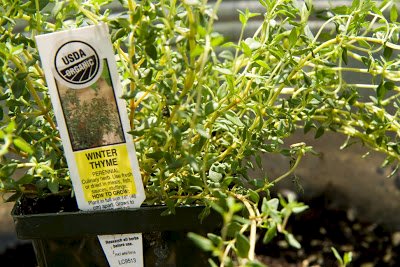 I knew I wanted to use fresh thyme. I opted to buy a thyme plant so that I could use what I needed and plant the rest. Jonathan and I also bought some tomato plants. Not surprisingly, I got a
twitter
from Rachel saying that she had bought some tomatoes to plant the same day. That one wasn't so weird, but still, I'm going to have to meet her some day. We are living parallel lives.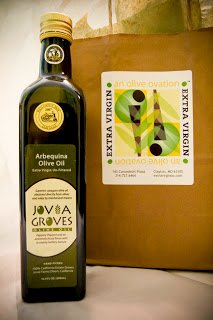 The most fun part of my ingredient shopping, however, was for olive oil. A new olive oil store,
Extra Virgin
, opened near us in Clayton, Missouri. At Extra Virgin, you can do olive oil tastings just like you would do wine tastings. The variety in olive oils is astounding. The owner was incredibly helpful and recommended an olive oil that is perfect for baking – Jovia Groves' 2007 Arbequina. Apparently she isn't the only fan of this olive oil. Read the
review of it from the blog "I Love Olive Oil"
.
You can bake with any olive oil, however the oils vary greatly in the pungency and strength of the olive flavor. The Jovia tasted really buttery and had only a mild olive flavor. When the cupcakes were baked, you would never know that I had made them with olive oil. The owner told me that she uses olive oil as her vegetable oil in any recipe that calls for vegetable oil. I never would have thought to do that.
The Olive Oil Cupcake Recipe
I got the recipe for the olive oil cupcakes by slightly modifying an olive oil cake recipe from
Cafe Fernando
. The recipe with my modifications is listed below, but be sure to check out the
original recipe
on Cafe Fernando as well. He's got a great pic of a slice of the cake that will give you a good idea of what the texture is like.
Olive Oil Cupcakes with Lemon and Thyme
If you love olive oil and balsamic vinegar, don't be afraid to try them in something sweet. You won't regret it!
Ingredients
2

cups

all-purpose flour

1 1/2

teaspoon

baking powder

Pinch

of salt

1

cup

granulated sugar

2/3

cup

extra virgin olive oil

I recommend Jovia Groves' 2007 Arbequina, but any olive oil will do. You can order Jovia from Extra Virgin.

1

tablepsoon

lemon zest

3

large eggs

1/2

cup

lemon juice

2

tablepsoon

finely chopped fresh thyme
Instructions
Sift together the flour, baking powder, and salt into a large bowl.

In a mixing bowl, combine sugar and lemon zest and rub together to extract the fragrant oil from the zest.

Add olive oil and mix on high speed until completely combined (preferably with the whisk attachment).

Beat in the eggs, one at a time, beating well after each addition.

Add 1/3 of the flour mixture and mix on slow speed.

Add half of the lemon juice and continue mixing.

Add another 1/3 of the flour mixture, followed by the rest of the lemon juice and the remaining flour mixture and beat until combined between each addition.

Stir in the thyme.

Fill cupcake liners 3/4 full.

Bake at 375 for 20 minutes or until they bounce back when touched.
Nutrition
Nutrition Facts
Olive Oil Cupcakes with Lemon and Thyme
Amount Per Serving
Calories 265
Calories from Fat 117
% Daily Value*
Fat 13g20%
Cholesterol 40mg13%
Sodium 17mg1%
Potassium 98mg3%
Carbohydrates 33g11%
Protein 3g6%
Vitamin A 65IU1%
Vitamin C 4.3mg5%
Calcium 31mg3%
Iron 1.3mg7%
* Percent Daily Values are based on a 2000 calorie diet.
The Balsamic Vinegar Whipped Cream Recipe
I've always said that I don't like whipped cream. What I meant was that I don't like Ready Whip. I love spraying the whipped cream from that pressurized container as much as the next gal, but the taste just isn't there. Fresh whipped cream is so easy to make and is in such a different league that I have no idea why everyone doesn't make it.
I was going to make a lemon whipped cream for this recipe. When I tasted the cupcake and realized just how lemony it was, I knew that more lemon would be too much. I found a recipe for balsamic whipped cream on Sugarlaws and thought it would be a perfect complement to the cupcakes.
At first, I was a balsamic doubter. I actually poured some balsamic vinegar onto some extra cupcake batter to see how the flavors went together. It was perfect! I've reprinted Sugarlaws' recipe below. She served her balsamic whipped cream with strawberries, which is exactly what I plan to do with all the whipped cream I have left over.
Balsamic Vinegar Whipped Cream
Balsamic vinegar is perfect for balancing out the sweetness of fresh whipped cream.
Ingredients
2

cups

heavy cream

1/2

cup

sugar

or more, your preference

3

tablespoons

balsamic vinegar
Instructions
Combine cream, sugar and vinegar in a large bowl or stand mixer.

Beat on medium speed for about five minutes, until soft peaks form.
Nutrition
Nutrition Facts
Balsamic Vinegar Whipped Cream
Amount Per Serving
Calories 86
Calories from Fat 63
% Daily Value*
Fat 7g11%
Cholesterol 27mg9%
Sodium 8mg0%
Potassium 17mg0%
Carbohydrates 5g2%
Vitamin A 290IU6%
Vitamin C 0.1mg0%
Calcium 13mg1%
* Percent Daily Values are based on a 2000 calorie diet.
A Present for Making it to the End
I leave you with this photo from J. Pollack Photography. I have to link to him in almost every post. He's my husband and he makes my cupcakes look so good!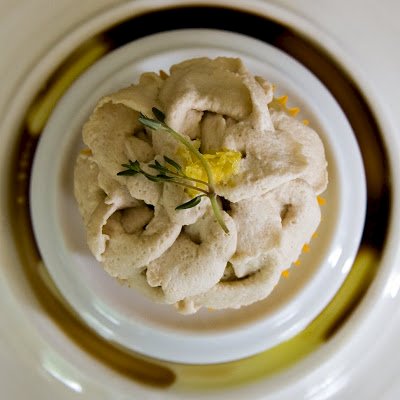 Don't forget to go check out Rachel's thyme cupcakes at Coconut and Lime!