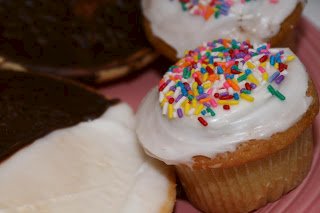 Despite all the fall cupcake creations I have made, I took the journey to NY for Thanksgiving sans cupcakes. My Aunt pointed out on several occasions that she had yet to have any of my cupcakes. She later made the decision that she would come to St. Louis to visit.
Lesson learned: Don't travel with cupcakes and people will come to visit!

Despite the fact that I didn't make cupcakes, our Thanksgiving was not without them. Our cousins had picked some up at a NY bakery. NY bakery cupcakes, like the black and white cookies you see beside them (see my post on Black and White cupcakes if the black and white concept is new to you), are their own breed of dessert. Both baked goods feature a similar frosting that is hard and can be peeled off. The vanilla also has a subtle lemon flavor. If you grew up in NY, you know it and love it. If not, you may question the flavor and why the frosting isn't puffy and swirly.
Also of note on the T-Day dessert menu was an apple pie special ordered by my mom's fiance from Jericho Cider Mill. It's easy to screw up apple pie – too sweet, too corn starchy, too dry. This one was perfect. Rumor has it that these need to be ordered well in advance of a holiday in order to get one. It's well worth it!
However, no bakery dessert can compare to Mom's brownies. That was the dessert I went for this Thanksgiving (in addition to sampling everything else off my husband's plate). Some like their brownies fudgy. I like mine cakey, not gooey, and these brownies deliver. I also like my desserts small and Mom cuts them into really small pieces so that you never feel guilty having seconds.
I'm thankful this Thanksgiving for the tastes that make me feel at home and the family to share the flavors with.
Mom's Brownies
They were originally Grandma's brownies, but my mom has taken ownership of them at Thanksgiving. Besides, if I call them Mom's brownies, then when I'm a mom and I make them, they will be my brownies and I don't have to wait until I'm a Grandma. No, everyone, I'm not pregnant.
If you've tried this recipe, please RATE THE RECIPE and leave a comment below!
NY Bakery Cupcakes: Good But No Match For Mom's Brownies
Ingredients
3/4

cup

flour

1

cup

sugar

3/4 cup, if you want to reduce the sweetness

5

T

cocoa

1/2

t

salt

1/2

cup

butter

2

eggs

1

t

vanilla

1/2

c

walnuts

optional
Instructions
Beat all ingredients for 3 minutes. Bake for 30 minutes at 350 degrees.