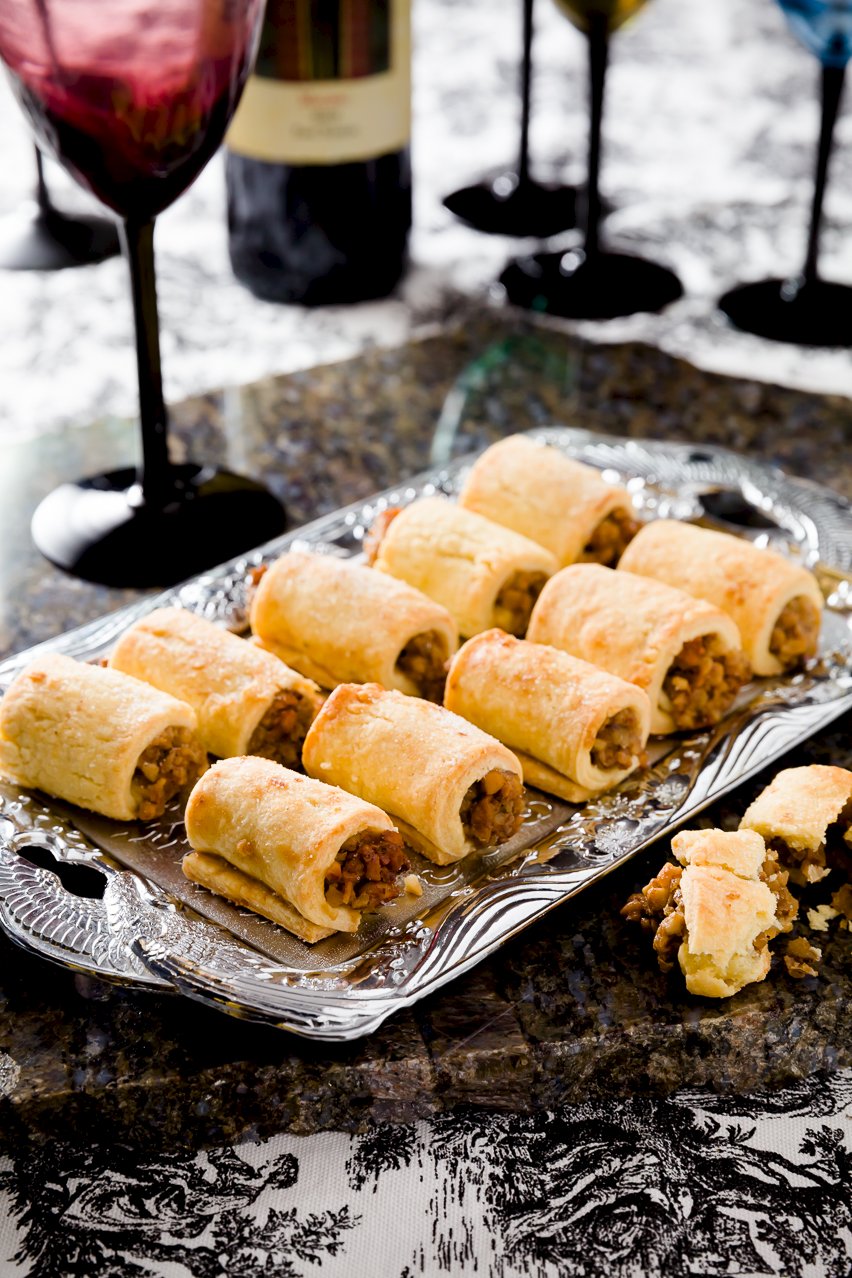 I just learned that at 38 I'm middle-aged.  Someone had to tell me.  I guess I thought that middle age was 50 (we're all going to live to at least 100, right?).  Inside, though, I must be 12 because I can't help but giggle at a recipe titled nuts in a blanket.
Nuts in a blanket is an adorable riff on pigs in a blanket.  They are ricotta cheese pastries filled with an orange walnut log.  They remind me very much of rugelach, but in a fun, different shape – and I've never had orange in a rugelach filling (now I want to!).  I love the idea of serving nuts in a blanket as a passed dessert at a cocktail party.
Nuts in a Blanket
Nuts in a blanket is an adorable riff on pigs in a blanket. They are ricotta cheese pastries filled with an orange walnut log.
Total Time
1
hour
20
minutes
Ingredients
Ricotta Cheese Pastry Ingredients
1/2

cup

whole-milk ricotta cheese

1

cup

+ 2 tablespoons all-purpose flour

spooned in and leveled (this yields a smaller amount of flour than scooping)

1/4

teaspoon

baking powder

pinch

salt

1/2

cup

unsalted butter

room temperature

1

tablespoon

superfine sugar

1

egg yolk

save the egg white for use with the filling
Walnut Filling Ingredients
1

cup

walnuts

1/4

cup

sugar

1/2

teaspoon

cinnamon

1

tablespoon

unsalted butter

1/3

cup

milk

1/2

teaspoon

orange zest

1/4

teaspoon

vanilla extract

egg white

from above

1/2

cup

sugar

for garnish
Instructions
Ricotta Cheese Pastry Instructions
On the kitchen counter, arrange two linen or pure cotton dish towels (do not use terry cloth) on top of each other.

Spread the ricotta lengthwise on the towels, shaping it into a thin rectangle.

Roll the cheese tightly in the towels and twist over the sink to remove excess liquid.

Let sit for 30 minutes and repeat with fresh towels, waiting for another thirty minutes before using the cheese.

Sift the flour, baking powder, and salt into a small bowl and set aside.

In the bowl of an electric mixer fitted with the paddle attachment, mix the butter on medium-low speed until smooth.

Add the drained ricotta and mix well.

Pour in the sugar and then blend in the egg yolk until just combined.

Reduce the mixer speed to low and add half of the dry ingredients.

Remove the bowl from the mixer and add the remaining dry ingredients by hand, mixing until just incorporated.

Turn the dough out onto a lightly floured surface and knead four or five times, until smooth.

Shape into a 3" x 6" rectangle. Wrap in plastic and refrigerate until firm, 2-3 hours or up to three days.
Walnut Filling Instructions
Place the walnuts, sugar, and cinnamon in the work bowl of a food processor fitted with a steel blade and process until the nuts are finely chopped.

Melt the butter in a heavy-bottomed saucepan.

Add the chopped nut mixture and milk.

Cook over low heat for 8-10 minutes or until the mixture is very thick, like thick oatmeal.

Remove from the heat and stir in the orange zest and vanilla.

Refrigerate until cold.
Assembly Instructions
Preheat oven to 350 F.

Roll out the pastry dough to just under 1/4" thick.

Use a knife or a pastry wheel to cut dough into 1 1/2" x 3" strips.

Make heaping teaspoon-sized balls of nut filling and roll them into log shapes just slightly longer than than the short side of the dough strips.

Place the nut logs on the short side of the pastry strips and roll the pastry around the logs.

Brush on a little egg white at the end of each strip to glue it closed.

Transfer unbaked nuts in a blanket seam-side down onto parchment-lined cookie sheets. If any of the nut log is falling off (this can happen), just push it back into the blanket.

Bake for 18-20 minutes or until the pastry just begins to brown.

Remove from the oven and immediately sprinkle with sugar.

Set on cooling rack to cool.

Store in an airtight container layered between strips of wax paper for up to three weeks.
Nutrition
Nutrition Facts
Nuts in a Blanket
Amount Per Serving
Calories 154
Calories from Fat 90
% Daily Value*
Fat 10g15%
Cholesterol 27mg9%
Sodium 8mg0%
Potassium 49mg1%
Carbohydrates 14g5%
Protein 2g4%
Vitamin A 205IU4%
Vitamin C 0.2mg0%
Calcium 29mg3%
Iron 0.5mg3%
* Percent Daily Values are based on a 2000 calorie diet.