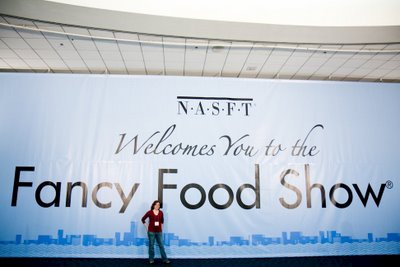 Eat. Walk two steps. Repeat for seven hours.
That was my day at the Fancy Food Show in California. To say it was an amazing experience would be an understatement. The show is held twice a year (one time in San Francisco and one time in New York) and if you can ever make it to one, I highly encourage you to go.
Expect to see several cupcakes here based on products that I discovered at the show – starting with one of the best things I tried there, Nutorious Nut Confections.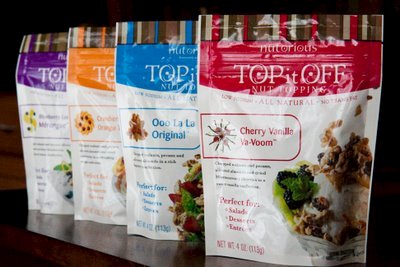 I love candied nuts in my salads and have made my own on occasion, but Nutorious takes the candied nut to a new level. I was lucky enough to get to sample the four flavors you see above – not only did I get to try them at the show, but samples were waiting for me when I arrived back in St. Louis!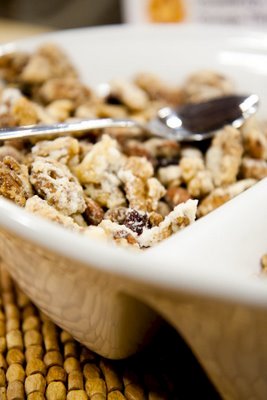 Check out these descriptions:
Ooo La La Original – Walnuts, almond, and pecans in a rich buttery confection.
Cranberry Orange Tango – Walnuts, almonds, pecans, and dried cranberries in a refreshing orange confection.
Cherry Vanilla Va-Voom – Walnuts, almonds, pecans, and dried and Montmorency cherries in a sweet vanilla confection.
Blueberry Lemon Meringue -Walnuts, almonds, pecans, and dried blueberries in a delicate lemon confection.
I kid you not when I say that I loved all of them. They will all be used to top my salads, pancakes, waffles, and whatever else I can think of – all except for the Cranberry Orange Tango. I used up the whole bag of Cranberry Orange Tango making some delectable cranberry orange cupcakes.
You can look at Nutorious' website to see where it is sold near you. In the meantime, leave a comment letting me know which flavor sounds the best to you and what you would do with it for a chance to win some!
One winner will win all 4 flavors described above and two other winners will win a bag of the Cranberry Orange Tango to use in a cupcake or anything else! The winners will be chosen randomly on the morning of Wed., Feb 4th. You may enter up until the time that I post the winners.