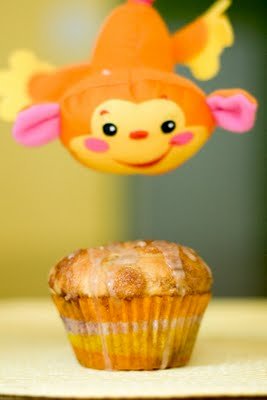 Monkey bread is balls of yeasty bread dipped in butter, cinnamon, and sugar. There isn't much that could make a monkey bread recipe better except the one thing that monkeys are known to love – bananas! And – if I were going to put bananas into a monkey bread recipe, why not throw in some chocolate, too?!
Since I haven't posted in a month, I wanted to come back with a recipe that was worth the wait. This monkey bread recipe is definitely it! Serve these monkey bread cupcakes with brunch (or on their own as brunch), as dessert, as a snack, or any time that you want to see someone's face light up.
Now, about that not posting for a month. I haven't just been monkeying around. On August 17th, I gave birth to our little monkey.
Meet Myles: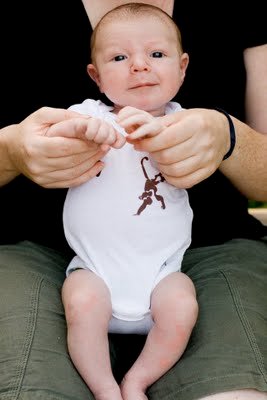 Jonathan and I tried to pose Myles with a cupcake, but he wasn't quite up for it yet. The best we could do was pose him in his monkey onesie. Myles likes to hang out in my Moby wrap while I'm working in the kitchen. He mostly sleeps, but some day he'll be my cupcake helper (even if it's just eating them).
Special Thanks to Scharffen Berger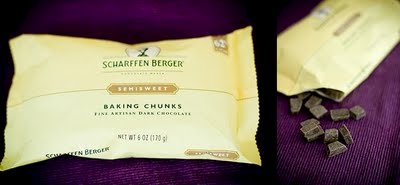 For the chocolate portion of this monkey bread recipe, I used Scharffen Berger baking chunks. Scharffen Berger offered to send me some chocolate to try. I expected to get some of their chocolate bars (which I have tried before and have found to be fantastic to bake with or simply to eat). To my surprise, in addition to the bars, they sent along some baking chunks. I had never seen this product before, but I was really excited about it. They are a great alternative to chocolate chips. Not only are they of higher quality than most chocolate chips that you will encounter, but sometimes a chunk is just more fun than a chip. Thanks, Scharffen Berger, for the sample!
Monkey Bread Cupcake Recipe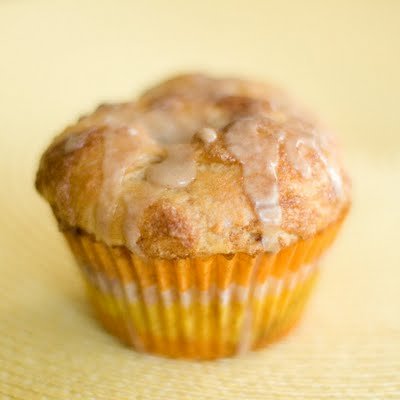 I came up with my monkey bread cupcake recipe by modifying the King Arthur Flour monkey bread recipe. I changed it from a cake to cupcakes, dipped the batter in butter instead of water (more calories, but more yum), and added the banana and chocolate. Also, I gave my cupcakes a cinnamon glaze. Here is the modified recipe:
Makes 12 cupcakes
1/2 C lukewarm water
1 T vegetable oil
1 large egg
1 t salt
1 T sugar
2 T instant yeast or rapid rise yeast
2 C all-purpose flour
1/2 C granulated sugar
1 T cinnamon
1 ripe banana, cut into small slices
chocolate chips or baking chunks to taste (about 2 oz)
2 T unsalted butter, melted
Place water, vegetable oil, egg, salt, sugar, and yeast in a medium bowl and mix well.
Add 1 cup of the flour, stirring to blend.
Add the second cup of flour, stirring to make a cohesive dough.
Let the dough rest for 5 minutes; this gives the flour a chance to absorb the liquid, making it easier to knead.
Knead the dough — by hand, mixer, or bread machine — until it's soft and smooth.
Place the dough in a lightly greased bowl or large measuring cup, cover it, and let the dough rise for 30 to 60 minutes or until it's doubled in size.
Gently deflate the dough.
Mix the cinnamon and sugar in a small bowl.
Place cupcake liners into a cupcake tin and lightly grease them with butter or cooking spray.
Pull off a small piece of dough. How small? You should get 24 pieces out of the batter so that you can have two pieces in each cupcake. However, unless you are having a dinner party for exactly 12 people, it doesn't really matter and you can make the pieces whatever size you would like.
Stretch the piece out, put a banana slice and several chocolate chips or baking chunks inside, and then roll it into a ball.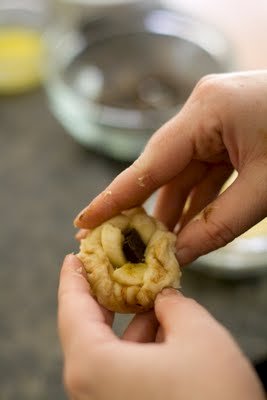 Dip the ball in the melted butter.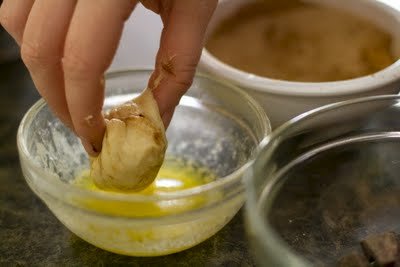 Dip the ball in the cinnamon and sugar.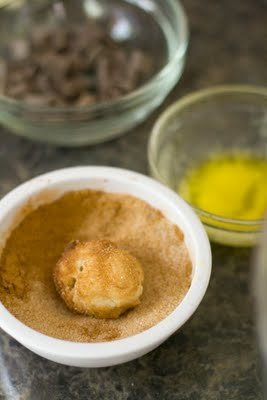 Put the ball into the cupcake liner. You should be able to fit two balls into each cupcake liner.
Cover the cupcake tin and let the bread rise for 30 to 60 minutes, until it's visibly puffy. Towards the end of the rising time, preheat the oven to 350 F.
Uncover the cupcake tin and bake the monkey bread for 25 to 30 minutes, until it's golden brown and feels set.
While the monkey bread is baking, prepare the glaze.
Cinnamon Glaze Recipe
1/2 C powdered sugar
1 T milk
1/4 t cinnamon
Mix all of the ingredients together.
Drizzle over the hot cupcakes.
The cupcakes are best served warm. If you can't eat them immediately, reheat them in microwave for about 15 seconds before serving.
Cupcake Hero Banana
Cupcake Hero was one of the first blog events that I ever entered. After a long hiatus, it is back, and it's now hosted my one of my fav cupcake bloggers, I Heart Cuppycakes. This month's theme is banana, and these monkey bread cupcakes with banana and chocolate are my entry! I'm looking forward to seeing all of the other entries, but I hope that I'm top banana.