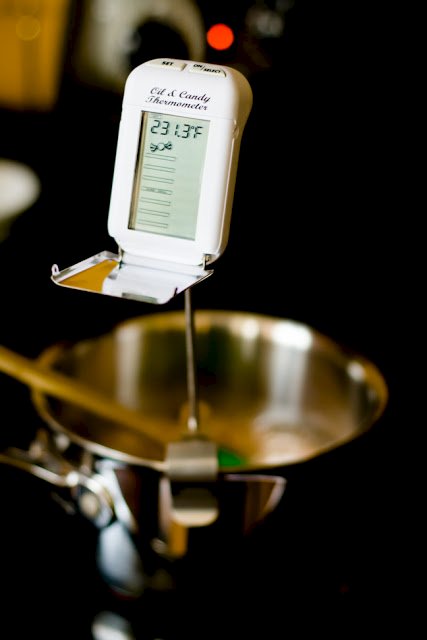 I have patience in some areas of my life.  In one of my pre-cupcake jobs, I trained computer neophytes, walking them through such basics as how to use the arrow keys to navigate in a document and when to double-click vs. right click (making sure to clarify that right click does not mean to write the word "click" in Notepad).  These days, I can sing Itsy Bitsy Spider
to my toddler and still enjoy his wide mouthed grin on the twentieth rendition.  However, when it comes to standing by a stove watching the number go up on a candy thermometer, I have zero patience.  I tend to walk away and come back just in time to see my caramel/candy/anything in my pot burnt and inedible.  I always set a timer that beeps to tell me when my cupcakes are done, but I had never seen a candy thermometer with any kind of alert feature.
Twitter to the rescue: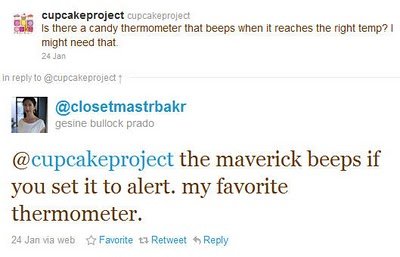 I asked my tweeps if anyone had heard of a candy thermometer that beeped when it reached the correct temperature.  Gesine Bullock-Prado, author of Confections of a Closet Master Baker: One Woman's Sweet Journey from Unhappy Hollywood Executive to Contented Country Baker
, responded right away to tell me about the Maverick
!  This was the thermometer of my dreams (if I were to dream about thermometers).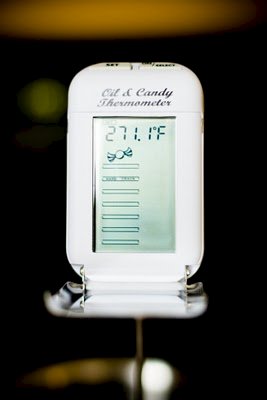 I dropped the folks at Maverick an email letting them know that I couldn't wait to review their product and share it with my readers.  They were game and sent me a candy thermometer to review right away (I love being a cupcake blogger!).  I put the Maverick to test on my Shirley Temple lollipops.  The lollipop recipe warned not to walk away from the saucepan.  Yet, I boldly set the Maverick to the Hard Crack setting and wandered off to do something else.  I trusted my new best friend Maverick (doesn't that sound like a cool boy's name – give me credit if you name your son that) completely and it didn't let me down.  It beeped at exactly 300 F and my lollipops were perfect on the first try.
Do You Need a Maverick?
Update:  This contest is now closed.  The winner is comment number 132: zan30@optilink.us.  Congrats!
Maverick is giving away a Maverick Candy Thermometer
to a Cupcake Project reader!  To enter, leave a comment on this post (Facebook, Twitter, or email comments do not count for this giveaway) with the following:
Have you ever made candy?  If so, what is your favorite kind of candy to make? Feel free to link to recipes.  If you haven't, which candy will you make first?
A way to contact you if you win.
The fine print:
All entries must be in by 11:59 PM CST on March 1.
I will randomly draw the winner using Random.org.
Prizes can only be shipped to U.S. or Canada addresses.
If I do not hear from the winner within one week of contacting them, I will draw a new winner.
Facebook
For a second chance to win a Maverick candy thermometer, be sure that you like Cupcake Project on Facebook.  I'll be posting a second contest there soon.