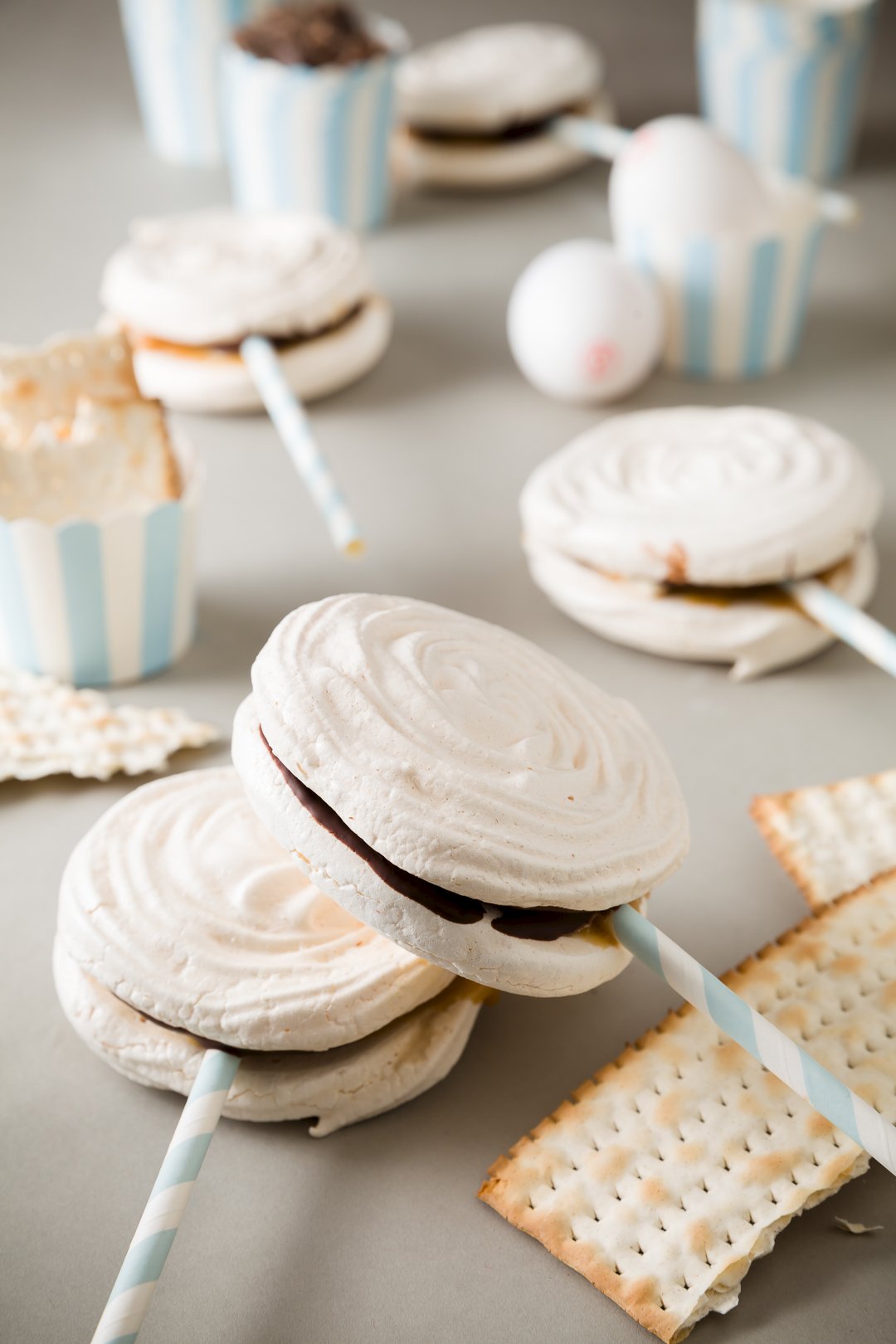 Matzoh Popzoh is a Passover dessert that – like flourless chocolate cake – you will not want to "pass over" during the rest of the year. These meringue popsicles are not only adorable, but they are also a wonderful combination of textures and flavors.
First, let's make sure you know what matzoh crack is. Matzoh crack is a dessert that has taken Seders by storm for its ease and addictive nature. Think of matzoh crack as Passover's candy bar made from pieces of matzoh, caramel, and chocolate. Sure, Matzoh crack would have been enough for my Seder (dayenu), but I took it to the next level.
My Passover Matzoh Popzoh is a matzoh crack sandwich on meringue cookies! It's a Passover dessert that is chewy, crispy, chocolatey, and caramel-sweetened – as far from grandma's rock heavy Passover mandel bread as gefilite fish is from anything that actually lived in the sea.
Matzoh Popzoh Recipe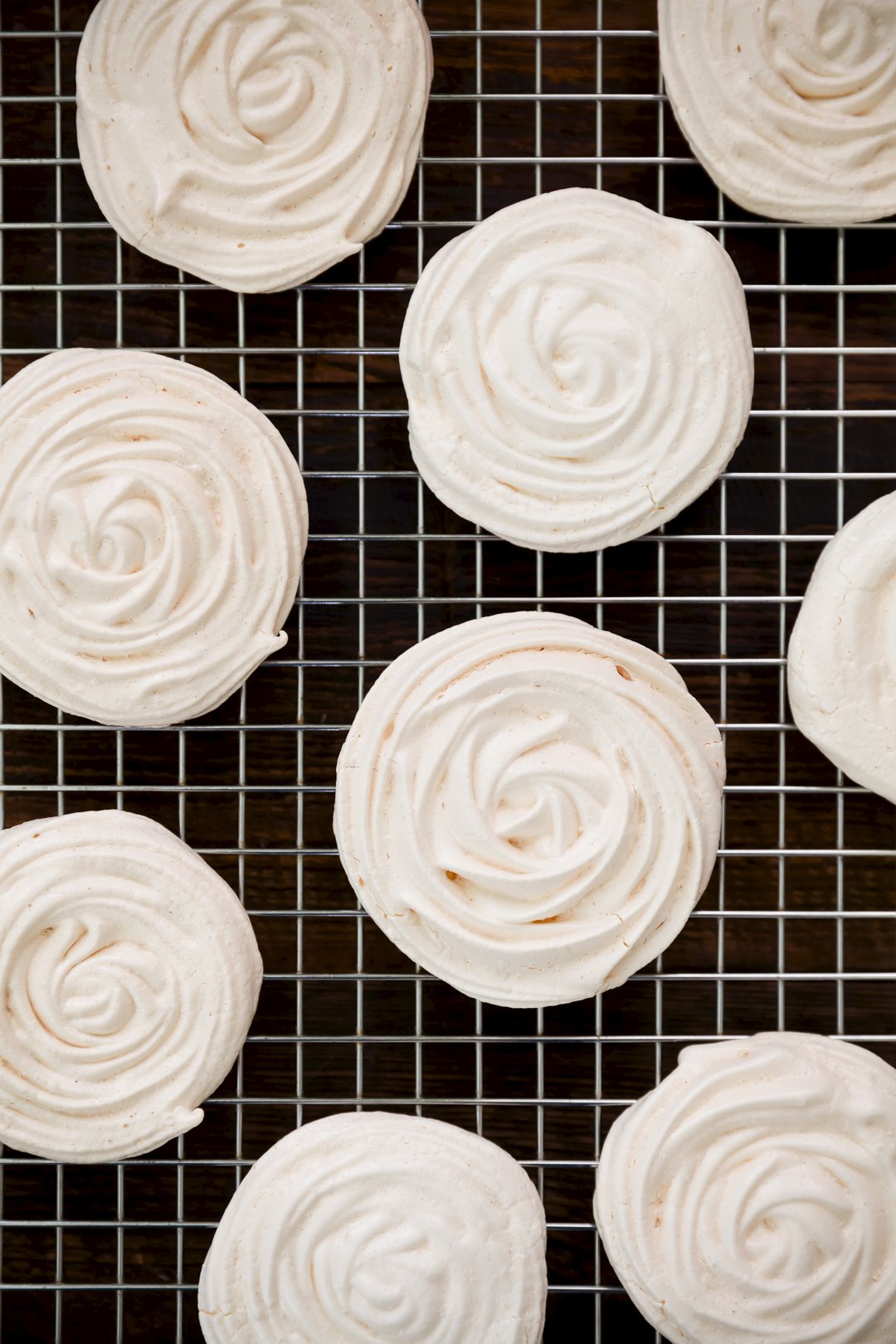 While Easter is the holiday most associated with eggs, Passover is even more egg-centric. There's a hard-boiled egg on the Seder plate which represents the sacrificial offerings that were performed in the days of the Second Temple. But, moving past that, we turn to eggs throughout the whole holiday to give our food some fluff since we have no leavening in our diet for a week.
This Passover, I'm working with Davidson's Safest Choice Eggs to share two holiday recipes.
I've talked about Safest Choice pasteurized eggs here before, focusing on how they are great for any recipes where the eggs aren't cooked or are runny. You don't run the risk of salmonella. But, you should also know that Safest Choice Eggs are great eggs overall. I use them for all kinds of baked goods (and to eat plain), just as I would any other egg. Then, if I make a game-time decision to let my guests taste my raw cookie dough or have a sunny-side up egg, I can do so without worrying.
And, bonus for you or your holiday guests who care, Safest Choice Eggs are Kosher.
Matzoh Popzoh
Matzoh Popzoh is a Passover dessert that - like flourless chocolate cake - you will not want to "pass over" during the rest of the year.
Ingredients
Meringue Ingredients
4

large egg whites

1/2

teaspoon

cream of tartar

1

cup

sugar

1/2

teaspoon

almond extract
Caramel Ingredients
1/2

cup

unsalted butter

room temperature

1

cup

brown sugar

1/4

cup

heavy whipping cream
Assembly Ingredients
1

cup

chocolate chips

meringue cookies

from above

caramel

from above

1/2

of a piece of matzoh

broken into small pieces

8

paper straws

I got my blue and white ones and the baking cups in the photo from Paper Eskimo or popsicle sticks
Instructions
Meringue Instructions
Preheat oven to 250 F.

In the bowl of a stand mixer, beat egg whites until frothy.

Add cream of tartar and mix on high speed until soft peaks form.

Mix in sugar a little bit at a time on high speed until stiff peaks form.

Mix in almond extract until just combined.

Cut parchment paper to fit cookie sheets. Draw 16 three inch circles on parchment paper with a pencil, leaving two inches between each circle. Flip parchment paper over so that the pencil marks are on the back side and use a few drops of meringue to glue the parchment to the cookie sheets.

Place meringue in a piping bag fitted with a small star tip. For each circle on your parchment paper, start in the center and pipe a spiral until you reach the outside of the circle.

Bake for 30 minutes. Then, lower the temperature to 225 F and bake for 90 minutes. Pick up a meringue and tap it on the bottom to see if it sounds hollow. That's how you'll know it's done. Turn the oven off, but leave the meringues in the oven for another thirty minutes before transferring to a cooling rack.
Caramel Instructions
Place butter, brown sugar, and heavy whipping cream in a medium-sized saucepan on medium heat. Whisk to combine the ingredients and continue to constantly whisk as the mixture comes to a boil.

Boil for 3-4 minutes (still whisking) or until the caramel thickens enough to coat the back of a spoon.

Remove from heat and cool slightly to further thicken.
Assembly Instructions
Melt chocolate chips in the microwave or in a double boiler.

Just in case your sizing was off, pair the meringue cookies into similarly-sized matches.

For each match, spread caramel on one of the cookies.

On the other cookie, spread melted chocolate.

Place matzoh pieces on the chocolate, leaving a strip down the center to place the straw.

Stick the straw in the center of the chocolate and sandwich the two halves.

Wait for the cookies to fully cool before lifting them and eating.
Nutrition
Nutrition Facts
Matzoh Popzoh
Amount Per Serving
Calories 450
Calories from Fat 171
% Daily Value*
Fat 19g29%
Cholesterol 44mg15%
Sodium 52mg2%
Potassium 97mg3%
Carbohydrates 67g22%
Protein 3g6%
Vitamin A 515IU10%
Vitamin C 0.2mg0%
Calcium 57mg6%
Iron 0.5mg3%
* Percent Daily Values are based on a 2000 calorie diet.