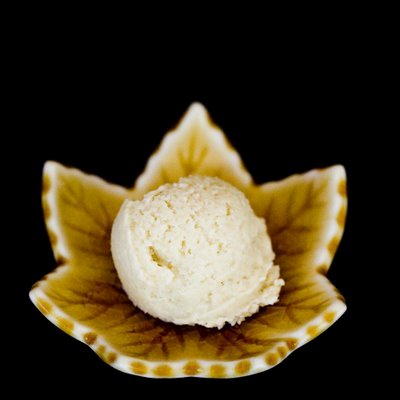 This maple ice cream recipe might be just the thing to top some Mother's Day brunch waffles. Why just have maple syrup when you can have maple ice cream?!
But, of course, my maple ice cream didn't top waffles – it went in an ice cream cupcake.
Maple happens to be one of my favorite flavors – it's right up there with honey. I must admit that I have even been known to put maple syrup on pasta. It's really good on just about anything. The same applies to the maple ice cream. It could enhance just about any meal. Picture pork chops with maple ice cream on top. Yum! OK – maybe it's just me.


Maple Ice Cream Recipe
I found the recipe for maple ice cream on Serious Eats. I am reprinting it below with my notes. The recipe requires an ice cream maker. I have a really cheap model that I borrowed and never returned from Groom 2.0 (it's similar to this ice cream maker). It works quite well.
If you've tried this recipe, please RATE THE RECIPE and leave a comment below!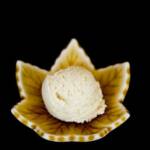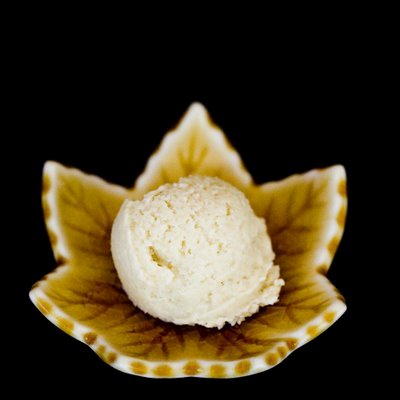 Maple Ice Cream Recipe
Ingredients
3/4

C

pure grade A maple syrup

Do not use the fake stuff!

1

C

whole milk

2

C

heavy cream

pinch

of salt

4

large egg yolks

3/4

t

maple extract

I just used 1/2 t because that seemed mapley enough.
Instructions
In a medium saucepan over moderately high heat, boil the maple syrup until reduced slightly, about 5 minutes.

Lower the heat and stir in the milk, cream, and salt.

Cook until just under a boil (you will see bubbles along the edges of the pot and steam rising from the surface).

Remove from heat.

In a medium bowl, whisk the egg yolks until lightened.

Slowly add a few tablespoons (no more than 1/4 cup total) of the hot milk mixture into the yolks, whisking constantly.

Add the yolks back to the rest of the milk, whisking constantly.

Cook the mixture over medium-low heat until thick enough to coat the back of a spoon (if you run your finger across the spoon in a line it shouldn't drip; a candy thermometer will register 170°F). Be careful to not let it boil. (For me, this took just a couple of minutes.)

Strain the mixture through a sieve into a bowl.

Add the maple extract. (At this point, you have maple custard. You may be tempted to eat it all before turning it into ice cream. I wouldn't blame you. It is crazy tasty!)

Chill until very cold, at least 4 hours or overnight.

Freeze in an ice cream maker according to the manufacturer's instructions.
Reminders
You have until the end of May to enter the Ice Cream Cupcake Roundup. You don't have to make your own from-scratch ice cream – but it's fun to do!
You also have until the end of May to vote for my black bottom cupcakes with goat cheese in the Ile de France recipe contest – while this task doesn't help you in anyway, I would be most grateful! Thanks!