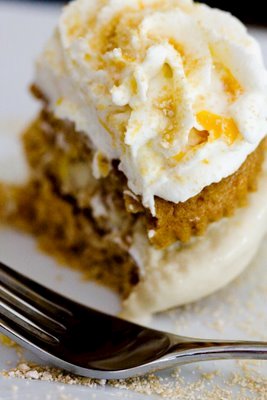 There is a lot going on with these cupcakes, so let's start with a description. These are maple cinnamon cupcakes with baked peaches. The cupcakes were then cut in half to create a cupcake sandwich with homemade maple ice cream in the middle. The top half was frosted with peach whipped cream and then sprinkled with maple sugar.
Every messy forkful of this cupcake was so mmm mmm good that it had me questioning whether it was my drool I saw on the plate or whether it was some melty ice cream. These cupcakes were stellar, and if I could enter my own Ice Cream Cupcake Roundup, they would surely be my entry!
What Did My Friends Think?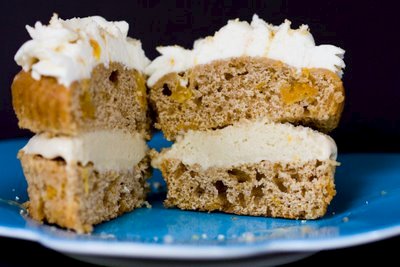 I served these cupcakes to a bunch of friends and here were some of the comments:
"These are my favorite cupcakes yet! My second favorite were the plum cupcakes."
"These are the best maple flavored anything I have ever had!" This, of course, prompted the question as to what her favorite was before this. The answer: "McGriddles at McDonalds." All I can say is at least I wasn't beaten out by Mickey D's – I would not have been happy.
"Love the maple flavor in the ice cream. It goes really well with the dense cupcake."
Maple Cinnamon Peach Cupcake Recipe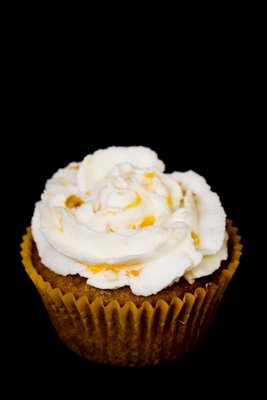 The maple cinnamon peach cupcake recipe is a Cupcake Project original. It's yummy even without the ice cream, as shown above.
If you've tried this recipe, please RATE THE RECIPE and leave a comment below!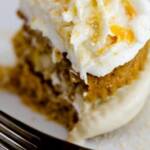 Maple Cinnamon Peach Ice Cream Cupcakes
Ingredients
2

C

flour

1 1/2

t

baking powder

1/2

t

baking soda

2

t

cinnamon

3/4

C

butter

room temperature

1 1/3

C

maple sugar

2

eggs

2/3

C

whole milk

3

T

maple syrup

the real stuff

1

t

vanilla extract

1/2

t

maple extract

15

oz

peaches

chopped finely
Instructions
With a fork, whisk flour, baking powder, baking soda, and cinnamon in a bowl.

Beat butter and maple sugar in a large bowl for 1 minute until light and fluffy.

Beat in eggs, milk, maple syrup, and extracts until blended.

Mix in flour mixture.

Fold in peaches.

Fill cupcake liners 3/4 full.

Bake at 350 F for about 25 minutes or until a toothpick comes out of the cupcake clean.
Recipe Notes
Check out this post for cupcake assembly
Cupcake Assembly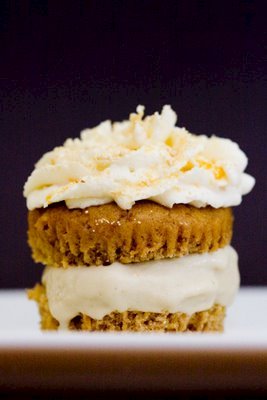 To assemble your ice cream cupcakes:
Cut the cooled cupcake in half. (You can probably cut the cupcake in a straighter line than I. I tended to go kinda crooked.)
Frost the top half with peach whipped cream. (I found it easier to frost after cutting, rather than trying to cut the frosted cupcake.)
Store in the refrigerator until ready to serve.
When you are ready to serve, stick a small scoop of maple ice cream between the two halves of the cupcake and sprinkle some maple sugar all over!
Reminders