I didn't like these mango rum cupcakes. But, don't stop reading here. This is a post of many lessons.
Baking Lesson 1:

Even if you don't love a cupcake, others may love it!
Like I said, I didn't like these mango rum cupcakes at all – even the look of them bothered me (they look a bit like pee in the snow, don't they?). But, when I gave them to a visiting taster, I was told that they were fantastic! "They get better with every bite. Love the chunks of mango! Wow!"
One thing that bothered me about the cupcakes was that even with mango in the frosting and chunks of mango in the cake batter, the cupcakes did not taste mango-y. Which brings me to lesson two…
Baking Lesson 2: Mango flavor disappears when you bake with it.
I should have learned this lesson the last time I made mango cupcakes and they ended up tasting like corn muffins. But, I thought I would try again. The chunks of mango in the batter definitely helped, but I still was not satisfied. If anyone has a really mango-y cake recipe, please share. Groom 3.0 would love a mango cupcake for the wedding.
Baking Lesson 3: Pieces of wet fruit cause the wrapper to separate from the cake.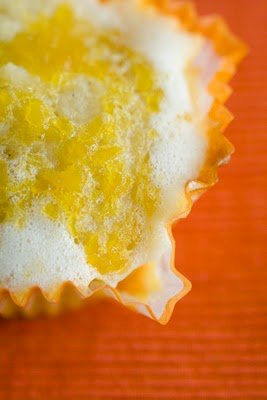 While the chunks of fruit helped with the mango flavor, the wet fruit caused the wrapper to separate from the cake – not attractive.
Baking Lesson 4: Things may appear different in the morning.
(This could also be a life lesson.)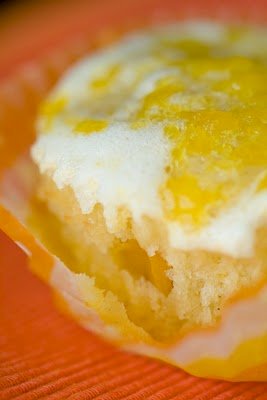 I don't have a before picture, so you are going to have to imagine a thick white meringue frosting on top of these cupcakes. When I returned to my cupcakes the next morning, all but a tiny layer of meringue had been absorbed into the cake. I think the culprit was the wet mangoes that I mixed into the meringue; they caused the meringue to deflate and dissolve.
Cupcakes changing overnight is nothing new in my house – see my Christmas cupcakes where my candy canes melted.
Life Lesson 1
Again and again, baking teaches me to roll with the punches (or the dough). Things don't always work as planned; but I will experiment, experiment, experiment because when we stop trying new things, we stop really living.
Think you'd like these cupcakes? Here's the recipe:
Mango Rum Cupcakes
I wasn't a huge fan of the way the mango turned out in these cupcakes, but they might be your next favorite!
Ingredients
Cupcake Ingredients
1 1/2

C

unsalted butter

room temperature

1 1/2

C

sugar

3

large eggs

1

large egg yolk

2

t

vanilla extract

1/4

C

dark rum

1/2

C

pureed mango

3

C

all-purpose flour

2

t

baking powder

1/2

t

baking soda

1/8

t

salt

1

C

sour cream

2

mangoes

chopped into chunks
Mango Meringue Frosting Ingredients
2

large egg whites

½

C

sugar

2

T

pureed mango + extra mango as desired
Instructions
Cupcake Instructions
Beat butter and sugar at medium speed with an electric mixer until fluffy.

Add eggs, egg yolk, and vanilla and beat until well-blended.

Gradually add rum and mango puree. Beat well.

In a separate bowl, stir together flour, baking powder, baking soda and salt.

Add to batter alternately with sour cream, beating well after each addition.

Mix in mango chunks.

Fill cupcake liners 3/4 full.

Bake at 350 F for 25 minutes.
Mango Meringue Frosting Instructions
Combine the egg whites and sugar in the mixing bowl of a stand mixer.

Set mixing bowl on top of a pot of boiling water.

Whisk until sugar has reached 110 F on a candy thermometer.

Remove mixing bowl from the pot and place on mixer.

Whisk for 10 minutes on medium speed using the whisk attachment.

Whisk on high speed for another five minutes (you should see stiff glossy peaks).

Whisk in mango until just integrated.

Spoon onto cupcakes.

If desired, add more mango on top of the meringue. (As noted above, all of this wet mango will make the meringue deflate and get absorbed into the cupcake.)
Nutrition
Nutrition Facts
Mango Rum Cupcakes
Amount Per Serving
Calories 271
Calories from Fat 126
% Daily Value*
Fat 14g22%
Cholesterol 64mg21%
Sodium 60mg3%
Potassium 118mg3%
Carbohydrates 31g10%
Protein 3g6%
Vitamin A 655IU13%
Vitamin C 6.8mg8%
Calcium 40mg4%
Iron 0.9mg5%
* Percent Daily Values are based on a 2000 calorie diet.